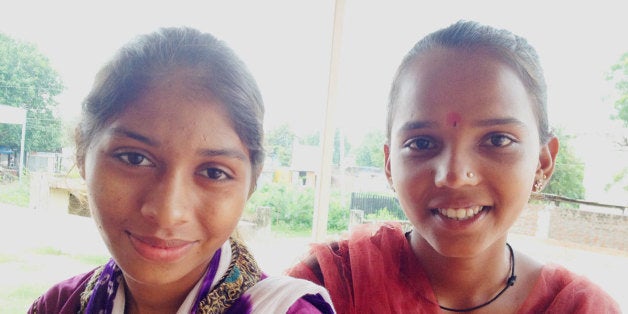 Photo: Daughters of SEWA (Self Employed Women's Association) bank clients pose for a photo after completing focus groups about introducing a youth savings account.

When you ask a young girl anywhere in the world where she keeps her money, chances are she'll say her piggy bank, school bag or in a special hiding place at home. According to research by Women's World Banking, girls as young as 10 years old regularly accumulate money, actively manage it, and want a safe place to save it. However, the odds are stacked against them because most financial institutions focus solely on serving adults. This is even more challenging for girls living in low-income areas of developing countries who are less likely to have access to formal financial services.
And the developing world is experiencing a surge in youth: the UN estimates that as of 2010 roughly 30 percent of the combined population of Africa, Asia, Latin America and the Caribbean, or about 1.7 billion people, are under the age of 15, and the vast majority of these youth are low-income. Evidently, youth is a demographic that cannot be ignored.
Here are 5 reasons why giving a young girl access to a savings account can truly change her life:
1. Timing is everything. From a very young age, girls face systemic disadvantages: in health, education, nutrition, the burden of household tasks, as well as early marriage. But instilling savings habits early can help girls prepare for a better future. Research suggests that by serving a girl at the vulnerable crossroads of adolescence, development programs--like savings and financial education programs--can have the greatest impact not only on that girl, but also on her family and community. And it also makes sense for financial institutions: reaching girls early creates a next generation of savers who can then go on to use other financial tools like loans and insurance to further improve their lives.
2. Education is power. Increased savings for girls is associated with positive outcomes including higher educational attainment, and investing in girls' education creates a ripple effect: an extra year of primary school boosts her eventual wages 10 to 20 percent, delays her marriage date, and results in her giving birth to fewer children.
3. Balances grow as girls grow. A savings account is a safe, interest-earning place that is out of reach, which allows girls to protect their money, help it grow, and reach their goals. And as consumers, girls know what they want in a savings account--and financial institutions are listening. They want flexibility to deposit and withdraw as they choose; ability to access their funds to cover personal or household expenses or in case of emergencies; and incentives to continue using the account.
4. Savings boosts confidence and independence. Research found that girls participating in a savings and financial program in Mongolia (launched by Women's World Banking and its network member XacBank) reported a sense of pride in managing financial affairs and a greater desire for financial autonomy. They developed social networks and teamwork skills as a result of participating in the financial education sessions. Girls also encouraged their peers to open accounts as well. The savings program, called Temuulel ("Aspire" in Mongolian), is targeted at youth aged 14 to 24. The program includes colorful savings account passbooks, signage in bank branches to make them more welcoming, widespread ads, and Temuulel days at schools. Nearly 19,000 youth have participated in XacBank's financial education programs and over 10,000 have opened accounts -- 79 percent of them girls.
5. Savings can reduce vulnerability. Providing convenient, affordable and safe opportunities for girls to save has potential to generate much more value than the balance they have accumulated in an account. Girls can get a head start on learning how to navigate the formal financial system, and for those who are especially vulnerable to economic shocks, a withdrawal from their savings account can represent an alternative to other, potentially more risky ways of obtaining money in an emergency, such as dropping out of school to work or borrowing from loan sharks.
The youth market can be thought of as the next generation for financial institutions, both in terms of actual future clients and future institutional growth. In addition to Mongolia, Women's World Banking is working in Ethiopia, Dominican Republic, India, Nigeria, and other countries around the world to bring savings accounts and a more promising future to girls. But you don't have to be a development organization to help change the lives of girls in developing countries. Here are three things you can do right now to help:
2. Share this post with friends and family to let them know about the life-changing impact a simple savings account can have for millions of low-income girls, and
Cisco supports Women's World Banking's Leadership and Diversity Programs for executives of microfinance institutions (MFIs) dedicated to expanding access to financial services for women. For more information on Cisco's focus of economic empowerment, Please visit: http://csr.cisco.com/pages/economic-empowerment