A few years ago when it was first revealed that Britney Spears was headed to Las Vegas for her own residency, both the music industry at large and many business leaders with interests in Las Vegas wondered what this was, and what it meant for the city. Was Britney's move to Nevada a desperate attempt to make some much-needed cash and find stability? Was it a sign that she was done? Was the paycheck really that great?
All of these guesses and assumptions are incorrect. "Piece Of Me" is none of these things. Instead, it's a sign of change for Las Vegas, which while growing, has also in other ways been stuck in place for decades. Things weren't looking very bright for the town, as young people didn't seem as enraptured by it as their parents and their grandparents. Britney is changing all of that in what will one day be regarded as an incredibly forward-thinking marketing decision by her, the hotel that houses her, and as something that is kicking off a new trend and turning things around for Sin City.
Here are five details about "Piece Of Me" that prove that this new Vegas residency is really all about the young people, and that it's perfect for them.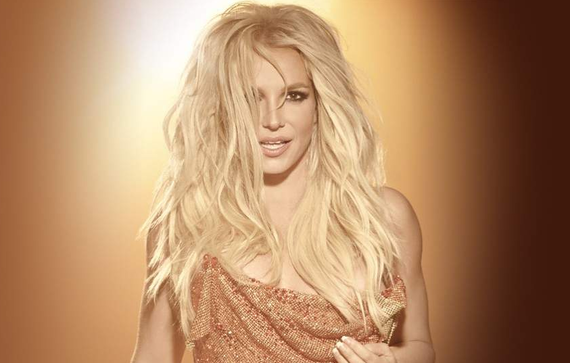 A promotional image for Britney Spears' "Piece Of Me" show in Las Vegas (image courtesy of Caeser's)
The Time
While it might not sound like a big deal, the start time of Britney's "Piece Of Me" is important, and more strategic than many might assume. Most shows kick off at 9 PM, which is not a time chosen randomly. Britney's show is situated perfectly in the evening so as to allow for partying both before and after the pop star gives it her all on stage. The idea is that young Vegas partygoers can partake in happy hour (which seems to be every hour in Sin City) and loosen up for the show. Try seeing "Piece Of Me" sober once and look around at the people dancing and wonder if they've had a libation or two before finding their seat, and failing to sit in it all night as they dance.
Once the show is over, few, if any, of the patrons go back to their rooms for a good night's sleep. In fact, it seems like Britney is something of a warmup for what is sure to be a night to remember...if anybody can remember in the morning. After "Piece Of Me," Vegas keeps going, and so do those leaving the venue. They're on to any number of the city's nightclubs, or perhaps to try their luck at the slots.
This nightly plan is in contrast to many other residencies in Vegas, which for years have catered to older audiences. For many of them, the show is their plan for the evening, and there isn't as much partying afterward. This shows that those in charge of Britney's show knew their audience, and planned accordingly.
The Timing
Yes, this is different from what I mentioned above. Britney's descent on Vegas certainly signaled a change for the city, and while she may have been the first of her group to take the plunge, younger pop icons making their way to Sin City for longer stays was bound to happen soon. Britney's fans, those that grew up with her and who have followed her for years, are now old enough to appreciate, and buy their way into, this type of show. Older millennials have the disposable income not only to afford a ticket, but to make a weekend out of it. While plenty of people end up at "Piece Of Me" because they're in Vegas for work or some other event, many have made the trek based solely on seeing her, and booked hotels, flights, and shopped and dined with cash they only recently came into.
The Price
"Piece Of Me" is a serious moneymaker, and part of the reason it does so well at the box office is because ticket prices are kept down. If Britney and her team were to raise prices, she would still do well enough, but it might keep some younger Vegas-goers from buying a pass to the show. The whole idea behind "Piece Of Me" is to bring in the younger crowds, which might otherwise have stayed out of casinos or Vegas entirely. While a ticket to see other acts with residencies in the city like Elton John or Santana can run much higher, they play to older crowds, who are more willing to pay bigger fees to see their favorites. Spears is still performing to those with somewhat limited, though growing, incomes, and tickets to her show can easily be found for under $100, with a recent search turning up passes for just $59.
The Venue
Residencies in Vegas has changed a lot over the years, especially when it comes to where the hottest, most heavily-trafficked ones take place. Many artists that are usually thought of when the phrase "Vegas residency" is mentioned play to crowds at massive hotel complexes and casinos that have their own legacies, but not Britney. She has made her home at Planet Hollywood, which is aggressively going after the millennial customer. Since Britney started her program, a handful of other acts that play well to younger audiences have also set up shop and performed when she isn't on stage, such as Jennifer Lopez and Pitbull. These are surely just the first group of artists to gamble on the city, and if Planet Hollywood can find room in the schedule, there are plenty of other artists that would love such an opportunity.
The Subject Herself (Of Course)
There are many artists that could do well in Vegas with a residency, but the decision to bring Britney on board was an excellent one, as it very clearly signaled a change in the fates of the city. Spears isn't just a woman who has sent some songs to the top of the charts, she's an icon, and one that clearly defines a generation. Much of her music immediately brings to mind the late '90s and early '00s, when she ruled the world. She is still active today, though she isn't the charting powerhouse she once was, and while she continues to release new tunes every few years, she doesn't promote them as she used to, and the public doesn't lap up everything with her name connected to it as they once did.
She is the same age as many of those that attend her shows, and she has grown with them, though in somewhat different scenarios. Many of those millennials buying a ticket feel as if they know Britney very well, and they're all ready to party.
Popular in the Community