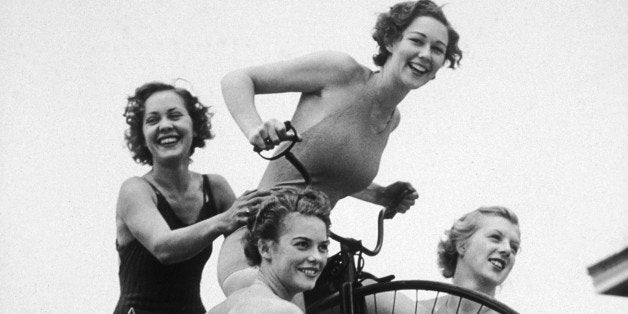 You know when Big stands Carrie up at the altar and it's just the worst, so the girls take her to Mexico (and Charlotte sh*ts her pants)? While spending time with your significant other, children if applicable, colleagues and acquaintances is wonderful and important, every woman needs a good "girls weekend" every so often, at any age. It doesn't have to be anything fancy or elaborate, but a simple few days away from the norm with some women you trust is a special kind of cleanse, especially when you're going through a tough time. Why?

1.Total vulnerability. You don't have to wear makeup, or shower, or shave your legs if you don't want to. Feeling super insecure about those five pounds you can't lose? No one cares, let it all hang out. Want to sit in the middle of the living room, holding a bottle of wine and cry your head off? This is the time to do it.

2.No judgment. Ready for a second bottle of wine? So is everyone else in the room. Fart in your sleep? Giggles ensue. Feel like spending the morning naked? Go for it. No one cares, it's amazing. I will never forget a morning of a girls weekend where I was sitting in the middle of the kitchen, drinking a mimosa, naked, while blow-drying my hair. Everyone laughed, and now it's a hilarious tradition and fond memory.

3.Complete relaxation. I've spent entire mornings during a girls weekend, sitting in a robe on the couch reading a gossip magazine next to five other women who haven't said a word to each other. Bliss. Usually there is some sort of spa treatment during a girls weekend, some comfort food, a nice hike or a bike ride through a vineyard. Totally refreshing.

4.Pure honesty. Whether you're the one opening up or the one suggesting a potential solution, you don't have to bullsh*t any of it. Hate your job because your boss is miserably awful to you? Haven't had sex with your boyfriend in a month? Decided to get Botox? Let it all out, girl, because everyone there gets it.
5.Boy talk. If you're 12, 25, 40 or 75, boy talk never gets old. Single? Share your crushes. Have amazing sex? We know you want to talk about every single detail, and your girls want to hear them. All of them. Is he driving you crazy? Ugh, let's bitch about it until you feel better.
Can't get away for a weekend? Have a sleepover in the city you live in. Can't go far? There is likely a different city with a hotel or a cute B&B close to you that may even have a Groupon deal. So ladies, call your girlfriends and plan your next girls weekend. Cheers.
Popular in the Community