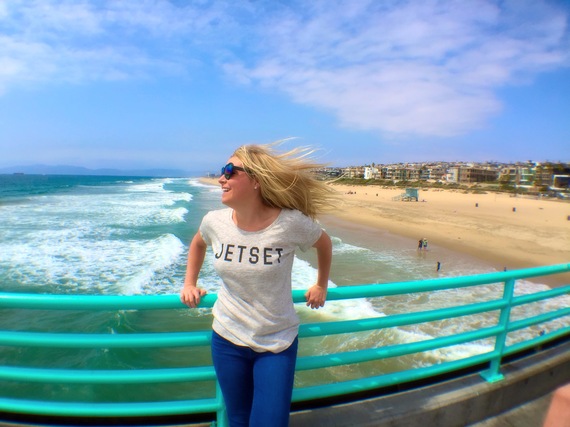 Kitesurfing--although yet to be considered completely mainstream and still in the fight to be included as an olympic sport-- is making waves all over the world. Many venture capitalists, entrepreneurs, and business executives consider the sport to be 'the new golf.' Wanderlusters, settled career conquers; both young and old have discovered community, fitness, and a sense of freedom in the activity.
For those who have an affinity for travel, kiting becomes an ideal counterpart, especially for the solo female traveler.Here are five reasons why kitesurfing creates a perfect pair in the life and travels of the single female adventuress. Just beware ladies -- the days of flying solo and traveling anywhere that doesn't have wind, will be over.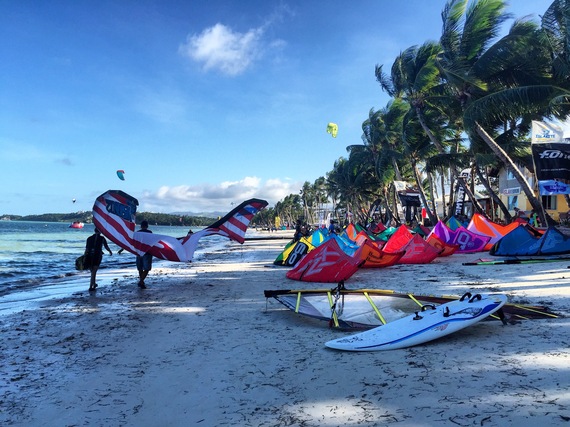 Kitesurfing opens up a new world of incredible travel destinations.
As much as endless beaches or deserted islands sound appealing, let's be honest. After three or four days, most travelers are ready to "go do something." With kitesurfing, destinations like Union Island in the BVIs, which would be costly and somewhat "slow" for just hanging out, become heaven. Places that include flat and pristine water and only a handful of other people--who are most likely around to kite too--is highly desirable. Save the crazy chaos of Rome's Colosseum, and its endless barrage of selfie sticks, for another time.
Kitesurfing includes you in an amazing community of interesting and fascinating individuals.
Richard Branson kites. The Google Guys do it. John Kerry has been known to go out on the water. The activity invites an array of people from different career paths, cultures, and backgrounds. Your friendships will expand to include the beach bum types, to the emergency room doctor, or the FedEx pilot. The sport bonds you to people who you would never have a chance to meet and connect with otherwise.
Kitesurfing expands the pathetic online dating pool into a vast ocean of eligible (and did I mention) fit bachelors.
Currently, the ratio of male to female kitesurfers is significantly out of balance with only 10 percent of participants being women. This unfortunate statistic (as many more women need to kiteboard) means that as a single female, the competition for eligible single men is quite low. Due to the fact that there are more males in the sport, most instructors are also male. So, if you wanted to go on holiday and meet a cute guy, take up kite surfing. Even if no date ensues, worst case scenario is you spend an afternoon looking at washboard abs.

Kitesurfing creates friendships and connections with cool women.
Most women who start kiteboarding are cool, adventurous, and intelligent. It takes a certain type to want to invest the time and money to learn to kite. Not that it's difficult, but becoming proficient takes practice and can be intimidating. The other women kitesurfers are inclusive. Don't worry about petty girl drama on the beach. It's not about who looks hot in those shoes or getting the hottest guy at the bar. Life is simply about doing something fun and celebrating the successes together.
Kitesurfing makes working out for that bikini body fun.
Kitesurfing is a complete body workout--one that doesn't require a certain amount of strength-- but that will result in a lean and fit body. Women kitesurfers are some of the most fit, toned, and healthy looking individuals found in any sport. This is not surprising as kite boarding for the average person will burn approximately 750 calories per hour. Make a resolution to work on that tan, get out to the beach, and kiteboard more-- which sounds like best bikini body fitness plan ever invented.
Related