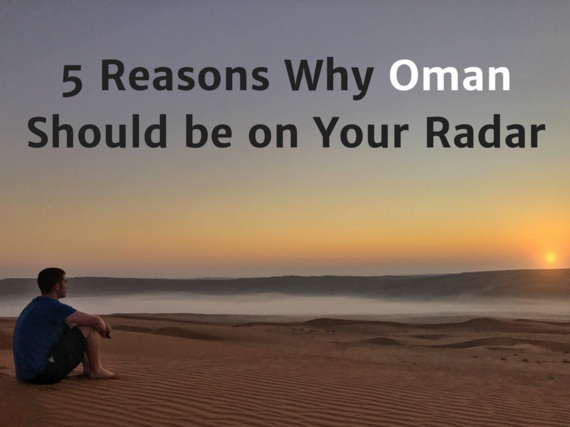 With its dreamy natural landscapes, hospitable people and tasty food -- Oman is one of the most fascinating countries to visit in the Middle East.
I had the opportunity to visit Oman at the tail end of my trip around the G.C.C. (Gulf Cooperation Council) countries of Kuwait, Bahrain, Qatar and UAE. Without question, Oman was my favorite place out of the bunch and I think the country doesn't get nearly as much hype or credit as it deserves.
Tucked away on the Southeastern corner of the Arabian Peninsula and sandwiched between Saudi Arabia and Yemen, Oman is a true paradise for outdoorsy people - tropical beaches, high mountains and sand dunes all within a few hours reach of its capital city, Muscat. This photo below is the Bimmah sinkhole which is 20 meters deep.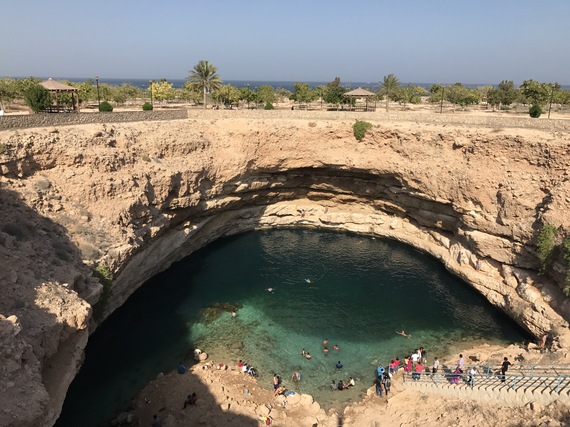 There's a place called Wadi Shab (near the sinkhole) that should be number 1 on your bucket list in Oman. It's a conglomeration of huge canyons, boulders, and steep cliffs engulfed by cold fresh water that you can swim in. I went cliff jumping and climbed waterfalls all day long at Wadi Shab it was fantastic (more on that below).
Here are 5 more reasons why you should visit Oman: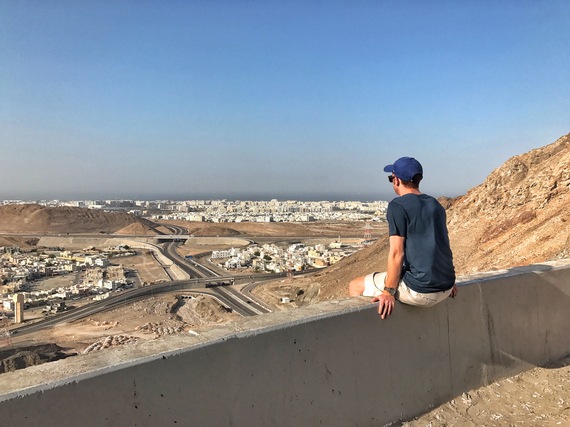 Oman is a very safe place and you can freely wander the streets at night without having to worry. In the capital city of Muscat, basic crime such as getting robbed, mugged or kidnapped is virtually unheard of (but always take normal precautions just to be safe). If you get lost, Omani people will offer their assistance even if they don't know you. To get around, you can either take buses, private cars or even hitchhike, which is popular option amongst travelers.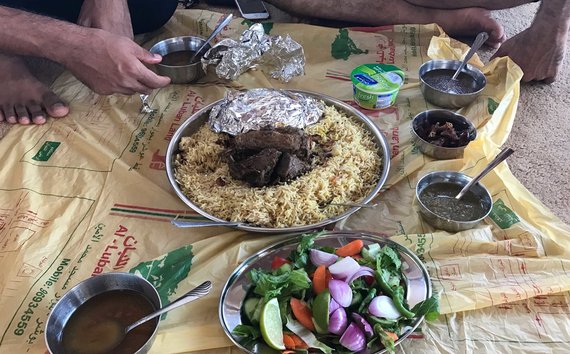 Omani food is a fusion between Iranian, Indian, Mediterranean and African cuisines, but also offers several unique dishes to the land. You can try the national dish called "shuwa" which is goat meat roasted in a special over that's a pit underground. The meat is flavored with a variety of spices, and then wrapped in sacks made of dry leaves, which are in turn placed into the oven. For desert, get your hands on some "halwa" which is a dense, sweet candy eaten after meals.
3. Experience the Sand Dunes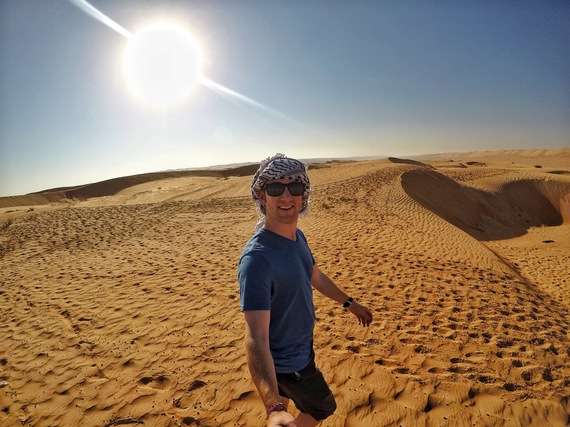 The Omani desert may be the most beautiful part about the country. Specifically the Wahiba sand dunes, which are a 3 hour drive from Muscat, are worth a visit. We took an overnight trip where we camped in tents, cooked burgers over a fire, and woke up at 5:30AM to one of the most breathtaking views I've ever seen.
I also met a bedouin guy who lives with his family in a hut on the sand dunes. He invited me inside his home for a cup of tea, and despite not speaking a word of English, we somehow communicated and it was very touching.
4. Discover Omani Hospitality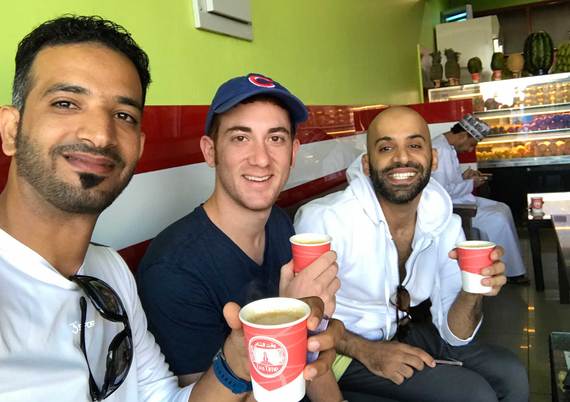 Every person I met in Oman went out of their way to make sure I was okay. People I met on the streets offered me some karak (hot milk tea) in their house. My new Omani friends insisted to pay for all my food. I always felt welcomed, safe, and like someone was watching my back at all times.
The people are perhaps the biggest reason that's drawing me back for a second visit to Oman.
5. Learn a Different Side of Muslim Culture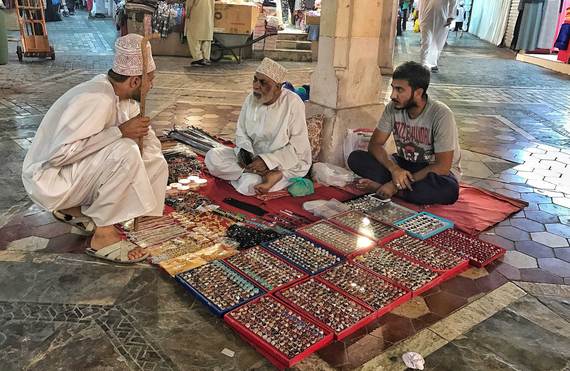 The Omani people have developed their own strand of Muslim culture, known as Ibadhism, where they dress and pray slightly differently than other Middle Eastern Countries. The men dress in ankle-length, collarless rown (robe) with long sleeves and a white hat with different patterns on it. The national dress for women include a dress worn over trousers (sirwal) and a headdress. Their attire is notably colorful flashy. It was really interesting to witness and learn about these little things about Omani Culture.
I hope you have the chance to visit Oman and see for yourself the beauty this country has to offer. Please contact me if you have any questions or concerns before your trip!