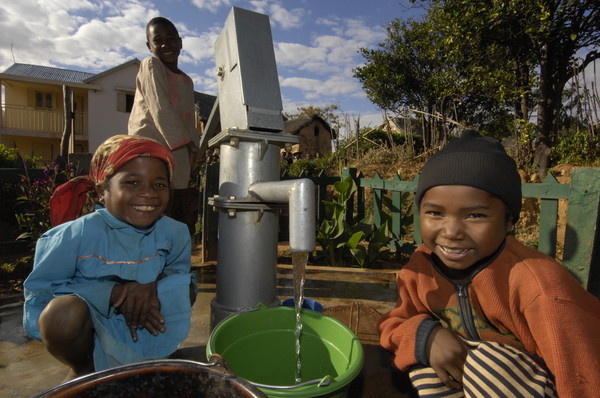 Now, imagine a world where you and I have the power to change this. A world where every woman, man and child has a fair shot at living a healthy, dignified and productive life with the help of ready access to clean water, toilets and simple hygiene practices like hand washing.
The good news is that this IS our world, and starting this week, the American public has an incredible opportunity to make sure that the world we imagine becomes the world we live in.
Thanks to the model bipartisan leadership of Congressmen Judge Ted Poe (R-TX) and Earl Blumenauer (D-OR), a key piece of legislation was introduced in the U.S. House of Representatives on Thursday, called the Senator Paul Simon Water for the World Act of 2013.
At my organization, WaterAid, we are thrilled to welcome Water for the World, and are not shy about the fact that we have high hopes for its passage. It's a smart bill that will ensure that the world's most marginalized communities remain front and center in U.S. efforts to bolster access to water, toilets and hygiene education that saves and improves lives. In short, we think the Water for the World Act is worth its weight in gold. Here are five reasons why:
1.The Water for the World Act makes U.S. drinking water, sanitation and hygiene programs go further with the same resources
Water for the World enhances our collective ability to have real, long-lasting impact. Building off the 2005 Senator Paul Simon Water for the Poor Act, Water for the World does not create new bureaucracy or new programs. It applies the lessons learned over years of designing and implementing safe drinking water, sanitation and hygiene (WASH) programs together with the United States Agency for International Development (USAID) and focuses on improved efficiency, not higher dollar amounts, in delivering basic services for the world's poorest people.
Water for the World simply does better with what we already have, amending existing U.S. law to ensure we take the most strategic approach and have the greatest benefit on the lives of poor people with limited taxpayer resources.
2.Water for the World helps the economy
Water for the World recognizes that the poorest people around the world are the ones who experience the greatest benefits from gaining access to clean water, toilets and hygiene education. When people don't have to spend their days collecting water or sick at home, they can work, go to school and care for their families, helping to end the vicious cycle of poverty.
In fact, World Bank research has found an enormous return on investment for water and sanitation programs: for every $1 spent, at least $4 is returned in saved health care costs and increased economic productivity. If we were to provide sanitation to everyone in the world who needs it, $220 billion would be added to the global economy each year. That makes good sense.
3.Water for the World improves U.S. national security
I can already see the eyebrows rising on this one, so it is worth repeating again: Water for the World improves national security. The 2012 National Intelligence Estimate on Global Water Security highlights a range of national security issues related to water, including access to safe drinking water.
These include potential conflict over limited water resources within a country, trans-boundary waterways issues, and exposure to violence and discontent that arise when essential services are not readily available. Taken together the governance-, health- and poverty-related risks highlighted in the National Intelligence Estimate suggest that water resources are among the top considerations for global economic and political stability and peace building.
By leveraging the expertise and reach of the Department of State and enhancing whole-of-government approaches that maximize the expertise of USAID and the Department of State, Water for the World would not only mitigate the household and community risks posed by lack of access to safe drinking water and efficient water resource management, but would help the United States address national and regional risks, too.
4.Water for the World leverages the benefits of water, toilets and hygiene for better foreign aid
Water, sanitation and hygiene have significant roles to play in reducing communicable diseases such as pneumonia; eliminating diarrheal disease that leads to malnutrition by sapping the body's essential nutrients; reducing the burden of household chores to allow more time for school or work; preventing violence against women and girls; increasing the efficacy of antiretroviral therapy for HIV/AIDS; addressing a key barrier to accessing education and to the quality of schools; and advancing effective natural resource management and conservation. These are all key objectives of U.S. foreign assistance programs, but they cannot fully succeed without addressing clean water, toilets and hygiene education, as well.
When people have ready access to clean water and a toilet, major change happens across a wide range of U.S. foreign policy objectives. Water for the World advances a strategic approach to making the most of these linkages. It also advances principles of effective aid. It promotes coordination among donors and governments to streamline service delivery, establishes guidelines for ensuring services are sustainable and locally owned, and creates accountability for results, transparency and local capacity building. Together, Water for the World reinforces USAID's own efforts to do better while focusing in on what we know works, and what we know can be improved.
5.Water for the World is something we all agree on
Water for the World is an easy yes. It is bipartisan legislation that focuses on better use of taxpayer dollars, rather than asking for more. It prioritizes the needs of the world's poorest people and focuses on increased dignity and well-being. Combined with the first four benefits mentioned above, this is really something to celebrate. This is a big moment, and it's time to tell your Representative that you support Water for the World, too. It's good to agree on doing the right thing.
Photo credit: WaterAid / Marco Betti
Related
Popular in the Community