Thailand is a country of myriad cultures and a favorite with backpackers and regular tourists alike. The ongoing anti-government demonstrations in Bangkok have made many change their travel plans to Thailand at the last moment. While the peaceful demonstrations are taking place in the central Bangkok areas, life in most other parts of the Thai capital remains open to travelers, including the majestic Emerald Buddha Temple in Bangkok. Here are the top five reasons why you should go to Thailand now: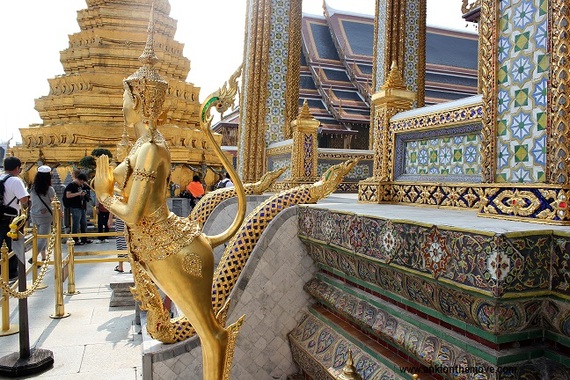 Thailand takes pride in a large number of fascinating temples in the country. The illustrious Wat Pho (Temple of the reclining Buddha) and the majestic Grand Palace in Bangkok is home to many ornate architecture and sculpture depicting Thai beliefs and folklore, and their ever eternal love for lord Buddha. Situated one hour by flight from Bangkok is Chiang Rai, where the beautiful temple Wat Rong Khun, or White Temple, attracts large numbers of visitors everyday. It's striking white radiance and unusual expressions and sculptures designed by famous Thai artists is a must-visit.
Be Wowed by Tropical Beaches
Imagine a vast expanse of white-washed beaches teamed with stunning nightlife or high limestone cliffs lapped by clear crystal water. Situated 150 kilometers from Bangkok facing a wide bay is Pattaya. Once a tiny fishing village, it is now a dazzling kaleidoscope of recreation and fun. Situated one-and-a-half hours by flight from Bangkok is the tranquil island of Phuket, famous for its 24/7 nightlife and beaches. Krabi, now popular with honeymooners, is a boat ride away and has unique beaches with the limestone cliffs attracting rock climbers from across the world. The other beaches are Koh Samui, the Phi PhiLeh islands, Hua Hin, Koh Phangan and Koh Tao.
Savor the True Spices and Learn Some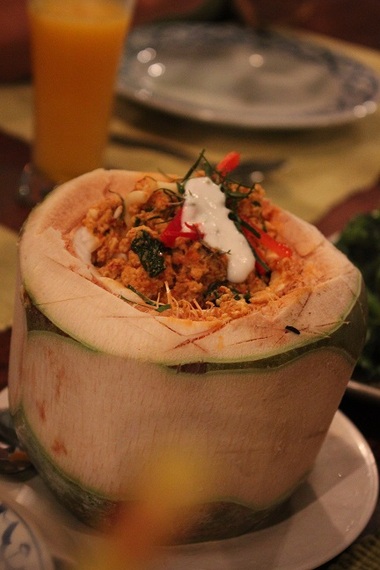 Each dish in Thailand is exotic and in harmony with the natural spices. Take a ferry across the Chao Phraya river to indulge in some traditional Thai delights at Supatra River House. Now that the famous Thai dishes like Tom Yam Kung (a spicy broth laced with lemon grass and fresh shrimps) and Phat Thai (Thai-Style Noodles) have become globally renowned, many enthusiasts are enrolling for culinary adventure. One such cooking school across the river is Amita Cooking Class where students learn to prepare their favorite Thai dish.
Call of the Wild and The War
A two-hour drive away from Bangkok is Kanchanaburi. Experience the Thai countryside with waterfalls and river camps, or play with tigers at the Tiger Temple at the historical site of Kanchanaburi.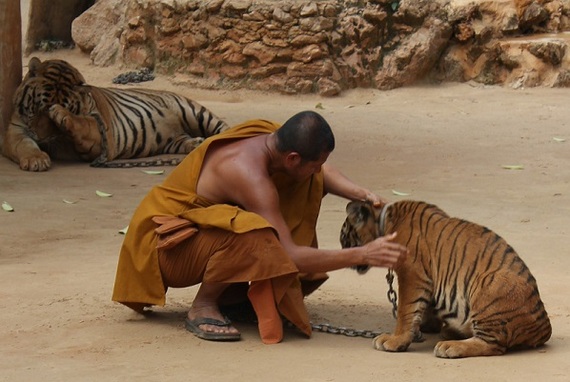 Visit the Hellfire Pass Memorial dedicated to allied prisoners of war and Asian laborers who suffered and died during the second World War and the bridge over River Kwai.
Take a dose of Muay Thai & Massage
Muay thai is Thai martial combat that demonstrates fighting spirit. The heart of Muay Thai is to make wise moves to knock an opponent rather than just using force without the clear target. Muay Thai attracts people around the world who want to try and practice it for health, defense and even world championships. In Bangkok, you can learn Muay Thai at Sovorapin Boxing Camp. Hands-on original Thai massage to soothe your nerves can be enjoyed at Wat Pho Thai Massage School, and at the award-winning spa at Rarin Jinda Wellness Spa.
Bangkok is a large city and so it is possible for local residents and international visitors to avoid the demonstration areas which are Pathumwan intersection, Ratchaprasong intersection, Lumpini Park, Asoke intersection, the Government Complex (Chaeng Wattana Road), Phan Fa Bridge and Chamai Maruchet Bridge. All airports and businesses (shops, traffic, tourist attractions, etc.) are open as normal and those who wish to enjoy the wealth and culture of Thailand are warmly welcomed by the ever-smiling Thai people.
Happy Traveling to Thailand, everyone!