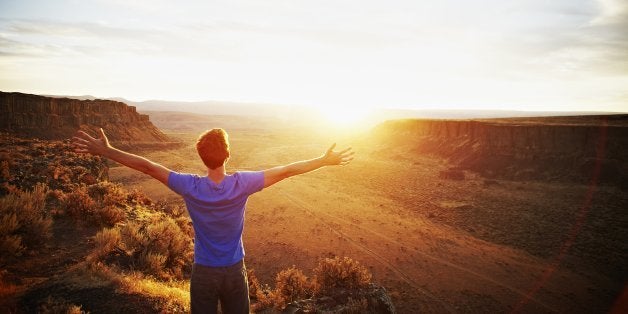 "The world is a book, and those who do not travel read only a page." -- Saint Augustine
The Earth is filled with infinite experiences, wonders and once-in-a-lifetime opportunities. Imagine hiking through the verdant, kaleidoscopic Amazon rainforest, camping out underneath the aurora borealis in the Canadian tundra or meandering through an enchanting Kenyan village. Much education is experienced in a classroom or through a textbook; those avenues do get the job done, but they aren't nearly as fulfilling or effective as traveling the world is.
See the world, and broaden your cultural, intellectual, and spiritual education like you could never have imagined. Here are five reasons why traveling is best education possible.
Though English is a reliably popular second language for most corners of the world, prepared travelers need to do their fare share of language studying. Before visiting a country where English isn't the primary language, learn the basics through a book or audioguide.
After building a foundation, stretch your skills by talking with actual native speakers. A textbook can't teach you slang, intonation, or vocal expression, but other people sure can. Not only will conversing help expand your cultural horizons, but it will also hasten your listening and speaking capabilities.
Explore Cultural Differences
In communicating and interacting with other cultures, you'll find just how they vary from your own. In Italy, many people go on "passeggiatas," or post-meal walks. In Mexico, it's common for people to take a "siesta," or nap, after lunch.
Different cultures prefer different types of cuisine, manners, and social expectations. Be certain to read up on these aspects of "culture shock" before your travel, and learn to embrace them when you're there. Learning is the ultimate point of traveling, so take it in whole-heartedly and keep an open mind.
Discover Cultural Similarities
After observing what separates your culture from another's, keep an eye out for common ground too. Do you and the people around you have a shared love of art? Or both communicate with a heavy emphasis on body language? Where do your moral and social values align?
Too often, people classify those who are not like them or who speak a different language as "other." Break down those barriers by finding shared interests, habits, and values.
History taught at all levels of education in the United States generally skews towards a Western emphasis. American history is the bulk of what's taught, and the remainder, world history, is relatively Eurocentric.
By exploring other parts of the world (or even hidden gem locations in your own country), you'll play the part of an adventurer discover all new artifacts of knowledge. Pore through indigenous texts, embrace fascinating styles of art, stand beneath overlooked landmarks, and study the events the shaped nations.
Understanding another culture's history is the premier way to understand its politics, motivations, and social habits. Take your travel slowly so you can really marinate in the world around you. It may be the only way to learn about it authentically.
The very act of traveling is a test of one's will, patience, and fortitude.
The most well-planned traveler will see his or her plans fall awry. Rides show up late, suitcases explode, boarding passes get lost, and it all usually happens at the same time. Traveling teaches everyone how to improvise.
Don't adhere too strictly to a planner; feel free to get lost down a windy, sun-soaked alleyway or find hidden treasure in a sprawling marketplace. Unleash your inner pioneer and show yourself what you're made of. You're guaranteed to be impressed.
Related