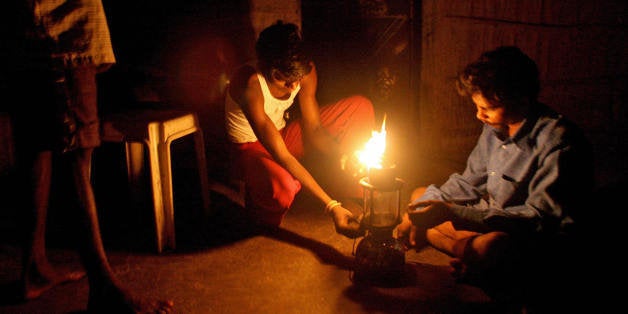 Leonard Nyondo is a farmer and father of five from Malawi. He earns less than $12 a month. A huge household expenditure has kept his family trapped in poverty. Living miles away from the electricity grid and with no prospect of getting connected any time soon, the Nyondo family used to be forced to spend half their annual income -- $60 a year -- on using kerosene to light their home.
Then one day they made the life-changing decision to buy a $10 solar light. They joined a group of trendsetting early adopters in Africa and around the developing world that have invested in solar technology and are benefitting from the profound impact solar lights have on income, education, health, and the environment.
UN Secretary General Ban Ki-moon frequently recalls the poverty of his childhood in Korea, when his family lacked electricity and he studied by kerosene light, in explaining his push to provide developing countries with sustainable energy for all. We share his sense of impatience. We landed a man on the moon in 1969 -- yet 45 years later, over one billion people living without electricity still spend a small fortune on lighting their homes. By switching from kerosene to solar lighting, billions of dollars can be saved and invested to drive job creation and economic growth.
This month, SolarAid is launching an ambitious new plan through the Clinton Global Initiative: we will build the alliance to eradicate kerosene lamps in Africa by 2020. Here are five reasons why you should support our mission to kill off kerosene lamps for good:
Kerosene lamps trap families in poverty.
Imagine spending 15-25 percent of your salary on lighting your home. This is the reality for many of the world's poorest, who spend more on lighting as a proportion of household income than any other group. Having to buy kerosene locks people in poverty giving them almost no opportunity to invest in their future.
After buying a solar light, the average family living off-grid in Africa saves $70 a year. These savings are spent on food, supporting their children in school and investing in their small businesses, creating jobs and fueling economic growth. Gilbert Mwalwanda, a businessman in Malawi, told us that after buying his solar light, "My business is booming because funds that were spent on buying [kerosene] are now used to buy computer accessories, and I charge my phone using solar to communicate with customers."
Kerosene lamps prevent children from learning.
The high cost of kerosene means parents cannot afford to leave the light on so that their children can study. With solar lights, children study an average of an extra hour each evening, freed from the headaches and eye strain caused by kerosene fumes. In Malawi two thirds of headteachers have reported improvements in the attendance, motivation, concentration, and performance of children using solar lights at home.
Kerosene lamps fill homes with toxic fumes that cause respiratory disease.
Using just one lamp over the course of a year is equivalent to smoking 200 cigarettes. Kerosene is a major contributor to indoor air pollution, the 'silent killer' which kills 4.3 million people per year -- more than HIV and Malaria combined (WHO).
Kerosene is low-hanging fruit in the fight against climate change.
A kerosene lamp emits a ton of CO2 emissions over five years, as well as emitting 'black carbon,' a short-lived climate pollutant now recognized as the second biggest cause of global warming. The black carbon alone that is currently emitted by kerosene lamps in Africa contributes more to climate change than all the CO2 released in the UK.
We have a moral imperative to help people eradicate kerosene lamps from their lives. We have the technology to make it happen. Solar lighting is coming of age, with the development of high quality, durable products that cost as little as $10, last up to five years, and come with warranties. Solar energy has also been charging the mobile phones which have become ubiquitous across Africa, helping people communicate and do business. All we need to do is get the right products to the people who both need and can use them most.
What we're proposing isn't just a pipe dream: our plan to kill off kerosene lamps is based on our previous success. In 2009, SolarAid made a Clinton Global Initiative commitment to build SunnyMoney, a social enterprise which works through headteachers -- trusted community leaders -- to promote solar study lights to the parents of students. Once people hear about the benefits of solar lighting from their friends and neighbors, demand takes off, and it becomes possible for local businesses to enter an emerging sustainable market. This 'trade-not-aid' approach has been so successful that we exceeded our sales target almost tenfold, becoming Africa's largest distributor of solar lights and selling our millionth light in March 2014.
According to a World Bank program, the African solar lighting market grew by 90-95 percent every year between 2009 and 2012, predominantly in markets where SunnyMoney was operating. This demonstrates the potential of the off-grid lighting market to grow quickly and on a huge scale, paralleling the incredible expansion of Africa's mobile phone market over the last decade.
Ultimately, kerosene lamps are not wanted, and not needed -- not by Leonard Nyondo's family, or Gilbert Mwalwanda's small business, or anyone else. They are just two of over one million customers we have served who have told us about the dignity that comes with ditching kerosene and the choice they have been able to exercise in spending their own hard-earned money on something that has so much more value for them and their family. We hope that you'll help communities around the world make a similar switch.
Learn how to get involved by visiting SolarAid here.
This post is part of a series produced by The Huffington Post and the Clinton Global Initiative in conjunction with the latter's tenth Annual Meeting (September 21-24 in New York City). This week, President Bill Clinton, former Secretary of State Hillary Rodham Clinton, and Chelsea Clinton convene more than 1,000 global leaders under the Annual Meeting's theme for 2014 -- Reimagining Impact -- to advance solutions to some of the world's most pressing challenges. For more information on the Annual Meeting, click here. To see all of the posts by CGImobilizers in the series, click here.