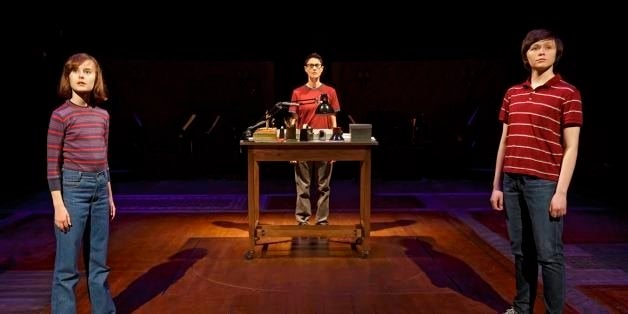 1. It's the first Broadway musical with a lesbian lead character.
It seems like more musicals should have lesbians in them, but they don't! Fun Home tells the story of Alison, a young girl growing up in a funeral home with a closeted father. The musical is based on Alison Bechdel's graphic novel of the same name and it weaves her coming out and coming of age story with her father's own tragic struggle towards self-realization. Don't get me wrong; Fun Home is not a lesbian musical, it's very much a human musical. That said, as a lesbian, I felt represented for the first time while watching a Broadway show and that felt pretty amazing. Also, I was thrilled to see teenagers in the crowd when I went. I kept thinking if Fun Home had been around when I was a kid, it would have changed my life.
2. There's an 11-year-old girl in the show who gives one of the greatest Broadway performances of all time.
Truly, all of the performances in Fun Home are Tony-winning good. But special mention has to be payed to 11-year-old Sydney Lucas. She plays young Alison with such humanity, affection and grace, you'll want to get up from your seat and hug her. But you won't, because that's not allowed.
3. The music is transformative and touching.
The music by Jeanine Tesori and lyrics by Lisa Kron instantly grab you and don't let go until the last note is sung. It doesn't sound like your average musical fare; it has it's own unique template that it builds on as the show progresses. There are no splashy jazz hands numbers in Fun Home, only authentic, grounded moments of beautiful music. There is one song called "Ring of Keys" that will make you cry and it's about an actual ring of keys!
4. The staging and direction are brilliant.
Fun Home is performed in the round and director Sam Gold staged it so brilliantly, I actually took note of how well he staged it. You'll never feel left out of any aspect of the show because it's so thoughtfully articulated. It's an intimate set, artfully designed by David Zinn, and the direction pulls you in and makes you feel like you're a fly on the fourth wall.
5. It will make you feel things.
Fun Home is incredibly moving. It is also funny, heart breaking and indelible. It stays with you. Maybe it resonates so powerfully because it's based on real people who went through real struggles. Or perhaps it strikes a chord because the characters are so vulnerable, you can't help but relate to them. Though the story is singularly Alison Bechdel's, it is somehow entirely universal. I didn't want it to end and when it did, I was so overcome, I couldn't get out of my seat. I sat there and wept, as did so many other audience members. I wasn't alone. That's how Fun Home makes you feel.
Welcome to FUN HOME, the groundbreaking new musical that The New York Times calls "extraordinary and heart-gripping." Based on Alison Bechdel's best-selling graphic memoir, FUN HOME features music by 4-time Tony Award® nominee Jeanine Tesori (Violet; Caroline, or Change), book and lyrics by Tony Award nominee Lisa Kron (Well) and direction by Sam Gold (Seminar), and stars Tony winner Michael Cerveris (Sweeney Todd) and three-time Tony nominee Judy Kuhn (Les Misérables).

FUN HOME introduces us to Alison at three different ages, revealing memories of her uniquely dysfunctional family -- her mother, brothers and volatile, brilliant, enigmatic father -- that connect with her in surprising new ways. This intimate and emotional theatrical experience is performed entirely in the round, bringing audiences closer to Alison's story than ever before. Hailed as "the best musical of the season" by New York Magazine, FUN HOME "demonstrates how much our world has changed and reflects just how far we've come" (The Wall Street Journal).

A finalist for the Pulitzer Prize and already the winner of five awards for Best Musical, Fun Home is a refreshingly honest, wholly original musical about seeing your parents through grown-up eyes.
Calling all HuffPost superfans!
Sign up for membership to become a founding member and help shape HuffPost's next chapter