AOL BUILD hosted a star-studded panel on 8/17/16 featuring The Office's (U.S.) alum, John Krasinski, award winning actress, Margo Martindale, and District 9 fave, Sharlto Copley! They discussed their roles in the new SONY Classics film, The Hollars.
The basic premise of the movie has Krasinski's character, John Hollar returning to his hometown the day before his mother, Sally Hollar (played by Martindale) undergoes brain surgery. That emotional life event gets mixed with the fact that John's pregnant girlfriend is ready to give birth soon, and his other family members, old friends, and ex-girlfriend spill their problems into John's world too.
Without further ado, here's five reasons why you should see the film in theaters starting Friday 8/26/16!
1. John Krasinski directed, produced, and starred in this film! Talk about a triple threat!
Krasinski quoted the legendary Martin Scorsese where Scorsese said: "90% of your job as a director is getting the right cast". Krasinski added that: "Margo was the first person I thought of for this. Getting someone like Margo was the most important thing first because the part of the mother in the movie is so vital and huge to the whole story.
Krasinski on casting Sharlto Copley: "I honestly have not really ever seen performances like District 9, I thought he was so unbelievable! I wanted to work with him forever."
In my opinion, when an actor can juggle all these roles on set of a movie, that definitely deserves recognition. It's evident that Krasinski's professionalism exuded with Martindale and Copley in the BUILD studio during the interview. You can tell they had that on/off camera "movie family" vibe, as seen in the photo below. All a product of amazing casting. I could only imagine what the production days were like.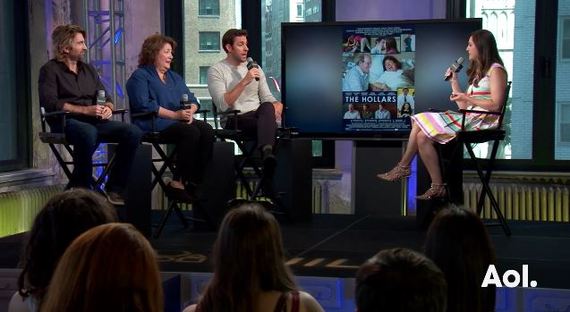 2. The Hollars has a stellar ensemble cast!
Including Krasinski, Martindale, and Copley, you've also got Anna Kendrick (Pitch Perfect), Richard Jenkins (Six Feet Under), Charlie Day(It's Always Sunny in Philadelphia), Mary Elizabeth Winstead (10 Cloverfield Lane), and Grammy nominated artist Josh Groban just to name a few.
You may remember this epic Lip Sync Battle moment that Krasinski and Kendrick had on the show. Now they're co-stars on The Hollars. John plays the main character John Hollar and Anna plays Rebecca, his expecting girlfriend. You won't see that kind of mischief and outrageousness seen on LSB between the two in the movie, instead you'll see them in a more close-knit, loving relationship as they embark parenthood.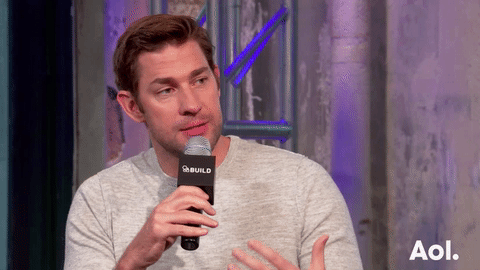 3. Sharlto and Margo strongly supports their director/co-star John.
Copley acknowledged the fact that other directors would be more stressed out towards the end of the film. But with this movie, he noticed Krasinski's calm, cool, and collected demeanor all throughout the film's production. He later added that Krasinski's process was "very effortless", and that "he let you do your own thing!".
Martindale added that Krasinski "created an atmosphere that was incredibly filled with trust and honesty", that it was "seamless going from director to actor back to director", and that he's "spectacular as a director". She concluded that "actors make the best directors." With that kind of endorsement, who wouldn't want to see this film!
4. This movie will give YOU the feels!!!
When you see the Hollar family dynamic unfold, you will most likely shed a tear -- of sadness and out of pure laughter! Krasinski confessed to the audience that he and Margo are huge criers. He said that there "was such an unbelievably palpable emotion going on the whole time" on set when they filmed their scenes. You'll just have to take their words and see for yourself at how this raw, emotion-filled film really transpires!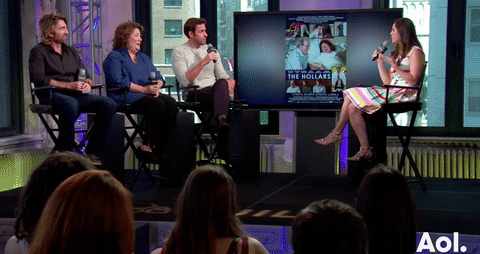 5. The brilliant James C. Strouse wrote the screenplay.
Krasinski praised Strouse, who also wrote the screenplay for The Winning Season starring Martindale, citing his knack in "taking hairpin turns between emotion and comedy, because that's real! He doesn't manipulate you into crying and he doesn't really hit these hard laughs. He does what life does, which is you can't prepare for the bad times, and you can't prepare for the good times. It just sort of happens. And so you feel this real reality to the scenes because he's writing very, very specifically. It's really awesome! I give him credit for all of the emotion in the movie. We all cried reading the scripts!"
Well...there you have it! I hope these reasons alone will inspire you to take your family and friends to go see this film.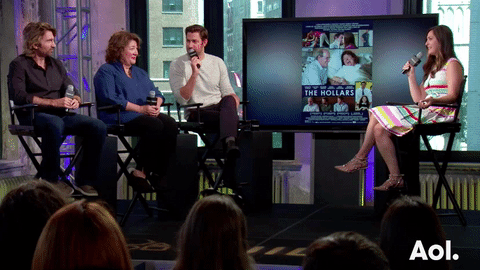 You can watch the full interview of John Krasinski, Margo Martindale, and Sharlto Copley on AOL BUILD.
Visit the official website for The Hollars at: sonyclassics.com/thehollars/ to learn more. Let me know in the comments below how you felt after watching this movie.
REAL LIFE. REAL NEWS. REAL VOICES.
Help us tell more of the stories that matter from voices that too often remain unheard.