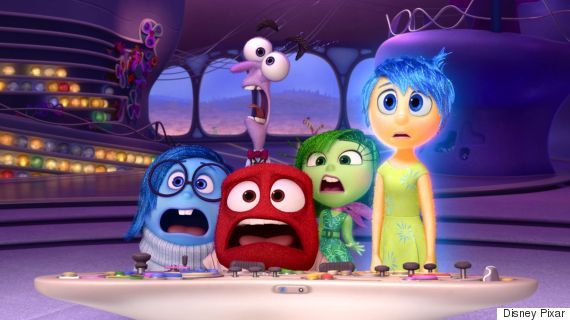 Have you seen Inside Out yet? I love a good Pixar movie! I love the way that they explain adult concepts to kids. I think it's really cool. For those of you who haven't seen it yet, don't worry there's no spoiler alert coming. This article isn't so much about the film, but rather how it relates to divorce.
In the movie, we meet Riley and the voices in her head. Riley is just a regular school girl whose parents move house. We get to experience what goes on inside her head as she goes through a huge transition in her life. What I notice is that those voices never go away; and oh boy do they come out to play when you get divorced! It feels like anger, fear and sadness control the joystick of your emotions.
Joy is my favourite. She's happy, positive and always sees the bright side of life. She sees possibility and adventure in everything.
It's likely that there will be moments of joy in your divorce. There may not be many, they may be few and far between, but here's the thing. Even if divorce is not your idea, even if you are heart broken, your life will go on. Your kids will make you smile and laugh, or your friends will rally round to keep you from that pity party. It's ok to have fun and it's actually good for you, so look for the joy in your life where you can.
Sadness gets so overwhelmed when things go wrong, that inertia often sets in and she finds it hard to motivate herself.
Sadness will likely wash over you in waves throughout your divorce and beyond. Even if the divorce was your idea. Sadness is a natural response to the loss or ending of something that was once important to you. Acknowledge your sadness and express it if you feel able. It's important to keep yourself motivated to keep taking the steps you need to take to ensure that your divorce keeps moving. If your divorce stalls, it will cost you emotionally and financially.
Anger comes out when he feels out of control, when things are not going his way, when he's definitely not happy.
It's common for anger to ebb and flow in divorce. Just when you think its all out, bam! It sideswipes you out of nowhere and you feel overcome with rage again. Anger is a healthy emotion. How you handle it that determines whether or not it becomes destructive. It's ok to admit you feel angry. Venting in front of your children isn't. Hiding your anger is also a recipe for disaster. Learn to recognise anger building within you and take it elsewhere. Exercise, ring a friend, do what you need to do to get it out. Seek professional support if you need it. There's no shame in feeling anger, learning how to deal with it in a healthy way will help you feel more in control of yourself.
Disgust comes out when she feels repulsed by actions or words, when she feels that her values aren't being honoured.
Disgust is an emotion that we rarely ever talk about except perhaps when its directed at the behaviour of others. Divorce often leads to poor self-esteem. You might feel disgusted with yourself because you have lost control, behaved badly, lied, cheated, vented inappropriately or said things you shouldn't have. You don't feel proud of yourself. Congratulations, you're human just like the rest of us. Learn from your experience. What can you do differently going forward? Then in the famous words of Elsa in Frozen, Let it go! You can't change the past. If you need to apologise, do. Then move on.
Fear
Fear comes out when when faced with uncertainty, when faced with unfamiliar situations and a lack of clarity.
Fear. It's highly likely that you'll experience this emotion more than once during your divorce. Just know that as toe-curlingly uncomfortable as it is, it is completely normal. Divorce is scary. Period. If you've never been divorced before, you've no idea what to expect. Thoughts run riot in your head about how long it's going to take, how much it will cost, how will the children cope and where you will live. Make friends with your fear. Own it. We all have it. By accepting your fears you can begin to tame them. Taming them doesn't mean that they go away, but it allows you to look for strategies to overcome them and keep moving forward.
Remember, divorce is just a process. As you move through divorce and your life begins to settle, the balance of power of the voices in your head will shift and normal service will be resumed.