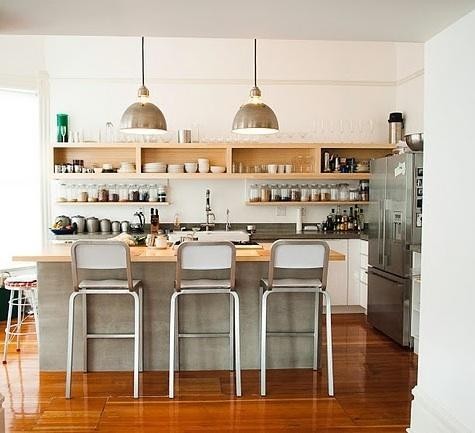 When it comes to open shelving in the kitchen, people usually have one of two reactions:
"Great! I can finally show off my dishware!"
"Noo! Where am I gonna hide everything?"
You don't need to completely abolish cabinets from your kitchen; after all, some things are best kept out of sight (ahem, drain cleaner and trash bags). But open shelving isn't a fad that just looks good on Pinterest but doesn't work in real life. Integrating some open shelving into your kitchen design can be a great way to maximize storage, display collections, and, yes, get organized. Find out how open shelving can transform your kitchen. 1. Create a custom shelving solution Open shelving allows you to make the most of your kitchen, which is especially important when you don't have much to begin with. So, you can get creative with the length of shelves and the space in between them to design a configuration that best fits your items and space.
2. Keep your most-used items within easy reach If the first things you reach for in the morning are mugs and coffee grounds, organize your shelves so that you can quickly grab them. When you can see everything you need in a quick glance, it's easy to streamline your routine.
3. Display your favorite dishes or collections Whether you want to show off your vintage teacups, cookbook library or jadeite collection, open shelves are a great way to highlight your favorite pieces. You can also play around with the arrangement and update your shelf styling periodically to switch up the look.
4. Save money on cabinetry Custom cabinetry is expensive, and if you're already trying to keep a kitchen remodel within a tight budget, opting for at least some open shelving can give your space a modern look while keeping costs down. 5. Consolidate your kitchen gear It's easy to lose track of what you have when everything is hidden away in cabinets, but switching to open shelving forces you to reevaluate what you really need. Ask yourself: If I don't want to look at this every day, why do I own it? Of course, this doesn't mean you should toss your slow cooker just because it isn't aesthetically pleasing on a shelf (that's why having some cabinets is a good idea), but if you have three full sets of dishes, it might be time to pare down to the essentials.