I have been on the dating scene for the past two years and I have absolutely nothing to show for it other than a crowded contact list. Well, that's not totally true; I have also learned that gay men simply don't know what the hell we're doing. It's like we've been recently freed from a dungeon directly onto a Naked Sword video set, where everyone has PTSD and can't help but to think with our, well... swords.
I'm on a quest to help highlight the issues within our community that continue to both harm and divide us. Dating is no exception. I am convinced that many of the apps we use to connect are doing us a huge disservice. Yes, gentlemen, Jack'd ain't doing jack for us, ok? Chances are it really hasn't accomplished much for you other than maybe giving you a reason to visit a clinic or aggressively increasing your familiarity with acronyms like PNP, VGL, LTR and DDF. Please be advised that I still have no idea what the hell those things mean. Platforms like Tinder aren't much better either. I have literally spent almost a full hour at a time swiping left and right yielding little to no results, other than maybe a forty-five minute conversation with a moderately cute guy here and there. It's exhausting.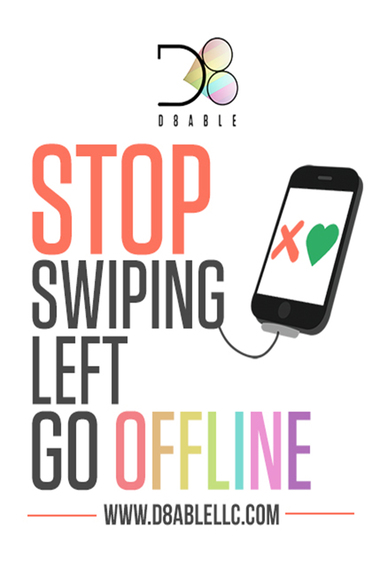 In a recent article of mine, "Gay Dating- Single In Your 30's," I mentioned that I went to a panel discussion here in NY hosted by D8able LLC, an LGBTQ matchmaking and date advising company. This particular discussion was poised to explore the issues within the realm of dating amongst gay men -- especially men of color. It was an interesting discussion. I definitely verified that night that when it comes to dating, we are a plate of deep fried, hot-ass mess. So, I was inspired to explore further and asked the founders, Tosin Adesanya and Tye Farley, for a quick sit-down at their Madison Ave office in between client meetings.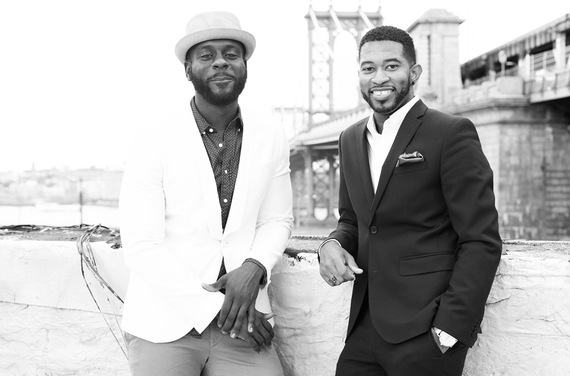 Tosin Adesanya and Tye Farley
At first glance, these two are pretty normal guys -- handsome, well dressed and obviously intelligent, but what the hell makes them experts in dating? After all, Tye is currently still dating and Tosin is single. However, what they had to offer was pretty interesting, I must say.

People really do need help in understanding why dating and relationships have been an issue [for them]... Everyone that I have spoken to has never used a matchmaker before. Because of how our community has been, we have always met people online, at the club or at the gym, and now because it's more convenient, we use apps because we have to do it in secret. Our process is so hands on and goes much deeper. Those apps can't get to the psychological aspects of people. The app only understands what you tell it.

5 Reasons You Should Trade In Your Apps for a Real Match Maker
Algorithms vs. Psychology- Just because we both like Beyoncé, Roger Federer and Scandal, does not mean that we are a great match. The fact of the matter is that apps cannot truly know what our real issues are. As we swipe left and right, we are taking stabs in the dark. If matchmaking aims to alleviate this disconnect by profiling clients and suitors, it may prove to be a viable alternative.
Tinder doesn't have an algorithm. It is I swipe left, left, left, left. If I like you, I swipe right, but I can't talk to you unless you swipe the same direction on me. So, I could be so interested in you, but because I'm not physically what you're interested in, you'll swipe [left]... You come into this office and you're understanding more about you. These are the reasons why you are single. We're going to help you figure out a solution to these [issues] and then we'll be able to say, this is what you need; this is the type of person that needs to be in your life. This isn't an algorithm. This is a bio, psycho, social assessment.
Convenience vs. Success- Who has time to look for dates? It is far less difficult to have a shit-load of guys at our finger tips and decide who we like and who we don't, right? Lies. Albert Einstein said, "The definition of insanity is doing the same thing over and over again, but expecting different results." The fact is that it's just not working, yet our crazy asses insist on doing the same ol' thing. Matchmaking may be the solution for many of us. There are no guarantees, but apps definitely can't come close.
Tye takes profiling very seriously. I take the process of getting to know our clients -- understanding who they are; helping them when they go out on their dates, and mentoring/coaching very seriously.
Lust vs. Love- Platforms like Grindr, Jack'd, Tinder and Hinge promote a culture rooted in lust. In many cases on a guy's profile, all you are offered are 3 to 6 (filtered) pictures with no text! It's like, who are you, dude? As a result, we are matching with people based simply on how they look. It is safe to assume that we are missing consequential content that maybe a matchmaker can actually provide.
I tell people, penises are to be played with; you don't marry them. I'm personally vetting someone for you. We are taking your flaws and we are helping you work through these things. We say that self is the base to every relationship because the person that you have the most control over in a relationship is you. If you can like, love and value yourself, then you can like, love and value someone else.
Swiping vs. Sustaining- Swiping on the apps has become something that we do to simply pass the time. Frequently, there is no real thought or clear intention behind it. If matchmaking is designed to improve "self" and arm you with useful, effective relationship tools to utilize with someone that is hand-picked for you. If we're looking for something lasting, isn't it a no-brainer?
Unlike apps and dating websites, as matchmakers, our service and priority is to help you identify habits that are hurting your dating success. We will give you honest advice and coaching that will actually help you. Lastly, since most of our clients are busy professionals, we understand that time is a precious commodity, therefore, wasting hours swiping and scrolling through endless online profiles of random people who are only sharing with you their best traits, can be daunting and flat out a waste of time.
Lies vs. Liberation- Often times we blame other people to rationalize still being single. A match-maker can provide you with the insight and coaching to help you discover how you have impacted your status. They say the truth will set you free. Well boys, the reality may be that no matter how many times you swipe right into date after date, you won't find anything lasting because you have some unresolved issues. Yes, you may be the problem. And last I checked, OK Cupid hasn't quite figured out how to remedy that. No shade.
My job is to notice every single lie. When people walk into this office and they leave, they leave thinking about things that they weren't thinking about before -- about themselves. I am trying to get people to understand that your experiences are not things that should break you, but things that should teach you. Changing the way that a person thinks is working for us.
So, for the same amount as a Friday night on the town and a Saturday brunch, you can have a matchmaker for a month! I have to be honest, I never really considered the idea before, but I'm intrigued. I've learned that no matter how beautiful you are, how much money you make or how wonderful people say you are, in most cases, dating is a challenge for less-than-obvious reasons. So, what do we do with this intel? Honestly, I suggest that we delete all of our "dating" apps for at least a month and explore other options like matchmaking. Your ass is single anyway; you might as well give it a try, right?
*Please note: I am not affiliated with D8able LLC in any way and this is not an advertisement*. For more about D8able LLC, you can visit their site right here. You can also find them on Facebook and Instagram.
REAL LIFE. REAL NEWS. REAL VOICES.
Help us tell more of the stories that matter from voices that too often remain unheard.