All around the world, events, awards ceremony, concerts are held and depending on the caliber of the event, the reach could be humongous! The Oscar for instance, viewed by over 150 countries and trending on social media platforms for days (during, before and after), is no doubt one of the most celebrated events. But before it begins, there is the red carpet.
Perhaps the most exciting aspect of an event, especially a prestigious one, is the red carpet. A lot of people would indeed agree it is the most anticipated part. The glitz that go into making a five minute long, head turning and unforgettable impression on the red carpet could be the most expensive yet profitable thing a person could do. Especially if he/she is a known or up-coming brand.
The increase in fan base, the indelible fashion statement made, can easily be translated into huge value for the red carpet participant. It's amazing and exhilarating to think of the designers and brands that work tirelessly to make their craft walk the length of the red carpet. The stylists that spend weeks drawing out the best outfit for their clients, the brands that unashamedly flaunt their ambassadors, all make up a worthwhile experience.
In light of how important it is to create an illusion of fashionable perfection, some etiquette need to be practiced to stay ahead in the game. After you've employed the service of a top-notch stylist, what then? What sums it up? Nobody wants to drop a Helen Mirren on the red carpet or have Twitter buzz with disgust because you struck the wrong pose.
Newbie or veteran, the red carpet must be respected. While you ensure that theme colors are adhered to, here are a few other etiquette to try.
-Strike a pose. You know how you're advised to try on your dress for size, days before the day of the event? Same with your pose. Perception is everything and you want to be sure you serve the right side of things, even on the red carpet. Angelina Jolie doesn't come to play when she steps on the carpet, neither is her leg pose a mistake. There's a deliberate thought to these gestures.
The world is watching so take a few moments to pause and let them enjoy the glory that is you. Your Gucci dress or Tom Ford suit will not forgive you if you don't stop for a second or two, and strike a grin-inspiring pose. Avoid standing still and change your pose every three or four seconds. You may want to reinvent a Beyoncé pose or something totally different but whatever you do, stop and strike a pose.
-Purse It. It's easier, I believe, for the guys to nail a dapper appearance on the red carpet. Most often, the job of their stylist is cut out for them when the event is tagged a black event or some color code is given. A suit or a tux generally seals the deal.
The ladies, on the other hand, have to weigh every single fashion choice on a scale. In all of these choices, be advised to pick a purse over a bag. There's a lot going on already to add the extra weight of a bag. As a stylist, I would easily advice total freedom. No purse or clutch at all. However some ladies would prefer to have something to hold. So if you must though, 'purse it'.
-Heels don't lie. The greatest blunder would be to wear sandals or flat shoes on the red carpet. How hideous. Except you have an injury on your feet, or you're 78, there really is no excuse. Heels must be won on the red carpet. All the red carpet gods get really cross when flats are won on them. Heels exude a certain class that's custom-made for red carpets and it's pure injustice to wear otherwise. Heels don't lie when they serve you up as a tall glass of chocolate ice cream.
Ideally, a four-inch heel ticks off perfectly fine but a little less heel can be allowed for ease and comfort. Higher inch heels though should be avoided. They may look pretty on the red carpet but the risk of toppling over is way less attractive. Awards are never known for their brevity so you'll want to stay in comfortable heels. Except if you're a Lady Gaga and very used to high heels, stick to your comfort zone.
-Never rush down the red carpet. Cardinal rule. Never rush it. Now you have your breath-taking outfit on, heels to die for, and that pose you've practiced well enough, take your time. From the moment you step out of your car onto the red passage below, take your time to feed the world with your immaculate goodness.
Not only is the world watching, you'll be giving yourself less room to fall. Nothing can be more embarrassing than falling over while the world has its eyes fixated on you. It's just for a few minutes, take your time and let the lens capture your elegance. However shy you may be, never rush down the red carpet.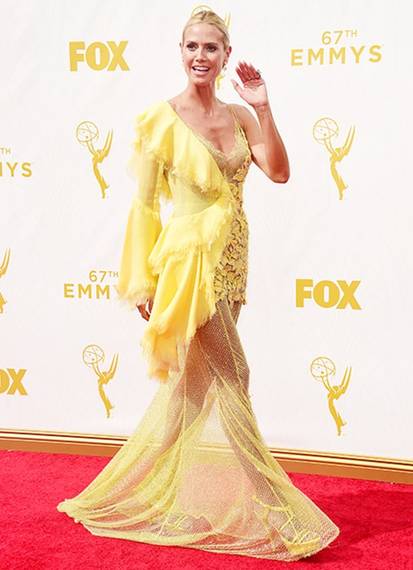 -Smile and wave. The red carpet is not the place to snob. Whether you're anti-social or a reserved celebrity, make the effort to smile at fans.
Whoever is looking, they deserve a smile. Let the cameras catch you excited to be on the red carpet, and eager to share a memorable experience with your fans. Sign an autograph, take a selfie, wave, smile, be a diva. Be a lord.
Interestingly, very little attention is paid the red carpet when exiting the ceremony. As you egress, pull a Katniss Everdeen and blaze the trial. Let the red carpet have enough stories to tell long after you're gone.