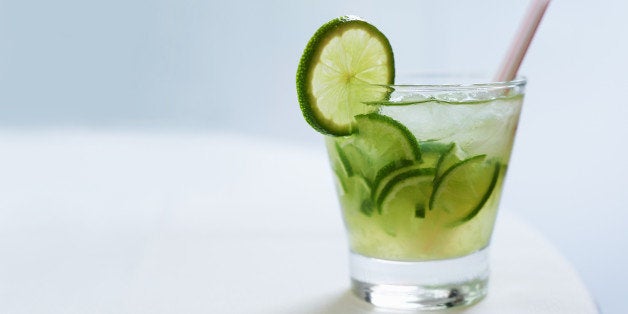 Spring is perhaps the most pleasant of the four seasons. It's when Mother Nature shakes off her mantle of snow and gets back to growing. New life is found all around us, and plants transition from the depressing shades of grey found in winter, to lush greens and pastels.
For those of us in the cocktail profession, we begin turning away from the deeply savory drinks that kept us warmed through the slush and ice of the past four months, and to some lighter and more refreshing cocktails of the spring.
We reached out to a number of brands we work with and asked them what new drinks they had come up with. And as usual, they outdid themselves.
Here are five new springtime cocktails to try out over the next couple of months. Enjoy!
This one comes from Watershed Distillery, an independent micro-distillery located in Columbus, Ohio, and uses their signature Four Peel Gin. This gin infuses light citrus notes with botanicals to create bright and very pleasantly refreshing spirit.
1 1/2 oz of Watershed Distillery Four Peel Gin
3/4 oz of Cardamom Rose syrup
1/4 oz of Fresh lemon juice
3/4 oz of pink grapefruit juice
2 dashes of aromatic bitters
Measure the Four Peel Gin, Cardamom Rose syrup, fresh lemon and grapefruit juices in a shaker tin. Shake hard with ice. Strain into a coupe and serve up.
Cardamom rose syrup: combine 1 part water and one part sugar in a saucepan over medium heat. Add ¼ cup of whole cardamom pods and 1 cup dried rose petals. Bring to a boil. Remove from heat and allow to cool. Strain out rose and cardamon and store in airtight container.
1 large ripe strawberry
2 parts Barking Irons Applejack
1 part ginger-infused simple syrup
1 part fresh lime juice
Soda water
Muddle the strawberry in the cocktail shaker and add the next three ingredients and handful of ice. Shake well and strain over a tall glass filled with ice. Top off with soda water then garnish with lime (and candied ginger if available), and enjoy.
This refreshing drink was created by Martin Preusche of Upholstery Store, in New York City for Soltado Tequila, a premium Anejo Tequila infused with Serrano Pepper and Cinnamon. This drink features fresh pressed apple and celery juice, jalapeno infused honey, and fresh, sweet candy cane beets. Added to this is the lushness of rosemary and thyme to usher in the spring.
2 oz Soltado Tequila
2 oz homemade apple celery juice
1/2 oz jalapeño-infused honey
1 oz lemon juice
2 rosemary and thyme sprigs
2 slices candy cane beets
Add all ingredients to shaker and shake well, then serve on the rocks. Garnish with rosemary sprigs and candy cane beet slices.
Another variation of the Moscow Mule but with the sweet and supple addition of pear added to the earthy tones of thyme. This one is also from Watershed Distillery and features their vodka, made with a combination of corn and apple cider, giving it a light sweetness.
1.5 oz Watershed Vodka
1 oz fresh lime juice
3 fresh pear slices
4 oz ginger beer
3 thyme sprigs
Measure the vodka and lime into shaker tin, add pear and thyme. Muddle and shake hard with ice. Strain over fresh ice in copper mug or rocks glass. Top with Ginger Beer stir and serve. Optional garnish with a slice of fresh pear and/or a sprig of thyme.
Mastiha (or Mastika) is a Greek liqueur flavored with mastic, the resin from the mastic tree, a small evergreen tree native to the Mediterranean. FOS Mastiha was introduced to the US market in late 2015. The light, woody flavor of this drink is perfect for springtime cocktails. This was sent to us by Ambrosia Group, exclusive importers of FOS Mastiha.
1 1/3 oz. of FOS Mastiha
2/3 oz. premium gin
1/4 cucumber no skin no seeds
1/3 oz. fresh lemon juice
1/4 oz. simple syrup
1 dash angostura bitters
Muddle cucumber in base of shaker. Add rest of ingredients and shake with ice. Strain onto a chilled martini glass and garnish with a thin slice of cucumber.
Try these yourself and let us know in the comments what you think!
Popular in the Community