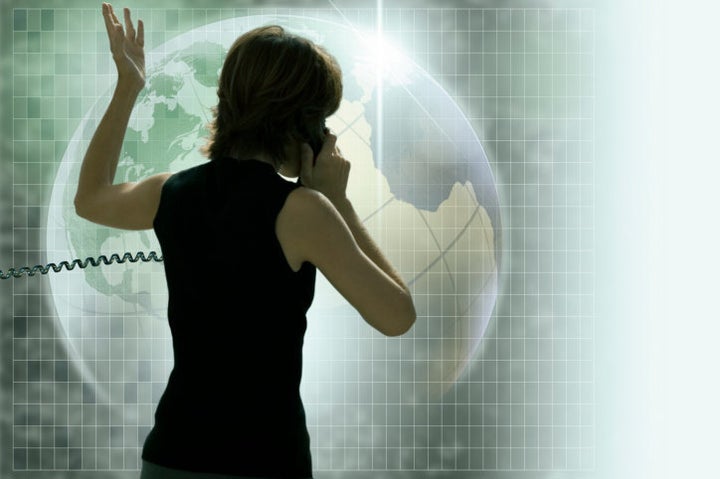 If you want something said, ask a man. If you want something done, ask a woman. - Margaret Thatcher
Women have always impressed and inspired me. As the son of a dynamic mother, the husband of a superstar wife and the father of two glorious daughters, my fortune is to be surrounded by phenomenal females. My appreciation for what makes women special is longstanding and deep-seated.

In business, too, the best hires I ever made were women. The most perceptive minds I ever worked for belonged to women. This is not to be interpreted as a knock on guys. My own father is a rock solid role model of what a man should be and, having reported directly to four male CEO's, I've also worked with brilliant and extraordinary men. But as an entrepreneur, this is to praise five businesswomen I know who impress and inspire me.

It is significant to note that women now outnumber men in the workforce for the first time in history. Together with the more than 8 million (and growing) businesses owned by women, the recovery of the U.S. economy will be, to a great degree, driven by women.

Meet five female entrepreneurs whose healthy disregard for the status quo coupled with their bias for action is making a difference in the world. I asked them about their pursuits, about men and about what they know for sure. Indeed, each is living proof of one thing I know for sure: that in the end, all that matters is what you've done. And that good fortune favors the bold.

The"Mompreneur": Missy Chase Lapine

The mompreneur seamlessly blends motherhood with commerce. That's no easy feat as looking after children is itself a full time proposition. But if it can be done it comes with the built-in advantage that the mompreneur is her own "walking demo" -- she really knows her audience.

While chasing her daughter around the kitchen trying to get her to take medicine, it occurred to Missy that she "could outsmart my little rebel by simply hiding it in the chocolate pudding that she loves so much." With the realization that she could hide all kinds of nutritious things in her kids' favorite foods, this former publisher of Eating Well magazine created a brand with her NY Times bestselling book, The Sneaky Chef. She has written three more books since then and has become a featured speaker, corporate spokesperson and business advisor.

RR: What drives you?
MCL: Our kids are the innocent targets of the media age. They are constantly pitched an endless variety of junk foods and sedentary video games. As if this weren't enough, societal changes have resulted in their spending less time outside playing-at home or at school-than ever before. It is my personal mission to counter these trends with easy, practical solutions that work for both kids and parents. No less than the health and well being of our children is at stake!
RR: The greatest advantage of being a woman?
MCL: Women have the ability to nurture at the deepest levels and we're uniquely equipped to pick up on feelings and connect with our loved ones in a way that bypasses all other forms of communication. We live in the heart of the matter, whether we're at home or in business.

RR: The quality you most admire in a man?
MCL: The ability to show love, emotion and vulnerability.

RR: Your current state of mind?
MCL: In spite of the hard economic times and the current global landscape, I have become increasingly optimistic. Parents and children send me incredibly touching emails telling me that their lives are changing because of the Sneaky Chef. Nothing feels better to me, everyday, than enabling people to make positive changes that directly affect their quality of life.

RR: Your greatest hope?
MCL: That the Sneaky Chef and Fitness techniques will touch every family in our country, to turn around our current health problems. Why settle for less?

RR: Your favorite food/beverage?
MCL: I love to relax with a hot tea "latte" - black tea with steamed milk, vanilla powder and dash of cinnamon and sugar. And nothing beats a great pizza. I make mine with a thin crust, tangy sauce (with lots of hidden veggies, including pureed sweet potatoes to sweeten it up and cut the acidity), fresh basil and just the right amount of cheese.

RR: What do you know for sure?
MCL: I know that my children are my greatest gift and challenge. I know that I can help people. And I know that the best recipe for success always includes love.

The "Transformer": Jacqueline Corbelli
The transformer is turned on by altering the landscape. The bigger the change and the bigger the platform, the better. To do that, however, she must also recognize the critical importance of process, without which there is no progress.
A Columbia MBA and former president of a management consulting firm, Jacquie is an operational whiz with a financial background who founded an interactive TV advertising company without a single day's experience in the media business. She is a pioneer who envisioned an opportunity very early on for digital technology to fundamentally change TV advertising. Now in its sixth year, Brightline works for clients such as Unilever, Burger King and JP Morgan Chase and has won numerous accolades (including an Emmy) in the process.

RR: What drives you?
JC: Finding and maintaining my one, authentic self and bringing it to everything I do.

RR: The greatest advantage of being a woman?
JC: The ability to inspire is what counts most, but as a woman I feel I can add a sense of passion and COMpassion that makes the potential to inspire even more compelling

RR: The quality you most admire in a man?
JC: Clear communication and a quiet confidence.
RR: Your greatest hope?
JC: That my three daughters will see in my efforts and approach to life, that you can have it all and that at the end of the day - if you do what you love, work very hard at it, the rest will come.
RR: Your favorite food/beverage?
I'm Italian, which automatically means, first and foremost, that I LOVE food, but at the same time I have pretty simple needs. I'd have to say a great loaf of crusty Italian bread dipped in some premium olive oil goes a very long way.
RR: What do you know for sure?
As ambitious as I am, my feet will remain firmly planted on the ground.

The "Actioneer": Cindy Gallop

The actioneer is in perpetual motion. She operates unafraid, but on some deeper level likely fears that if something isn't always happening, then nothing must be happening. That is anathema to Cindy Gallop, whose entire business is literally built on taking action. "You are what you do," she says.

Cindy "Why Walk When You Can" Gallop is a naturally theatrical Eurasian from Brunei with an Oxford degree. The former ad world star turned her attention to intention by launching two web-based businesses: If We Ran The World and Make Love Not Porn. If We Ran The World aligns companies and individuals with similar goals. Make Love Not Porn aims to improve attitudes about sexuality. Cindy's penchant for the provocative was openly displayed at the famed TED conference when her talk to launch Make Love Not Porn became one of the event's most talked about. (Link below.)

RR: What are you trying to change?
CG: I want to turn more good intentions into action and I want more people to have more thoroughly mutually enjoyable and fulfilling sex. I think both of those things would make the world a much better place, in many, extremely interesting ways.
RR: Your "aha" moment ?
CG: Turning 45 on February 1, 2005.
RR: What drives you?
CG: When I encounter something I feel strongly about, I do something about it.

RR: The greatest advantage of being a woman?
CG: Confounding expectations.

RR: The quality you most admire in a man?
CG: Integrity.
RR: Your greatest hope?
CG: That IfWeRanTheWorld and MakeLoveNotPorn are effective at making the things that people would like to happen, happen, in their two very different but not unrelated spheres.

RR: Your favorite food/beverage?
Steak so rare a really good vet could get it back on its feet in five minutes. A martini so dry it involves just a glance in the direction of the vermouth bottle.

The "Mobilizer": Julie Gilbert

The mobilizer is a born leader. A role model. And a motivator. As such, loyal followers will flock to her side. In turn, she gives her energy and taps into theirs to create a powerful, surging synergy.

As a Senior VP at male-dominated Best Buy, Julie Gilbert designed a program for female employees, from top executives to cashiers, to get more deeply involved in core business issues. She has turned that success into a global consulting and business incubating firm (Wolf Means Business) which boasts an impressive track record for harnessing the purchasing power of the largest, fastest growing market in the world - women. There are now 40,000 women in her WOLF network.

RR: Your "aha" moment?
JG: Personal experiences pushed me to search for data on the purchasing power of women and develop and execute plans to reinvent organizational growth in non-traditional ways - from the bottom-up and outside-in, enabling all voices to be utilized in innovation and growth at scale.
RR: What drives you?
JG: Proof that Wolf works to help grow businesses and industries and inspires social change. Making a difference for each person I encounter, even if it is just for a moment, by believing in them and inspiring them to take their personal passion to the next level. Building entrepreneurs en masse. Curiosity, new ideas and partnering with values-driven big impact people who want to build business and create social change.

RR: The greatest advantage of being a woman?
JG: The empathy and instincts of women naturally enable us to create holistic visions and outcomes that make everything better for everyone. And the ability to bring life into the world.

RR: The quality you most admire in a man?
JG: Kindness, generosity of spirit and humor! There's nothing like a great belly laugh!
RR: Your greatest hope?
JG: Businesses of all sizes awaken to the power of the female market and begin to work productively with women, both inside and outside the company. My greatest hope is that each person will feel respected, have a voice and believe in their ability to mobilize and change their situations and the environments around them for the better. Ultimately, peace, freedom and safety for each woman to speak up and make change in her industry.
RR: Your favorite food/beverage?
JG: Homemade kabobs and salad... along with a chocolate shake or ice cream sundae!
RR: What do you know for sure?
JG: I know the power of what happens when you engage employees and customers to build business through innovation. It is a system of transformation built on the core fundamental truth that every person on the planet just wants to be respected and the best way to enable that is to acknowledge each person you pass by or meet and really listen to what they have to say. That's when great transformation takes root and grows peacefully and powerfully - in for-profit, non-profit, or governmental agencies.

The "Fascinator": Sally Hogshead

The fascinator realizes that attention is the one true remaining scarcity in our culture of abundance. In business, more than ever, attention is currency. And to get it requires more than creativity alone; it takes a deep understanding of what people will find fascinating enough to turn their limited attention to. And it takes skill.

"Growing up with the last name Hogshead would give anyone an unconventional point of view," says Sally, who turned her talent as a highly award-winning copywriter into a business to help companies develop captivating ideas and persuasive messages. She is now a nationally-recognized speaker and author of the recently published FASCINATE: Your 7 Triggers to Persuasion and Captivation.

RR: Your preoccupation?
SH: I'm preoccupied with fascination--why we become captivated by certain people, trends and ideas.

RR: Your "aha" moment?
SH: I spent three years studying decision-making. Turns out, every single choice we make--from the brands we buy to the person we marry to the songs we remember-- all stem from seven instinctive triggers.
RR: What are the triggers?
SH: Power, lust, mystique, prestige, alarm, vice and trust. Whether you realize it or not, you're already using the seven triggers every single day. The question is: are you using the right triggers, in the right way, to get your desired result?
RR: What drives you?
SH: Fear of mediocrity.

RR: The greatest advantage of being a woman?
SH: Free drinks at ladies night.

RR: The quality you most admire in a man?
SH: His ability to keep me on my toes. (Clean fingernails help, too.)

RR: What is your current state of mind?
SH: Highly caffeinated!

RR: Your greatest hope?
SH: Right now? To spend more time with my kids... doing absolutely nothing.

RR: Your favorite food/beverage?
SH: Hot Krispy Kreme donuts. With milk. By the dozen.

RR: What do you know for sure?
SH: Pop rocks & Coke & Trampolines = Uh-oh
**LINKS TO ALL THE LADIES**
"Food is love. Never waste a meal." Copyright - Robert Rosenthal