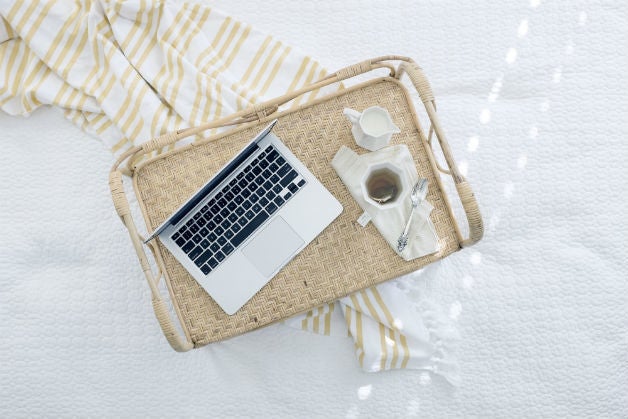 It's no secret that remote work is on the rise, and now with companies big and small approving flexible work options, many of us are realizing that our jobs don't necessarily determine our locations — and not only that, but we can actually choose where we want to live without sacrificing our careers.
If you're looking to ditch your daily commute, travel the world, or move somewhere with a lower cost of living, then a location-independent lifestyle might be for you. Before you make the step, it's important to get familiar with these remote work myths:
Myth #1: Working from home is an easy way to make money.
You've seen it before: Ads claiming that you can make "easy money" working from home without doing any actual work.
You shouldn't only avoid these too-good-to-be-true job listings that promise the world — you should run far, far away.
The truth is that full-time, legit remote positions require real work. Just like any other job, you'll be held accountable and you will have a boss regularly checking in on your work. For this reason, it's really obvious to employers when work isn't getting done.
Myth #2: Applying for a remote job is the same as applying for a traditional job.
I've heard a lot of people say things like, "I've applied for all these remote positions but haven't heard anything back. What gives?"
Here's the thing: When applying for telecommuting positions, you have to change your approach and forget everything you've ever learned about applying for traditional office jobs. The process is very different.
To snag a virtual job, it can be helpful to build your personal brand, get on social media and discuss industry news, create a portfolio, and learn how to write unique messages that will win the attention of hiring managers.
The other big difference in the application process are the interviews. For example, it's not uncommon to be invited to three or more interviews for a remote position, and you might even be asked to go through a paid trial period before a final decision is made. You've got to be adaptable.
Myth #3: It's tougher for remote employees to get promoted.
It can be easy to assume that if you don't see your boss regularly, they won't know how hard you've been working.
Every company is different, but many remote-friendly companies keep track of projects internally and keep close tabs on what's been accomplished using project management tools. That way, you won't have to worry about your work going unnoticed.
And for companies like Buffer who have gone 100 percent remote, it's a non-issue. Offices are not always a given anymore, and some companies have decided against offices altogether.
Myth #4: Your work hours need to overlap with the rest of the team.
Even though you may be across the country from your coworkers, you won't always have to work the same hours. Though it depends on the company, many have been known to let their employees set their own hours (with the exception of a brief overlap for team meetings).
So, if the company you want to work for has an office in New York and you live in Oregon, don't worry about it until you figure out exactly how they operate. You might be pleasantly surprised to find out that your hours don't need to overlap as much as you thought!
Myth #5: Remote work is bleak and lonely.
I'm not saying that nobody in the world has ever felt lonely while working remotely.
Sure, when you don't go into an office every day, you miss out on a lot of spontaneous interaction. Here's the thing, though: Many companies use instant chat communication tools, so even though you won't see your coworkers in person, you can still ping them anytime with questions.
And if you ever want to get out of the house (for the sake of your sanity), you can work at a nearby cafe or check out a coworking space. Some companies even offer stipends to employees who prefer to work at coworking spaces.
Taking action
Remote work isn't for everyone, and finding a good remote position can take a lot of time and effort — but if you crave the flexibility and independence of a remote lifestyle, isn't it about time you made it happen?
REAL LIFE. REAL NEWS. REAL VOICES.
Help us tell more of the stories that matter from voices that too often remain unheard.
BEFORE YOU GO