5 Rings, 5 Things: Olympic Gold Medalist Nastia Liukin
5 Rings, 5 Things is a column of my blog in which I dish out 5 fun facts about Olympians.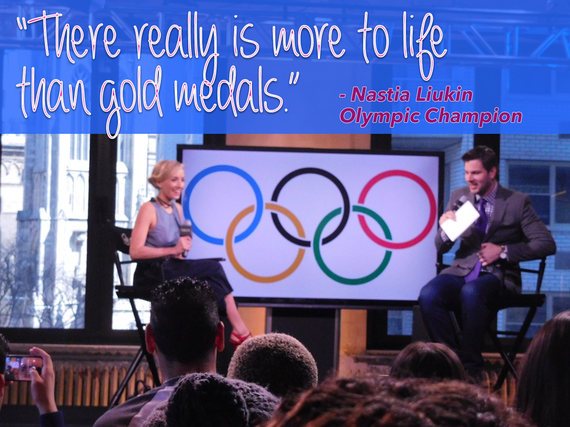 Today, Olympic Champion Nastia Liukin stopped by AOL BUILD to discuss her gymnastics medals and the moments that defined her incredible career. Nastia took the time to pose with fans. She even let the AOL BUILD host, Matt Forte, try on her medal.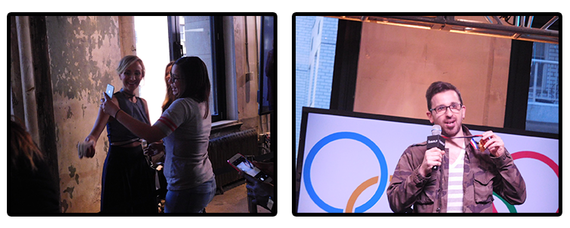 How do you measure a year? 
1. Athletes who have trained or participated in the Olympics measure their life in "quads." The moderator, Tim Morehouse, an athlete himself, measures his life in 4-year increments based on the Olympics as well.
2. Her first standing ovation was when she messed up in front of 20,000 people. "They Don't Want You To Win" - DJ Khaled. Her second standing ovation was Wednesday, April 13th at AOL BUILD.
3. By Age 3, coaches were able to see her gymnastic potential. By Age 9, she had won the Level 6 Texas State Championship.
4. Nastia is getting married in Newport, Rhode Island next summer. Nastia was advised NOT to reveal she was location-scouting for her wedding when pricing venues. However, it was the first question they asked.
This is a big quad for Nastia! She is graduating college, engaged to be married and creating a handbag line. She will begin her next quad this summer, as a NBC Commentator at the Summer 2016 Olympics in Rio!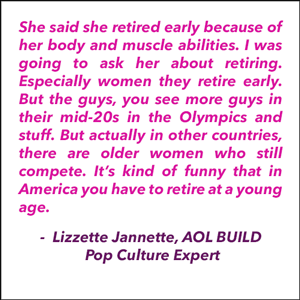 Calling all HuffPost superfans!
Sign up for membership to become a founding member and help shape HuffPost's next chapter