Have you ever had this feeling? You're scrolling through a news site and you see one of your competitors being profiled and you think to yourself, "Why are they in the media and I'm not? They know less than me, but a journalist has interviewed them."
Argh, so annoying! But you know, the only difference is that they most likely got in contact with the journalist - and you didn't.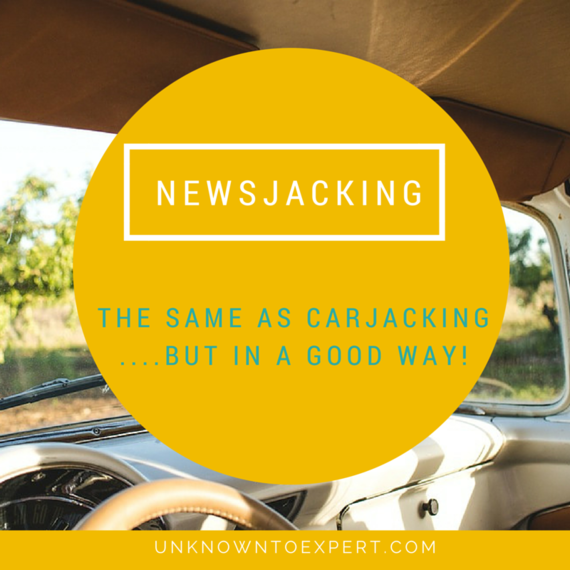 Journalists want to write about you. Truly, they do. They're constantly looking for newsworthy stories, but to get into the media, there are some rules you need to follow.
Journalists are inundated with pitches and press releases every single day. Before emailing or calling a journalist, critically examine that what you are offering passes the newsworthiness test.
Your idea is likely to receive a once-over glance that will last a matter of seconds, so serve up all the most compelling content at the start.
It's kind of the same as carjacking... but in a good way. Take advantage of breaking news stories and make them your own; all you have to do is offer an expert quote or interesting point of view on a relevant topic in the news - just like I did here.
While you may want to cast a wide net, I think it's better to target your efforts strategically and focus on a single journalist or media outlet that you think would be ideal to cover your story. We did this recently for a client and with just one interview, the story appeared across all metropolitan Fairfax news outlets - as it was syndicated.
While you may think you have the best story out there, it might not be the right time, or the journalist might be on leave, or a million other reasons... This happens to me when I'm pitching myself. Don't give up. Find a different outlet, rework the media angle or repackage the idea. I've sat on ideas and waited until a topical news item hits the headlines and pitched then. Be patient.
Recently I was scrolling through my Facebook news feed and saw that I made the front cover of the newspaper where I grew up. It was a great surprise! Just like me, if you follow these rules you will stop seeing your competitors in the media, and you will start seeing yourself.
About the author
Catriona Pollard is the author of From Unknown To Expert, a step by step framework designed to help entrepreneurs develop effective PR and social media strategies to become recognised as influencers in their field. www.unknowntoexpert.com
Catriona is also the director of CP Communications, which merges traditional PR tactics with cutting-edge social media strategies that engage consumers as well as business. www.cpcommunications.com.au
Calling all HuffPost superfans!
Sign up for membership to become a founding member and help shape HuffPost's next chapter