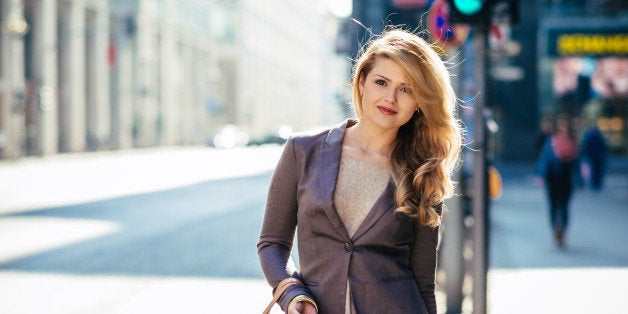 When I was in my early 20s I had big dreams but a very small bank account (a few hundred dollars to my name to cover every expense under the sun, including my rent). I wanted to work in the corporate sector and my interviewers, colleagues and peers intimidated me with their amalgamation of experience, confidence and polished looks.
I love the old saying, don't dress for the job you have, dress for the job you want. I did not have the money to splash out on expensive clothing and accessories but somehow I managed to still get the jobs, meetings and opportunities by doing my best to look the part for the position I wanted. I frequently put together entire outfits for around $100. I get regular compliments on my style, too!
I still follow the same rules I crafted 10 years ago -- being naturally thrifty and having found a formula that works.
These are the corporate, cheap chic rules I live by:
1. Always add a blazer.
A blazer adds instant glam and professionalism to any outfit. I have worn blazers with summer beach dresses, jeggings, t-shirts, everything. If it is well-fitted you immediately look office-ready! I have about eight blazers now in total (mainly black, navy, grey, white) and have them in rotation in my week -- they fix up and complete every look in my closet. Blazers can be found from $25 at most chain retailers.
2. Pearls make perfect!
I buy pearls in packets at cheap stores like C21, Forever21 and H&M. I spend about $10 for four to five pairs. There is something understated and elegant about simple pearls that make everything look good and pulled together. They also go with every single outfit imaginable (even sports chic) -- so you get a lot of wear out of every pair!
3. Simple stilettos suit all.
I recommend two pairs of simple stilettos -- one nude and one black. You are covered for all looks and seasons and once again... bingo! They suit all outfits (sans sport, sorry!)
4. Black is brilliant.
Black always looks simple and professional -- dresses, tops, pants. It is versatile and corporate and you can always jazz it up with a colorful bag, bright belt and pair of flats or necklace. You can re-wear all the pieces too unlike a very dramatic, bright pair of jeans or orange-tailored dress.
5. High street = high style.
You do not need a $300 blouse or $175 skirt to be interview or big meeting ready. There are great, cheaper, good-quality options in any mall or high street. I love Zara, Gap, Loft and Old Navy in sale season and snap up pieces I wear for years.
There is no reason to ever have credit card debit for clothes. Ever. Living in New York, I was astounded at people who shop with money they don't have for expensive fashion items they don't need.
In your blazer, heels, pearls and stilettos, you will look effortlessly chic and no one will have a clue how inexpensively you mastered it. Win-win!