From coast to coast and top to (almost) bottom, unforgettable foliage displays happen in all sorts of unlikely -- and uncrowded -- places. Here's your guide to chasing falling leaves around the country, from now to Thanksgiving.
1. The Semi-Private Show: Keweenaw Peninsula, Michigan
When to go: Late September to early October
Anyone fortunate enough to have experienced the annual display in the upper Great Lakes can attest to the fact that it's almost impossible to improve upon. If they've bothered to make the day's drive-from-anywhere trek to the Keweenaw Peninsula, roughly 70 miles of awesome surrounded by Lake Superior and extending so far north that you end up on the same latitude as Seattle, they know this is, quite simply, as good as it gets. Far too remote for a quick weekend foliage drive, the peninsula's rugged coastline, deep forests, and hiking trails belong to the hardy few who manage to make the journey in the short space between summer and the region's punishing winters. Check into the Eagle River Inn, with simple, Scandinavian-inspired rooms and full frontal lake views. On the ground floor you'll find the Peninsula's best restaurant, the cozy and fun Fitzgerald's, offering smoked meats and an exemplary beer list.
2. High-Altitude Magic: San Juan Skyway, Colorado
When to go: Early October
From historic Durango to glamorous Telluride and millions of acres of pristine preserved lands--as well as the prehistoric ruins of Mesa Verde National Park in between--this six-hour drive on the San Juan Skyway offers the perfect introduction to what makes Colorado's southwest so darn captivating. Not that you'll want to do it all in a day, as there's simply too much to see. Those who prefer to let someone else do the driving can board the Durango & Silverton Narrow Gauge Railroad, which runs along a 42-mile scenic route throughout the month of October. (Tip: Upgrade to their Presidential Class, housed in a restored parlor car dating back to the 1880s.) For something a little less sedate, Soaring Treetop Adventures near Durango will have you whistling over old growth pines and golden groves of Aspens on its 27 different zip lines. Then again, you could also just skip all of the running around and opt instead to enjoy the fall display from the confines of Dunton Hot Springs, an intimate all-inclusive with luxe, cabin-style accommodations in a restored ghost town.
3. Go off the Grid (Without the Long Haul): West Virginia
When to go: Early October
Those living within day-tripping distance (Washington, Pittsburgh) are likely familiar with West Virginia's dramatic Seneca Rocks, but fewer make the drive up the state's highest mountain--Spruce Knob, rising to nearly 5,000 feet above sea level--and fewer still make it into the adjacent and vast Dolly Sods Wilderness. Here, a few remote roads (not all of them paved) link you to some of the East's greatest--and most underappreciated--outdoors. Hiking along, say, an upper-elevation bog that feels more like Canada than any other place this far south, you'd be excused if you forgot that you were only a couple hours' drive from the hubbub of the Northeast Corridor. Stay in the Canaan Valley (itself a fine fall destination) town of Davis at the Bright Morning Inn, renowned for hearty, hiker-friendly breakfasts.
4. The Ultimate Romantic Weekend: Canoe Bay Resort, Wisconsin
When to go: Early to Mid-October
Two hours from the Twin Cities and along a quiet country road near almost nothing, you'll find one of the Midwest's best small resorts, set amid 300 acres of private preserved lands along idyllic Lake Wahdoon. Canoe Bay's early days as a youth camp are far behind it--today, the Relais & Chateaux member hotel is an exclusive, no-kids-please couples retreat renowned for cocoon-like accommodations, ranging from traditional lodge rooms to the Prairie-influenced villa, Edgewood, designed by Frank Lloyd Wright protégé John Rattenbury. From the wooden boxes in which complimentary breakfasts appear to meditative walking paths, to tiny design details in your cottage, everything at Canoe Bay appears to have been obsessed over, and it has--this extends to nightly prix-fixe dinners, emphasizing local and seasonal ingredients. (There is an actual dining room, but you'll be forgiven if you prefer to stay in your quarters, where dinner will be cheerfully delivered, upon request.)
5. Give the Season a Serious Upgrade: Victoria, British Columbia
There's still plenty of blue sky and the temperatures remain mild during October in British Columbia. In the land of the Northwest, many default to Vancouver Island, but in this case, there are finer destinations. Color-wise, you will find more quantity elsewhere, but the riotous seasonal display at Victoria's busy (but so very worth it) Butchart Gardens, tastings at the Sea Cider Farm & Ciderhouse in nearby Saanichton, a brisk morning walk along the city's Waterfront Trail (with awe-inducing views of Washington's Olympic Mountains), and some of the continent's finest fish-and-chips al fresco on the Inner Harbour at Red Fish, Blue Fish all add up to a fall day you'll never forget.
More from Condé Nast Traveler: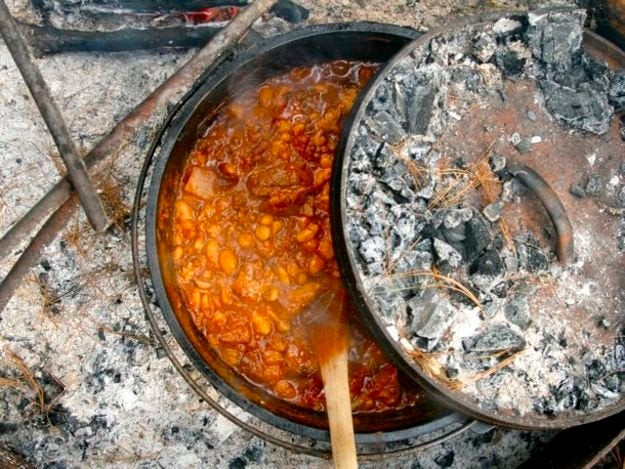 Fall Camping Recipes
Popular in the Community