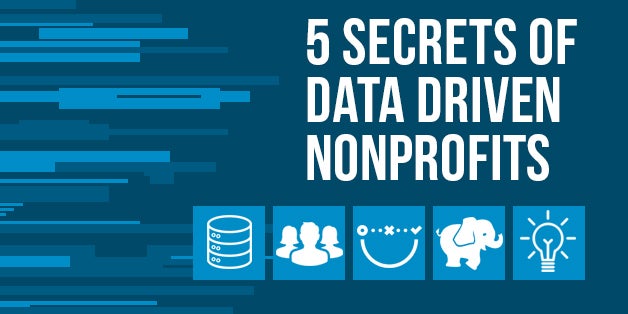 We know that Big Data is fundamentally changing how companies make decisions and improve their performance, but many nonprofit organizations have lagged behind in this area.
Over a year ago, I set out on a journey to understand why nonprofits are not making more out of the hidden treasure in their data. What I found is compiled in the new book Data Driven Nonprofits.
Nonprofit organizations are vital to making meaningful change in the world and they have significant amounts of untapped potential in their data. But why do some nonprofits struggle to use data while others have successfully harnessed information to drive better decision making?
To answer this question, I spent time researching the habits, mindsets, and cultures of successful data driven nonprofits. Along the way, I interviewed more than 20 nonprofit experts from a wide variety of organizations.
I found successful data driven organizations across nearly every sub-sector including higher education, international relief, religious, medical research, healthcare, human services, mental health and crisis intervention, community improvement and capacity building, environmental, and animal welfare.
Over time there emerged five critical characteristics that each of these successful nonprofits had in common:
1. Natural Curiosity: Time and time again, the best examples of people using data to drive decisions are those who have curious minds. They may not all have a background in statistics or mathematics or computer science, but all of them were curious people. They want to understand why things happen and how the world works. Natural curiosity is a prerequisite for changing the status quo and data driven nonprofits empower their people to explore what's possible.
2. Data Health: The term "data hygiene" rarely gets anyone excited, but the importance of data health at a nonprofit cannot be overstated. This is not about garbage in and garbage out. It's actually much worse than that. If you start out with bad data, then it only gets worse from there, never better. Data driven nonprofits have healthy data habits.
3. Champions at All Levels: We often hear about the importance of top-down leadership to make change happen. While the support of leadership is important it simply is not enough. The most successful data driven nonprofits have champions at all levels of the organization working to drive change. They may not have the fancy title or the corner office, but they make things happen each and every day.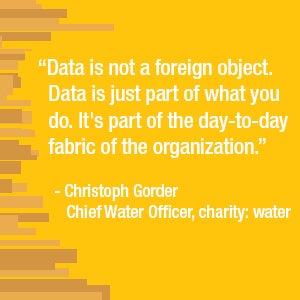 4. Data is Not a Foreign Object: These were the words of Christoph Gorder, chief water officer at charity: water. It encapsulates the mindset of highly data driven organizations. Data is part of the daily workflow and forms the basis for how decisions are made. Data driven nonprofits embrace the use of information to accelerate change.

5. Data Scientists are Good Storytellers: It is a mistake to believe that the data should speak for itself. A common thread among the best data scientists in the nonprofit sector is that they have learned how to be good storytellers. They are able to distill all information and influence decisions through telling stories about the hidden surprises in the data.
These nonprofits are accelerating change in the world by using data to influence strategy and inform decisions that produce value and impact. All of these organizations have invested in people, process, data, and technology. But that is simply not enough.
It turns out that the secrets to success are being curious, having champions at all levels of the organization, making data part of the daily workflow, and being good storytellers.
Some organizations still treat data as exhaust. The wasted overflow from systems that provides no value. Successful organizations focus on turning that data into information and insights that drive better decision making. In the coming years, these open secrets will be essential to the success of nonprofit organizations around the world.
Support HuffPost
The Stakes Have Never Been Higher
Related
Popular in the Community