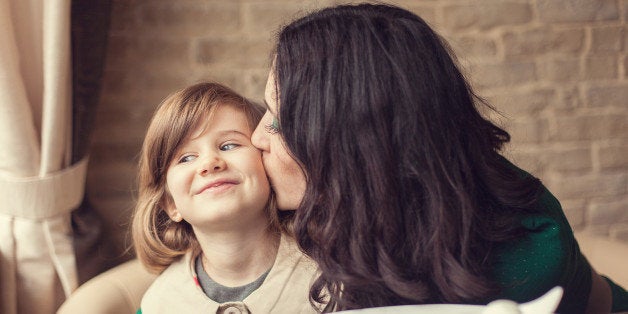 It takes years of education and work experience to become a true expert at anything. Most parenting experts are not experts at staying home full-time with their kids, because they are too busy going out into the world, dispensing advice. Here are five secrets stay-at-home parents want parenting experts to know:
1. Parenting 24/7 is the hardest job in the world. Staying home with kids can feel like you have a boss following you around all day, even to the restroom. Kids are always watching. "Mommy, are you eating candy? Can I have some candy?" Kids love to critique. "Mommy, the oven is dirty!" Children will also analyze every decision. "Mommy, that doesn't look very safe. Should I call 911 if you fall off that ladder?" It is difficult to get anything by a child, and your own rules can be used against you in an instant. "I thought you said no eating in the living room!"
2. A full-time parent wakes up at work. It's why stay-at-home parents with small children don't get dressed until noon. Somedays, home-bound parents never get dressed in "real" clothes during the day. Kids don't ever question when a parent is wearing gym shorts and a t-shirt. Makeup is also of little value, especially after you've said, "You are perfect just the way you are!"
3. Expert parenting advice doesn't always work. Stay-at-home parents have to get children to do things all day. Kids are most comfortable with their parents and can misbehave at home without the fear of embarrassing themselves in front of other kids. Timeouts don't work for standing up in the bathtub. Meditation, deep breathing and mindfulness are difficult to remember as you watch a handlebar scrape down the side of the entire car. Yelling "blow your bubbles" during the third meltdown of the day to get a child to calm down is also not effective. Giving children choices and letting them experience natural consequences is usually a good technique, but not when a child bolts unexpectedly toward a busy street.
4. Staying home with kids can be lonely. Getting to teach your children about snacks, naps, going to the bathroom, crafts, fingernails, shoes, why cats sneeze, bugs, eyelashes, electrical outlets, closing the refrigerator door, letters, how to plant flowers, why it's important to brush their teeth and everything else all da, is the best part of staying at home. But a lack of adult conversation can be isolating, even though there may be five people in close proximity.
5. If the ship looks like a shipwreck, it doesn't mean a stay-at-home parent hasn't done anything all day. In addition to constantly supervising a moving target, parents who work inside the home usually have many other jobs to do such as dishes, laundry and cleaning. Imagine if your co-workers where constantly trying to sneak into the office restroom and throw toys into it to see if they float. It would not be easy to get your work finished. Please only ask a stay- t-home parent what they have "done all day" if the house is spotless. A clean house usually means parent and child were gone for the day.