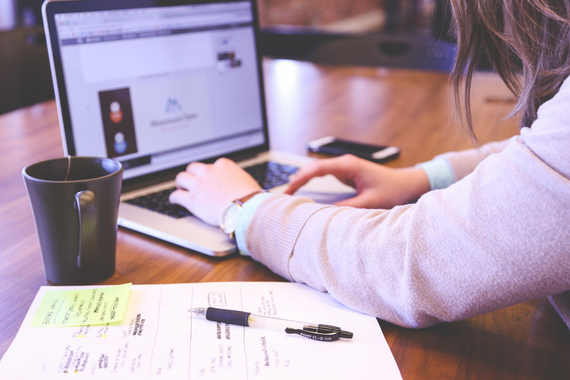 Have you ever dreamed of building your business to the level you want without going crazy?
Don't think you can have your cake and eat it too? I get it, it's one of those dreams where you think to yourself, there's got to be a trap!
Maybe you're worried that having the best of both worlds will slow down your growth, progress and ultimately your success.
It's no secret that building a successful business takes real work. If you're in this for the long run with a vision for serving and impacting people's lives through your work, you'll need to invest your time, energy and money to grow.
Does that mean you have to sacrifice your health, happiness, relationships and everything else that's important to you in the process?
There are many thought leaders, experts, and online marketers out there who rally behind the idea of creating success. Most times their methods for taking your business to the next level come at a cost and it's not cheap. The problem is they're missing a big part of the puzzle.
So what's the missing piece? A strategy for sustainability.
Most strategies for success only focus on the business and neglects the most important part of the picture, you. Honoring your business objectives and your core values is the best way to set yourself up for sustainable success. When you have a business that you're fully committed to for the long haul, sustaining your energy, drive and momentum must be a part of your business strategy or else you'll sacrifice your sanity.
It's time that we prioritize enjoying the journey of entrepreneurship.
Today we live in an entrepreneurial culture where sacrificing just about everything you value is part of the recipe to success. There are loads of content out there that promote stress-based success and praise people who've given it all up to make it to the top. They glamorize being broke for a while, losing friends and sleepless nights as if it's the latest fashion trend.
In the name of creating success, I see my fellow entrepreneurs doing what I call extreme computing, working over 12 hours a day in front of a laptop. It's become the new standard of how to work if you really want to succeed in business.
They call it ambition, I call it crazy!
Working in a way that honors you, doesn't mean your results will be compromised. Instead, you get better results because you're not working in a state of frustration, overwhelm and exhaustion. It's the quickest way to crash and burn out. When you're working at your full potential, you tap into unique creativity and wisdom to make the best decisions for you.
Here are 5 secrets to build your business without sacrificing your sanity.
1. Know and respect your core values.
It's one thing to have values but it's another thing to respect them. Every business decision is a life decision. As much as we try to separate our business from our life; it's all life! Every decision you make affects you personally. When your values are at the center of every decision you make, you won't sacrifice what's truly important to you. Being aware and intentional about your values will help you set a strong foundation for not only your business growth, but for your personal growth too.
2. Being selfish isn't only OK, it's smart.
Being selfish used to get a bad wrap but now it seems like we're all in agreement that being selfish is ok--sometimes. This isn't about having a me, me, me type of attitude, it's about making decisions that maximize your energy for long-term success. Your business gives you the greatest fulfillment when you choose what you want to offer, who you want to serve and how you want to work. When expectations are set in your best interests, you'll enjoy the process of creating your success. Start by giving yourself permission to do what's best for you. Yep, it's that simple!
3. Finding the sweet spot between ambition and ease = unstoppable momentum.
When was the last time you've asked yourself, "how can I make this happen with the least amount of stress?" Asking this simple question will help you find your sweet spot between ambition and ease. I'm not saying that everything should be a piece of cake; however, with every business move you can find that happy medium where you're feeling challenged but not overly stressed. Being more strategic about what you work on and how you work will impact your momentum big time. And let's face it, you're no fun when you're stressed and overworked.
4. Following cookie-cutter plans and blueprints will make you miserable.

There's a difference between following best business practices and trying to force cookie-cutter strategies to fit your business. Blindly following someone's blueprint to a T without first thinking about how you want to grow for sustainable success will only drain your energy. When you add your creativity to the best business practices, you'll not only have more fun, but your enthusiasm will impact everyone around you.
5. Fun is critical to your business growth and sanity.
As Barbara Corcoran, real estate mogul and business expert featured on the Shark Tank show, said in her inspirational talk at Inc. Women's Summit:
"Fun is good for business".
She even goes on to say that fun is the most underutilized tool in doing business. Blurring the lines between work and play is one of the best ways to dramatically increase your potential for business growth. Imagine what would happen if you spent a third of your time planning how to create more fun for you, your customers and the people you bring on your team. Just think--happier employees, repeat customers and a sane leader running the show, now that's sustainable success!
You have the freedom to run your business and honor your health, happiness and core values as you create your success.
Noelle Bloom is a Lifestyle Strategist who can help you have fun, live free and feel fabulous while building your business. Have a fabulous business lifestyle today, instead of waiting until X, Y and Z to finally start living.
Get your FREE Business Lifestyle Action Guide to help you align your business with your lifestyle goals, style your business sweet spot and design your daily hustle. Start here: http://www.noellebloom.com/quiz/
Calling all HuffPost superfans!
Sign up for membership to become a founding member and help shape HuffPost's next chapter