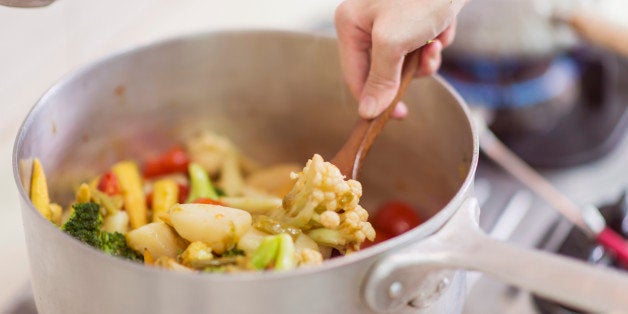 We received bad news from the Center of Disease Control (CDC) about the current state of obesity in the United States (U.S.). Despite some improvements to our current food environment (soda consumption is down, food manufacturers are removing artificial ingredients), obesity is still on the rise. Compared to 2003 when just 32 percent of Americans were obese (defined as a body mass index greater than 30), the most recent data collected in 2014 reveals that 38 percent of the U.S. population is obese. These results come from the National Health and Nutrition Examination Survey (NANES), the largest federal health and dietary intake survey conducted by CDC.
The report also reveals a drastic health inequality between genders and ethnicities. About 38 percent of adult women were obese from 2011 to 2014 as compared with 34 percent of men. And obesity rates were highest among black and Hispanic women.
Clearly, our food environment remains to be challenging for many of us. We are surrounded by temptations, food is available 24-7, portion sizes are too big, we eat out, we don't cook enough, and junk food is cheap and heavily advertised. These, and other factors, help to explain why we eat too much. And, on top of that, many of us don't get enough exercise.
While lots more needs to be down on a policy level -- subsidizing fruits and vegetables, capping oversize portions, taxing soda and junk food, and limiting food marketing to children -- there are lots of things YOU can do to keep from becoming an obesity statistic.
Here are five sensible tips to get you started.
Eat regular meals and snacks. (And keep them healthy, of course.) By eating at regular intervals, we tend not to get too hungry which helps us resist temptations. As a practicing nutritionist, I advise my clients to pack healthy snacks such as an apple and a small bag of nuts or baby carrots and a single-serve hummus to keep hunger at bay.
2. Rightsize your portions.
I've been convinced for years that oversize food portions are one of the leading contributors to obesity. Large portions contain more calories than small portions and the more we are served, the more we eat! Practicing portion control is, in my opinion, one of the most important steps you can take to help you lose weight. Wrapping up leftovers, purchasing smaller sized snacks, and eating off of smaller plates are a few simple things you can do.
3. Fill half your plate with fruits and vegetables.
I like the advice of the U.S. Department of Health's (USDA) ChooseMyPlate.gov which suggests that we fill up half of our plate with fruits and veggies. Not only are fruits and veggies healthy and low in calories, when we fill up on them, we tend to eat less of other less nutritious foods. I always suggest having a colorful plate!
4. Create a healthy kitchen environment.
Keeping a fruit bowl on the kitchen counter, making junk food invisible, and putting that box of cereal in the cupboard are a few things you can do to keep your kitchen healthier. Decluttering your kitchen counter and keeping healthy foods handy may even help to prevent weight gain.
When we cook more, we tend to make healthier food choices. A recent study found that cooking meals at home was associated with a slightly lower risk of developing type 2 diabetes. The researchers also found that in eight years of follow-up, those who ate more home-cooked meals had smaller weight gains and a lower risk of obesity.
We would love to hear healthy tips that have worked for you.