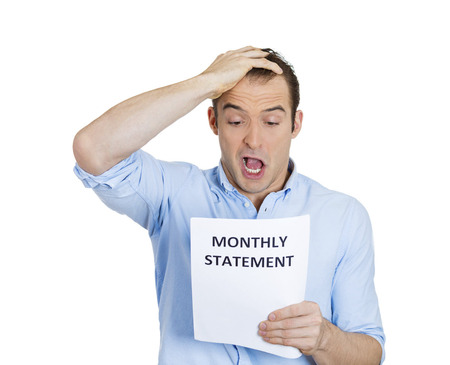 The offers on the credit card landscape are constantly changing. Credit card issuers are always competing with each other to roll out the best offers to hopefully earn a spot in your wallet. This is great news for consumers, because as the banks duke it out trying to one-up each other with lower interest rates and more generous rewards programs, savvy cardholders can easily cash in on the best offers to save hundreds of dollars a year.
With all of the competitive card offers out there, if you have been using the same card for a number of years, here are a few reasons why it might be time for a change.
1. You're stuck under a steep interest rate
Credit card debt can be a scary thing. If you don't use your cards responsibly, you could find yourself under a mountain of debt before you know it. To make matters worse, it can often seem as if paying your monthly bill has no impact on lowering the actual amount that you owe! If you're hanging on to a credit card with a high balance and a steep interest rate, transferring that balance to a card with an introductory APR of 0% could save you hundreds, or even thousands of dollars, depending on the repayment plan you're following.
The Chase Slate® Credit Card is currently one of the best low interest credit cards on the market, especially for a balance transfer. This card offers 15 months with 0% APR on both new purchases and balance transfers. But the best part is, there is no fee for transferring a balance within the first 60 days! Another great option to consider is the Citi Simplicity® Card. While this card does charge a 3% fee on balance transfers, it currently has an intro APR of 0% for the first 21 months. If you were to transfer your balance to either of these credit cards, every penny of your payments during the introductory period would go towards reducing the principle of your balance, allowing you to cut down your debt much faster.
2. You pay your balance in full, but are only earning 1% back
For consumers who don't carry a balance from month to month, 0 percent credit cards offers provide a great opportunity for earning lucrative rewards. Whether you're interested in travel rewards, or simply earning cash back, using a rewards credit card for all of your purchases can put hundreds of dollars back in your pocket each year. However, if you've been holding the same rewards card for many years, chances are that there's a better offer available that could greatly increase your earnings.
The Citi® Double Cash is one of the best cashback credit cards of 2016. It offers cardholders 1% back when you make a purchase, and another 1% back when you pay your bill. So for consumers who always pay in full each month, you'll be earning a consistent 2% cash back on all of your purchases. If you're more interested in travel, the Chase Sapphire Preferred® Card gives you the chance to transfer the points you earn to various airline and hotel loyalty programs. In many cases, this can double, or even triple the value of your points, which often equates to a 3% or greater return on your spending.
3. You hate paying your annual fee
Many credit cards, particularly rewards earning cards, will come with an annual fee that can range anywhere from $19 up to almost $500. Credit cards that have more expensive annual fees usually come with a long list of valuable perks and the ability to earn the most generous rewards. To many cardholders, the annual fee on their credit cards are worth it because they are easily able to recuperate the cost by utilizing the perks and maximizing their rewards potential.
But if you're paying an annual fee and getting nothing in return, it's time to switch to a new credit card with no annual fee. There are a number of cards that don't come with an annual fee, but can still earn you loads of rewards. Chase Freedom® is a cash back card that offers up to 5% cash back in certain rotating categories and also comes with a $150 bonus after spending $500 in the first 3 months - all with no annual fee.
4. Blackout dates keep you from redeeming your rewards
Nothing is more frustrating than having tens of thousands of airline miles or hotel points and not being able to redeem them for the dates you want. Navigating the nuances and restrictions of many credit card loyalty programs is often not worth the trouble. But in recent years, credit card companies have recognized the need for more flexible travel rewards cards, and there are now a number of options on the market that can alleviate the travel rewards headache.
With the Capital One® Venture® Rewards Credit Card, you can earn 2x "No Hassel Miles" on every dollar you spend, which can be redeemed to cover any airline ticket, any hotel stay, and a number of other travel expenses with no blackout dates. New cardholders can also earn 40,000 bonus miles by spending $3,000 in the first 3 months - that's equal to $400 in travel! Find additional travel credit cards with no blackout dates!
5. You don't have a credit card yet
With so many excellent offers on the market, there has never been a better time to apply for a credit card to start building credit and racking up rewards. The key to responsible credit card use is to simply use it the same way you would use cash - never make purchases you can't afford! By spending responsibly and paying off your bill in full each month, you will eventually be able to rake in hundreds of dollars in savings and you will also build your credit score while establishing a solid credit history.
REAL LIFE. REAL NEWS. REAL VOICES.
Help us tell more of the stories that matter from voices that too often remain unheard.