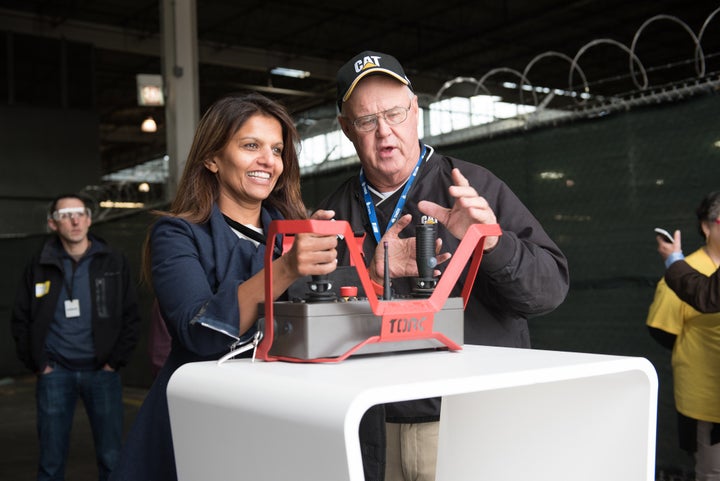 Chicago Ideas had the opportunity to chat with Dan Henderson, Director of Innovation and Emerging Technology at Caterpillar, on ways to know if innovation is in your business's DNA. These tips are great for companies of any size with a strong entrepreneurial streak.
1. You know that quality and speed aren't mutually exclusive.
Thanks to advancements in virtual product development, companies are able to innovate faster than ever by leveraging technologies that drive efficiency in their product development processes. "Using simulation early in the process allows Caterpillar engineers to virtually explore potential product and process designs without having to first build prototypes in iron, saving both time and money," says Henderson.
Henderson says that the caliber of information available to decision makers is also critical. "If you make a decision based on outdated feedback, you can develop a product quickly, but you'll then have to redesign it when stronger information surfaces. We base product development decisions on customer feedback and real-time telematics data from Cat® machines already in the field. Both allow us to incorporate customer input extremely early in the product development process, which infuses our process with greater velocity."
2.You admit you don't know everything and that innovation can't happen in a bubble.
Collaboration drives innovation, and leveraging outside perspectives opens new doors for advancement. Caterpillar utilizes research partnerships with academic institutions, industry consortia, government agencies and more. Caterpillar also crowd sources tech ideas for possible licensing through an external web portal.
"We sponsor an Open Innovation program, encouraging unsolicited technology ideas from external innovators around the world. The team launched an online web portal for external unsolicited ideas in 2015. Since then, more than 400 technology ideas have been submitted, providing an unprecedented number of new ideas in such a short time," says Henderson.
3. You anticipate your customers' needs and innovate ahead of the curve.
Henderson says it's important to engage your customers early in the innovation process and keep a close eye on the global megatrend landscape. He offered, "A few years ago, customers told us the demographics of their talent pool were changing. In the past, equipment operators had years of experience and deep expertise, but the newer talent pool consisted of younger, less-experienced operators. It takes a lot of time and money to train an operator to the 'expert' level. So, we knew we had to start focusing on semi-automated features because our customers would very soon need machines that were easier to use and more productive. Our new 320-series excavator models (available in the fall of 2017) have a variety of semi-automated control system features that simplify challenging operations."
4. You have a plan, but aren't afraid to chuck it when the marketplace shifts.
The tech industry changes quickly, so agility and adaptation are paramount. That means paying close attention to global megatrends and customer needs and changing course when either dictate it. But it's not enough to pivot at the slightest change in trends.
"At Caterpillar, we use data to determine where future areas of growth will be as a result of shifts in megatrends and incorporate that knowledge into our product strategies. Do these always pan out? Of course not. But risk is reduced when you make decisions based on data instead of a hunch."
5. You're focused and driven…but you don't forget to have a sense of humor.
"Failure is a given when you're innovating and iterating. When it happens, you embrace it as a learning experience, and keep moving forward," says Henderson.
And as to how large companies with shareholders can feel more comfortable with failure?
"Failure is a requirement for learning, and learning is what you're really after. The key is to learn as much as you can, as quickly as you can, and at as low a cost as possible. With that, you lay the foundation for a successful future, which is what shareholders want. You do this by experimenting on a small scale: After you identify or anticipate a customer need, you develop the economic foundation of an idea to address the need concurrently with the investigation of the technology. This way, you can test both early on with customers—before spending millions of R&D dollars—to determine whether or not you're on the right track."
In his role as Caterpillar's Director of Innovation and Emerging Technology, Dan Henderson leads a global team of innovators with a wide range of expertise in materials, product, and process innovation. He also leads Caterpillar's Enterprise Technology Strategy, which sets the direction for the future of the company's product technology.
Related
Popular in the Community