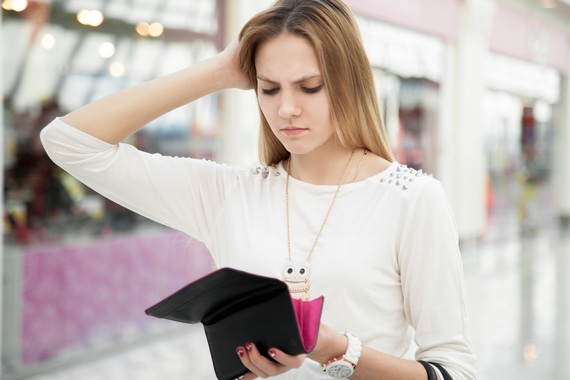 By Cameron Huddleston, Columnist
One in five Americans spent more than what they earned in the last 12 months, according to a Federal Reserve Board survey released in May. Some might be relying on credit or dipping into savings to cover their spending because they are having trouble making ends meet. And, some might be simply living beyond their means.
Regardless of the reason your spending exceeds your income, "overspending is harmful because it could be a sign you're out of control with your finances," said Leslie H. Tayne, an attorney who concentrates in debt resolution solutions and author of "Life & Debt." Your overspending might be making it hard to pay bills, have money for emergencies and save for the future. It could also lead to serious consequences, such as bankruptcy.
Here are five warning signs that indicate you are spending too much, how your overspending can hurt you and how to get your spending under control:
1. You max out your credit cards and pay only the minimum.
If you're maxing out your credit cards and can't pay off your balances every month, it's a sign that you're relying on credit to supplement your income, Tayne said. "This is a hard cycle to break, especially if you can only afford to make the minimum payments each month," she said. Not only can this hurt your credit score, but it can also leave you in debt longer than necessary.
If a high percentage of your available credit is used -- in other words, most of your cards are maxed out -- the credit scoring agencies consider this to be a sign that you are overextended and will likely lower your credit score. A lower score will make it harder for you to get additional credit and might force you to pay higher rates on that credit.
Paying the minimum on your credit card won't necessarily hurt your score, but it could take you a long time to pay off your debt and cost you extra money in interest. For example, if you had a $1,000 balance on a card with a 16.00% APR and made a minimum monthly payment of $25 on your balance, it would take nearly five years to pay off your debt. And, you'd pay about $440 in interest, according to Capital One's credit card calculator.
2. You pay bills late.
About one out of 20 people with a credit file are at least 30 days late on a credit card or a non-mortgage account payment, according to an Urban Institute report.
Paying bills late because you don't have the cash to cover them is a sign that you're overspending, Tayne said. And it sends a red flag to your credit issuers, which could hike your interest rates or lower your credit limit, according to the National Foundation for Credit Counseling. You'll also be hit with fees -- which can add up quickly -- and several late payments will hurt your credit score.
If you're more than 180 days late on a payment, your debt typically is assigned to a collection agency or debt collector. Having debt in collections can lower your credit score and will remain on your credit report for seven years, according to myFICO.com. What's worse is that your creditors or debt collectors can sue you and be allowed to garnish you wages to pay the debt you owe.
3. You raid your retirement account.
You might think there's no harm in borrowing from your retirement account because it's your money. About 20 percent of 401(k) plan participants have taken a loan from their account, according to the Pencil Research Council Working Paper. You can borrow up to half of your 401(k) balance, up to a maximum of $50,000, but Tayne said rarely is this a good idea. "Borrowing from your future is a risky move," she said.
If you borrow from your retirement account, you will have to pay yourself back with interest -- which can be lower than the rate of return you would've gotten if you had left the money in the account. So really, you're just shortchanging your retirement savings.
4. You use payday loans.
Although these short-term loans that typically have to be paid back in 14 days might be seen as a way to cover the cost of an unexpected expense, most people who get payday loans use them to cover everyday expenses, according to a report by The Pew Charitable Trusts. It's certainly a sign that you're overspending if you have to rely on payday loans, Tayne said.
There is a high cost to these loans. They come with extraordinarily high annual interest rates -- APRs of 391% to 521%. And payday lenders will let you rollover the balance of a loan for a fee if you can't repay the full amount when it's due. If you roll over a typical payday loan of $325 eight times, you'll owe more than $460 in interest and have to repay a total of nearly $800, according to the Center for Responsible Lending.
5. You borrow from friends and family.
If you have to turn to friends and family for money, it's a sign that your overspending has left you financially strapped, Tayne said. You might think it's a good way to get an interest-free loan, but "being unable to pay back the loan can lead to tension and can ruin your relationship," Tayne said.
How to Stop the Overspending Habit
If you've realized that you have an overspending problem, rest assured -- there are different ways you can get your spending under control and create healthy spending habits.
1. Create a budget.
The first step to getting your spending under control is to create a budget, Tayne said. Take a close look at what you're spending money on and look for ways to cut back.
2. Rely on cash.
By living on a cash- or debit-only budget, you can curb the impulse to overspend. Tayne suggested setting a budget for each shopping trip and only bringing that much cash with you to avoid making impulse purchases.
3. Get help.
If you're buried in debt and can't curb your spending, your best option might be to get professional help. The National Foundation for Credit Counseling member agencies provide free and affordable debt counseling and other money management services. You can find an agency in your area through NFCC.org.
More from GOBankingRates:
Related