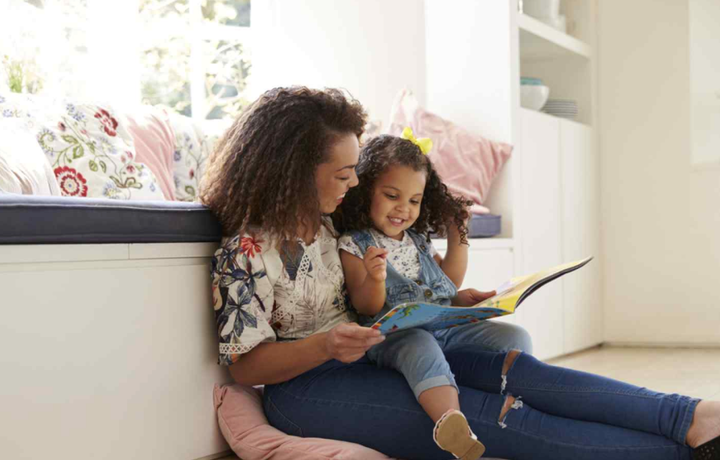 My children don't know how to read quite yet, but I constantly celebrate their developing literacy skills. Tune into your own young children's reading-related behaviors and give yourself a pat on the back when you notice and support ones like these:
1. Your child enjoys reading with you.
Many parents look forward to reading to their kids, and rightfully so; it's one of the most influential things you can do. My oldest son was hard to soothe as an infant, so I'll never forget my joy — and relief — when he stopped fussing and tuned into my reading of a board book for the first time.
Reading aloud can feel strange if you aren't used to it, so getting to a place where both you and your child enjoy sharing books together is a milestone for everyone.
2. Your child uses books to learn.
When I took my second son for his 9-month checkup, I passed him a board book to keep him occupied as I desperately tried to keep his toddler brother from tearing apart the exam room. When the doctor came in, she calmly noticed him pointing at a picture and looking at us: "Oh look, he's asking what's in this picture! It's a bunny, sweetie."
Research from Cornell University demonstrates the enormous power of "object labeling" to help babies learn new words, when that labeling is timed just right with a baby's attention. Books are such a valuable teaching tool, and I was grateful to our pediatrician for snapping me out of my harried, sleep-deprived state to point out how my baby was starting to use them to request information.
3. Your child brings you a book and asks you to read.
Parenting is perhaps the busiest job there is. There's a mountain of laundry that needs to be folded, someone is whining for a snack — and wait, which kid is that climbing the stairs?
I wish that I could bottle up the memory of a toddler eagerly thrusting a book into my hands and wiggling into my lap for after this phase has passed. Asking to be read to shows that your child values books. Is saying, "yes" always convenient? No. Is it worth it? Definitely.
4. Your child enjoys books alone.
My third son is somewhat of a ninja baby. He quietly finds remote corners of the house, evoking panic in those responsible for keeping him safe. He's also a book lover, though, and oftentimes when I'm racing around looking for him, I find him sitting in our little reading corner with a stack of books.
When children begin to interact independently with books, from holding the book and turning the pages the right way, to labeling and reacting to illustrations, to using language that mimics a "story," they show us so much about their understanding of what readers do. Children learn through play, and playing "reader" is an important step towards actually becoming one.
5. Your child recognizes letters and words out in the world.
Driving home from the grocery store a few years ago, I overheard my toddler in the backseat calling excitedly, "For me! For me!" A quick glance in the mirror showed him pointing at the AAA building nearby. I realized with a smile that he recognized the letter "A" as the one that starts his name.
When children begin to notice letters and words around them, commonly referred to as "environmental print," it's an important precursor to making sense of print in books.
Of course, there are many other crucial milestones on your child's path to reading, and they may look different on your children than they do on mine. Start paying attention, though. I guarantee you'll notice an aspect of the journey worth celebrating.