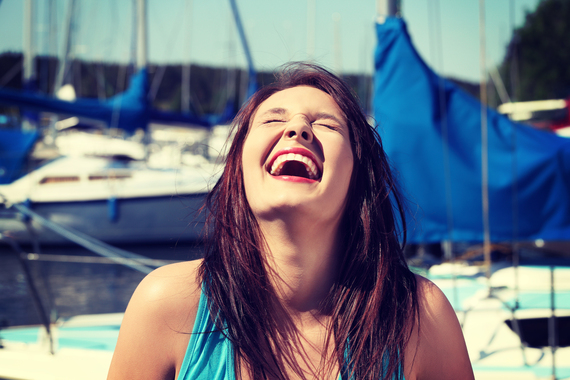 There are two extremes of the spectrum, high maintenance vs. low maintenance. As girls, there is a great chance that we have been called either of these more times in our lives than we would like to admit: "oh my gosh, she is SO high maintenance, right?!" Usually, along with high maintenance, she is called a diva, a #girlboss who knows what she wants and makes it happen. I am pretty sure no one is a hundred percent either low or high maintenance. In fact, the majority of us are most likely a combination, someone who is, what I love to call, a low maintenance girl with high standards. So, who is this super special girl, you ask? Let us find out together!

She invests in her friends, family and loved ones but expects them to treat her with class and respect
This girl is ecstatic to invest her heart, soul, and spirit into building friendships and relationships with her loved ones, but she expects that the other person will reciprocate as genuinely as she does. Any girl will tell you that it is one of the top most irritating things in the world to fully invest in someone only to have that someone invest half of themselves in you. Treat this classy girl with respect, and she will return the favor by treating you with the respect, love, and care you deserve.
She recognizes her natural beauty, and surrounds herself with those who radiate positive energy

While she may be a low maintenance girl, she is incredibly selective in choosing who she spends her time with. They say you are the average of the five people you are most likely seen with, and this could not be truer for her. She realizes that she is naturally radiant, that she does not need to pile on the makeup and buy that incredible Zac Posen dress to look amazing. She already looks and feels amazing by surrounding herself with people who radiate positive energy just like she does.
She wears her super down to earth, fun, and full of life attitude like a crown fit for the queen she is
The world is transfixed by her energy, because this girl is exceptionally self-aware, confident, fabulous, and fun. She emanates a warm power and everyone around her wants a piece of this energy. She is incredibly proud of who she is and shares her resplendent attitude with the world. She is a queen, she knows it, the world knows it, and she deserves to be treated like one all the time!
She nurtures an aura of incredible confidence, because she controls the trajectory of her destiny
A low maintenance girl with high standards is well aware of her own self-worth, but she plays it all off casually. She is fun, fabulous, and very comfortable among crowds, but at the end of the day, she realizes that she, and only she, controls the trajectory of her destiny, not her friends, family, or significant other. She is in control, and she asserts her power in a very non-obtrusive but very unapologetic way. She is the queen of her life, and she would love for everyone to take note!
She seeks validation not from other guys or girls, but from the most special person of all, herself
An empowered, confident, and successful low maintenance girl with high standards is intelligent enough to realize that her self-worth is derived from herself, and not from external sources, such as her friends, family, or others. She constantly seeks validation from herself, not from anyone else, because truthfully, no one's opinions or thoughts matter as much as hers do to herself. Everyone should take a page out of her book because self-validation is seriously the most amazing way to go!
What are some of your favorite signs of being a low maintenance girl with high standards? Share your comments below!
Shinjini Das is a Professional Speaker, Media Personality, and Huffington Post Contributor. She is a highly empowering, engaging, and versatile speaker also fluent in Spanish, who has been invited to speak to groups from 10 to 10,000. Shinjini was named as 1 of 16 global heroes by the United Nations Partnership, Together for Girls, for her work to empower youth and advocate for gender equality. Shinjini's advice to gain self-confidence will be featured in Teen Vogue in Fall 2015. She has been invited to share her advice for new graduates on Job vs. Career on ABC WJLA Let's Talk Live in Washington, D.C., go-getters on FOX KABB San Antonio, and ways to 'Empower Go-Getter Girls to Go for STEM!" on FOX Sacramento in September 2015. Shinjini was invited as the youngest and only American speaker to empower the modern day woman at the She4She Conference at the University of Glasgow, Scotland. She was interviewed on "A Day in the Life of a Go-Getter Girl" on Sirius XM Radio broadcasted to an audience of 40 Million in US and Canada. Shinjini is a millennial spokesperson for The Ad Council and was interviewed as a Woman to Watch in October 2015. Follow her journey @SpeakerShinjini and on www.shinjinidas.com
Calling all HuffPost superfans!
Sign up for membership to become a founding member and help shape HuffPost's next chapter