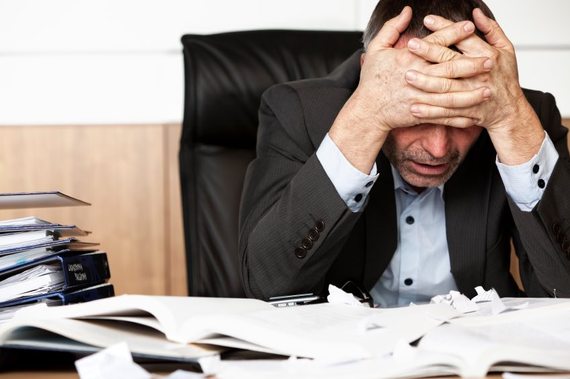 Unfortunately, stress is a natural part of modern life. Sometimes it can feel overwhelming. You may even feel like there is nothing that you can do about it. Everyone experiences stressful times at one point or another. The situation is far from hopeless. Often, all you need to do is take a few simple steps in the right direction. You'll probably find that you're feeling better before you even know it.
1. Find the Source of Your Stress
Sometimes finding the reason for your feelings is simple. Maybe there are problems at work, or you just went through a major life event. Other times you'll have to think before you can find the source. Try to reflect on your daily habits and attitudes.
Do you find that your stress is tied to a certain environment, such as work or your home? Or maybe it's based on your own emotions, like feeling stressed when you wake up or how you respond to others.
If you can't find the source of your feelings, consider starting a stress journal. Simply write down when you're feeling stressed, and any of the relevant circumstances surrounding your feelings. Over time, you'll likely notice a pattern that can lead to the cause.
2. Address Underlying Mental Health Issues
If you are finding yourself completely overwhelmed and unable to cope, it may be possible that you have some underlying health issues. In some cases, your stress may be caused by Borderline Personality Disorder. A study completed by Pennsylvania State University discovered that people who suffer from BPD have a very low tolerance to stress, and often have trouble recovering from it.
If you find that your stress is almost too much to handle, you may want to speak with a medical professional and see if there is another issue at hand.
3. Replace Unhealthy Coping Mechanisms
Some people find that they have an urge to smoke, drink, or eat unhealthy foods in response to stress. But these types of activities can actually increase your stress levels, making them very counterproductive. Instead, consider trying some healthy coping mechanisms that can have a positive long-term impact.
Exercise is a particularly effective way to reduce stress. During physical activity, your body releases endorphins that offer an immediate boost to your mood. Another great coping mechanism is to make a human connection. You can call an old friend, drink a natural stress relieving tea, or even head out to grab a bite to eat.
4. Avoid, Alter, Accept, Adapt
Now that you've identified the sources of stress in your life, there are four ways you can deal with them. Let's say, for example, that you are stressed out because you have too much work to do, and not enough time to do it. The first step would be to try and avoid the situation. You could refuse to accept any additional responsibilities until you have more free time.
Sometimes that is not possible, so next you can try to alter the situation. You can speak to your superiors, and ask for extra time on your deadlines. Or maybe you could get someone to help you.
If that doesn't change your situation, your next step would be to accept. Some things are just out of your control. You may find that simply thinking about things in a different way can make you feel better. You might think to yourself, "Well, I'll only be busy for four more days. Then I'll have time to myself on the weekend!"
Lastly, you can try to adapt. Perhaps the situation isn't what's causing stress, but the way you are handling it. Maybe your responsibilities could be taken care of more efficiently if you tried a new approach.
Once you've found a way to cope with the immediate causes of your stress, you'll want to take steps to maintain a healthy lifestyle. Being in good physical and mental health can help you remain resilient to stress, and push through events that would typically leave you feeling anxious. Make sure you eat correctly, get a good night's sleep, and take time for exercise. You'll likely find yourself feeling better than ever!