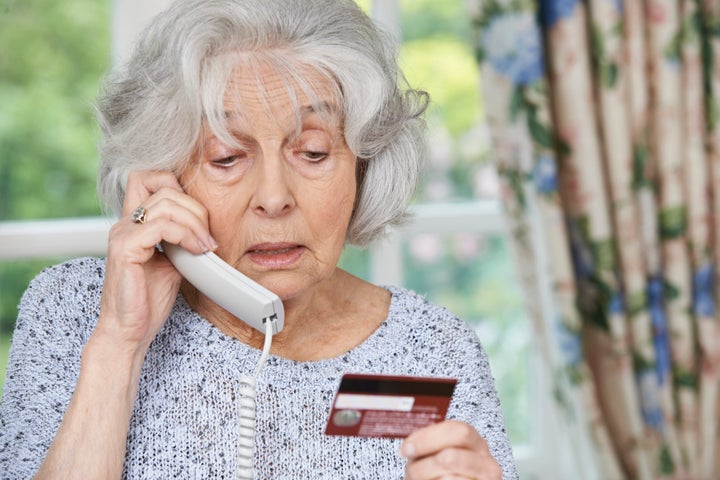 The number of elderly victims of identity theft increased from 2.1 million in 2012 to 2.6 million in 2014, according to the Department of Justice. The reasons are pretty obvious ― and vile. Seniors often live alone, seek companionship, and have fading memories. And even if their memories are rock solid, they worry about forgetting things. It's why so many of those scam callers greet them with familiarity when they call and "remind" them that they spoke with them a few months ago. No such thing ever happened, of course.
Huff/Post50 spoke with Sandra Bernardo, consumer education manager of the credit monitoring service Experian, for some suggestions on how to keep elderly friends and relatives safe from identity theft. Here are five ideas:
1. Give them the gift of a shredder.
While it lacks in sentimental value, it goes a long way toward protection. A small cross-cut shredder can destroyed unneeded personal documents, receipts, pre-approved credit offers, unused or old checks and any other items that include personal information about your parent(s) or their accounts, said Bernardo. Dumpster-diving? It's a real thing as thieves are looking for information that will help them steal someone's identity.
2. Protect their mail as if it was cash.
Mail service isn't what it used to be, which included "trust-worthy." Never leave outgoing mail in your mailbox to be picked up by the mail carrier. That little red flag is a signal to thieves that there are goodies inside. Account numbers? Checks to pay a bill? Just don't. Truth is, the safest place to send mail ― and to pick it up ― is at the post office. Yes, it requires a trip. But it's a worthwhile one, said Bernardo.
3. Get them a travel bag with compartments and locks.
But mostly, advise your parents to think carefully about what's really needed when they travel, Bernardo said. Take only what is necessary. Leave unneeded credit cards and medical insurance cards at home in a secured location, bringing only the essentials on the road. Leave the Social Security card and store charge cards at home. If their wallet is lost or stolen, having fewer items for which thieves can access their identity will only make fraud resolution easier.
4. Get them caller ID.
There are days when it seems like half the world is engaged in making solicitation calls. Too bad so many of them are phone scams targeting seniors. Often criminals will call and impersonate the IRS and sound convincing. They ask for financial information and will then wipe out the account. Everyone should be very skeptical of callers who ask for personal information over the phone. If it is related to the IRS, they should hang up and call the IRS directly at 1-800-829-1040 to inquire if the call was legitimate. If they believe it was a criminal calling, they can alert the Treasury Inspector General for Tax Administration immediately through its website or on the phone by calling 1-800-366-4484. Caller ID works some of the time, but not always because of how sophisticated the scammers are. Not answering and waiting for the caller to leave a message is also a decent option.
5. Monitor their accounts.
It is entirely possible that your parents are likely not as computer savvy as you are, said Bernardo. Help them to monitor their accounts as well as their credit information online. You can set up credit monitoring with products like Experian CreditWorks.
Calling all HuffPost superfans!
Sign up for membership to become a founding member and help shape HuffPost's next chapter
BEFORE YOU GO
PHOTO GALLERY
10 Tips From The Better Business Bureau To Avoid Online Dating Scams