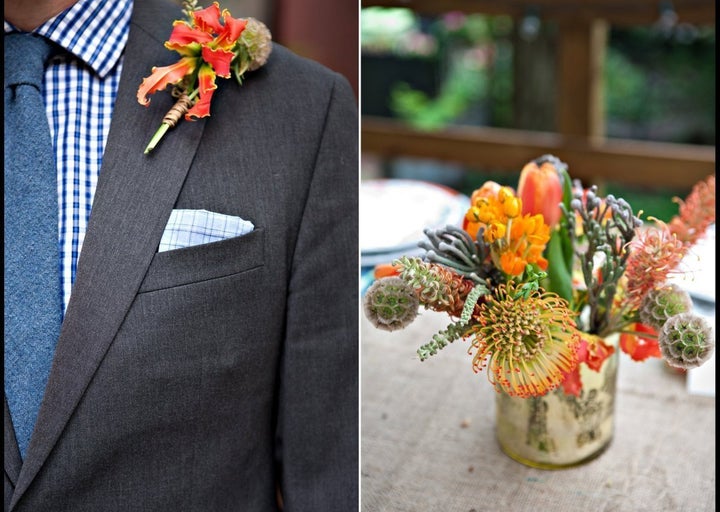 In life, it is often true that the greater the risk, the greater the reward. When it comes to planning an outdoor wedding, this could not be more accurate. While garden weddings can be exceptionally beautiful, it's important to plan carefully to ensure your special day is a success. Follow these five tips below to plan an event you'll love, and that your guests will be talking about for years to come.
1. Allow the Garden to Be Your Muse
Whether you choose your venue or color scheme first, tap into the natural setting to find inspiration. Julie Lam, event planner and owner of Effortlessly Chic Events, encourages her clients to pay attention to the bright colors already present in the venue. "Orange, green, and yellow -- whatever pops. Hosting a wedding in the garden is not the same as decorating a room that is essentially a blank canvas. Nature has all sorts of colors and patterns."
That same inspiration can be applied to your wedding stationary as well, according to Alexandra Rinde of the Aerialist Press. "You want your suite to stand the test of time and still say something about who the two of you were when you say your vows. Just following trends will never make that kind of magic happen."
2. Get Creative with the Menu
Sharing special meals with loved ones is such an integral part of life, and yet wedding menus rarely reflect that. "The traditional filet or salmon often says nothing about who the couple is," says Viva Max Kaley of Naturally Delicious. "The menu provides an opportunity to tell the story of their romance. If a couple got engaged in France and happened to have had the most amazing macaroons while they were there, then that can be part of the menu." She also emphasizes that varied bite-sized nibbles are a great way to keep the party flowing and moving as guests chat and dance throughout the evening.
3. Cut Out the Floral Fluff
Choosing the right flowers for a garden setting can be trickier than it sounds. Kelly Cobb, owner of 2h flowers, recommends tossing the filler greens. "Three tangerine gloriosa lilies displayed on a glass cake stand make a fantastic statement while remaining simple by design." She says the same logic can be applied to the bouquet as well. "A smaller bouquet rich with color and graphic interest will be modern and memorable."
For the truly open-minded, florists can create custom arrangements based on one or two guidelines. While Cobb would never want to surprise a bride completely, she has been asked to create custom arrangements in the past. "I paired things together that I probably wouldn't have otherwise considered, so it definitely promoted more creativity and a one-of-a-kind look." And who doesn't want that?
4. Make Sure Your Makeup Shines
From the dress to the flowers to the menu, everything about your wedding should have a cohesive, creative feel to it. But nothing is more important than looking and feeling your best on your big day. While conventional wedding makeup tends to favor pinky nude lips and natural lashes, don't be afraid to think outside the box when it comes to choosing your makeup style. Huge false lashes and bright lips may be just the drama you're looking for, particularly for the photos. Just make sure to schedule a trial run (or two) to discuss your vision and test out more extravagant looks ahead of time. That way you'll know if the lipstick is more than you bargained for, or if the lashes are uncomfortably heavy on your lids.
5. Go for Playful Yet Elegant Hair
Garden weddings inherently have an air of elegance, but they should never be stuffy (or humid, in a perfect world). Striking the right balance with your hair can certainly be a challenge. Lauren Berrones, a NYC-based hairstylist, recommends a style that looks effortless but still offers a lot of movement, especially when you dance. "Ponytails can sometimes be interpreted as a bit childish and casual but when properly dressed to one side with modern waves and some special detailing they give off a very flirty and witty feel, perfect for a garden wedding."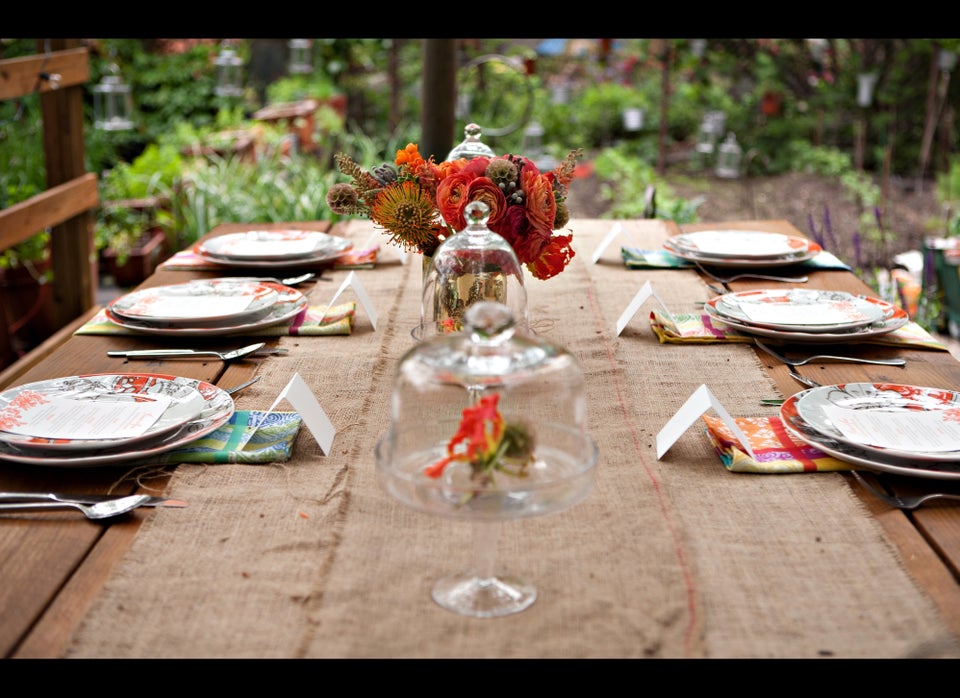 ***
Lindsey Jones is on the roster for the world's top modeling agencies. But she prefers to put everyday women in the makeup chair--and spoil them rotten (every session starts with a face massage). She loves what she does, and--together with her team--laughs her way through, reducing wedding-day jitters and putting everyone at ease.
Follow Lindsey on Twitter: @ljonesmakeuphttps://twitter.com/ljonesmakeup