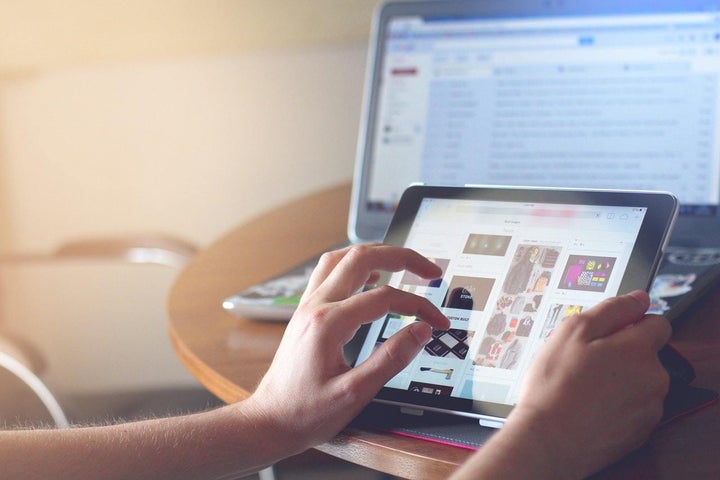 Shopping on mobile has become as commonplace as going to the supermarket down the street. In fact, Internet Retailer found that about one-third of ecommerce is driven by mobile shopping today.
Shopping apps are quickly becoming the standard channel to make online purchases. The rise of M Commerce is yet another way that smartphones are taking over every aspect of our lives. The benefits of this trend can save you some cash, help support local businesses, or even make you some money. Not to mention, you can have definite bragging rights when it comes to being in-the-know for the newest gadgets, tech, and other awesome things for sale.
Whether you're a retailer, consumer or tech investor, you should take notice of these five apps making a strong impact in the retail world.
1. Gadget Flow
Staying on top of the latest releases and coolest products is easy and exciting with Gadget Flow. The majority of items come from recent crowdfunding sources, so the site has the newest offerings in all categories from drones, to bedsheets, to phone cases. With beautifully written descriptions and high-quality product photos and videos, you can find out all you need to know before you buy.
Perhaps the most innovative feature on Gadget Flow is their integration with augmented reality (AR) – providing a truly immersive shopping experience. One of the latest and hottest retail trends is using AR to get a virtual hands-on feel before you make a purchase. Buyers can see 3D renditions of items as they check out the features right on their smartphone. Pretty cool, right?
2. ShopSavvy
There are all kinds of retail discount apps and sites out there, but ShopSavvy really goes the extra mile in helping you save money. Using your phone's camera, you can scan any barcode or QR code and see if there's a better deal at another store or e-commerce website. ShopSavvy will even create price alerts if something on your wish list goes on sale, and will email you personalized discounts based on your retail preferences and history.
If ShopSavvy doesn't find a deal or coupon for your purchase, it will help you earn up to 20% cash back on your purchases from most major retailers, including Walmart and Amazon.
3. TicTail
Support small businesses and expand your wardrobe's horizons by buying from emerging artists on TicTail. A sort of "Facebook for products," TicTail lets shoppers browse threads and categories to discover brands and items they never knew existed. Merchants from around the globe list their one-of-a-kind pieces on this international online marketplace, offering truly unique and creative items for everyone. From clothes for men, women, and kids to home goods and art pieces, everything on this site is made by independent artists.
By focusing on niche items, such as quirky bucket hats and custom jewelry, TicTail seeks to bring together small businesses into one large shopping center that gives everyone access to the coolest things money can buy.
4. The RealReal
With over $500 million in sales in the first two quarters of this year, it's easy to say that the RealReal is the "real" winner in the designer consignment industry. This retail website is dedicated to reselling new or lightly used designer accessories and clothing items.
When it comes to things like swanky purses, that cost hundreds to thousands of dollars, online shoppers want to be sure the merchant is entirely trustworthy. So, The RealReal has professionals inspect each item before it can be sold. Featuring prices up to 90% lower than full retail, it's often the first stop for shoppers looking for steals on designer bags, shoes, jewelry, and more.
Should you happen to have some dusty designer items sitting in your closet, you can simply snap a few photos and get a free price quote through their app. If you are interested in selling, you will need to coordinate a meeting with a consigner or send in your items via pre-paid shipping labels for authenticity certification.
5. The Hunt
Creating a community of obsessive online shoppers, The Hunt is all about finding where to shop for the items you see on Instagram or Tumblr that give you major style envy. Users can upload pictures of outfits they love, and other members will help them find out where to buy. Over 20,000 shoppers are joining The Hunt every week, and with startup investors such as supermodel Tyra Banks and actor Ashton Kutcher, you can rest assured this app has got some style to it.
The app is based around community connections, so users are encouraged to follow accounts based on styles they enjoy. You can buy some items directly within the app, too. Or, you can get some fashion advice from your friends and followers by having them vote on your outfit choices.
In Conclusion
The way it looks, M Commerce is the future of online shopping. Nearly every consumer has bought something with their smartphone at one time or another. When it comes to millennials, the numbers are even more impressive: 63% of shoppers make a mobile purchase every single day!
With no signs of this trend slowing down, using your phone to do a little browsing not only means you can shop in the comfort of your home, you can save, or even make some money while you do it.
Related
Popular in the Community