Parenthood can be an emotional roller coaster. With a new baby on the way, your family will experience changes. Therefore, the best way to combat anxiety is to prepare for the challenges you may face.
Your goal as a new parent should be to relax. During these nine months, you should be learning how to ensure a pleasant experience for both the baby and you. Whether that's creating a detailed schedule or building a community of reliable friends, learn what's best for your family.
You want to be overwhelmed with joy, not stress. Here are five smart ways to prepare for your baby's arrival:
Once your baby comes into the world, you don't want to be worried with shopping. So, in order to save yourself the hassle, begin shopping for all your baby's needs. Your list could include any of the following items: diapers, wipes, bottles, breast pumps, car seats, and burp cloths. You also may consider stockpiling household goods and freezing pre-packaged meals for your family; this will eliminate unnecessary trips to the store.
Start searching for a pediatrician who you trust and respect. You will be building a working relationship with this person, therefore you need a doctor who will listen to your concerns. When selecting a physician, consider specialty areas, location, and your health insurance policy. If necessary, ask for references and interview pediatricians. Your baby deserves the best care. It's up to you to find it.
3. Arrange the Baby's Room
You motto should be: Everything has a place. Decide what nursery furniture you desire and where it should be situated within the room. Carve out space for the crib, dresser, rocking chair, and changing table. Moreover, childproof the area. Products that can be easily ingested, like jewelry or lotion, should not be in your child's reach.
4. Enlist the Help of Others
Yes, I know you want to be super mom. You may even be tempted to stay awake for 24 hours with your newborn. Here's one suggestion: Don't do it. As a mom, you need your rest, too. That's why it's so important to have a support system. Designate specific tasks to certain people. Do you need help with cooking, cleaning, or laundry? This extra assistance will relieve you from all the unnecessary headaches of your routine.
5. Talk With Your Older Kids
The newest addition to the family will affect everyone's lives. Depending on the age of your kids, you may want to discuss their roles as older siblings. Let them know they are loved. For the younger kids, coordinate a special trip to the local park or zoo. You could write heart-felt poems with your middle school-aged children. Whatever you decide to do, just remind your older kids how much you care for them.
Of course, this list doesn't include everything you should do. However, the above tips will make your newborn's transition home easier for you and the entire family. Relax, plan ahead, and celebrate your bundle of joy.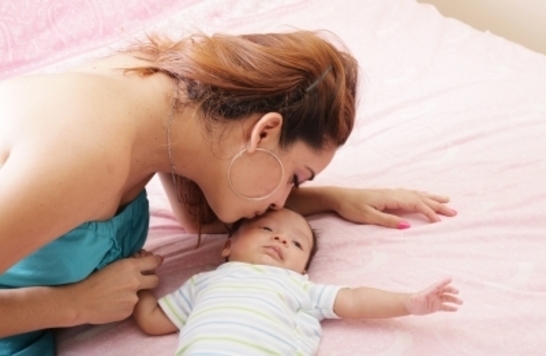 Image courtesy of David Castillo Dominici at FreeDigitalPhotos.net.