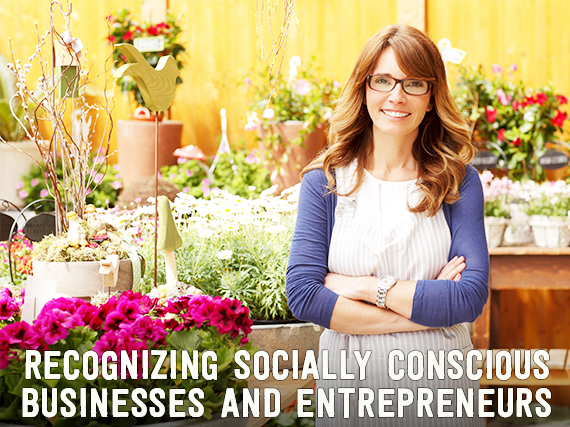 My life's purpose, and everything that ConsciousMillionaire.com is built upon, is the idea that growing a business should be about more than making money; to that end we support entrepreneurs building businesses that both fulfill them on a meaningful level and serve the greater good of their clients and our world.
In the Social Entrepreneurship series of articles that you will find here, my goal is to share the stories, highlight the businesses, and recognize those organizations that are doing just that, both as a means to bring attention to those projects that deserve to be highlighted, and so that we all may become inspired and renewed by the path these companies have chosen.
Those that weave corporate social responsibility into their business model become a beacon to us all, they show that no matter how big or small the contribution, anytime we put the best interest of others (and the world) first, we are able to elevate not only the cause being supported but the value of the business as a whole.
These 5 companies have diverse stories that work towards vastly different goals; however, at their core is a desire to change the world, to uplift us all, and to give back through the work that they are so passionate about.
Roozt.com exists to "inspire, empower and connect brands with everyday people to be catalysts for change through online shopping".
So what does that actually mean? Roozt, whose name came from their desire to build a place where companies could come to hatch, grow and become successful, is a sort-of storefront for brands that are fashion-forward. Their team chooses and curates a selection of products from companies that are making a positive impact in their community, environment, with their employees, or with humanity as a whole.
The team at Roozt sees themselves as change-makers; they are socially conscious entrepreneurs and shoppers who believe in making the world a better place by featuring and purchasing from organizations that have put "Making a Difference" at their core.
Learn more about Roozt, and spend your money like it matters HERE.
Kiva.org is a micro-financing platform built on the idea of connecting people through lending to alleviate poverty. Their worldwide network provides capital across the globe in an effort to empower everyone to capitalize on the opportunities before them, and to build a better life for themselves and their families.
Similar to crowd-funding platforms, those seeking a loan create a page that tells their story, and explains what this investment will help them accomplish.
The truly amazing thing about this whole organization is that 100% of every dollar lent goes directly towards funding loans, Kiva does not take a cut, and we aren't talking about small numbers here. Founded in 2005, the platform is home to just shy of 1.2 million individual lenders - these are people just like you and I, and together they have made $577,871,200 in capital available to those in need. Impressed yet - it gets better; this money has been sent to 76 different countries, and to date has been repaid at the rate of 98.86%.
Learn more about Kiva, and how you can get involved HERE.
Hand in Hand Soap creates soaps, bath salts and candles that are not only organic but also harvested, grown and packaged in a natural and environmentally friendly way.
Married couple Bill and Courtney set out to establish a business model with sustainable giving at its core. They stumbled upon an article that explained some 5,000,000 people each year die of diseases brought about by a lack of clean water and hygiene; the article went on to note that over half of those deaths could be prevented with a single bar of soap, and Hand in Hand Soap was born.
For every bar of soap purchased they donate one bar of soap, one month of clean water and conserve 50 sq ft of natural rain forest. To date this project has donated over 100,000 bars of soap, and put in a well that will provide clean water to over 240 families for the next decade.
Learn more about Hand in Hand Soap, and how to help their cause HERE.
Light Gives Heat is a 501(c)3 nonprofit organization that is run like a first-class for-profit company, and the whole thing was born when Founders Dave and Morgan Hansow fell in love with a small child. The couple, who then lived in Colorado, quit their jobs, rented their home and moved their family to Uganda to adopt the girl and live in her town.
They speak candidly of the people the met, the stories they heard and the poverty and despair they encountered; at the end of this talk, they explain that their lives were changed forever by what they learned, that: hope prevails, joy isn't dependent on circumstance, and that with simple actions - anyone can change the world.
In Africa, they have employed over 100 families with stable weekly income. They teach literary and English classes, educate women on their civil and reproductive rights, introduced solar cookers, established clinics for HIV/AIDS testing and treatment, and began an urban farming initiative.
Stateside they have become the voice of this story, and work diligently to spread this message. They have setup an ecommerce site where over 50,000 African made products have been sold to support the cause. In 2010, they released a full-length film titled "Moving On" reminding the world that we are not the saviors of Africa, but that our rescues are tied up in each other.
Learn more about getting involved, and shop their store HERE.
Ecovative Design was built in the hopes that we can significantly reduce the amount of non-degradable materials used worldwide. In 2007, while in college, Eben Bayer and Gavin McIntyre invented a way to use fungi to create rigid and molded materials; upon graduating, the pair decided to quit their jobs and found Ecovative; they set up shop at an incubator and continued their experiments.
They began winning awards that same year for their innovative process of using agricultural byproducts and mushroom mycelium to grow cost-competitive and environmentally responsible products.
After exploring all of the options for this Mushroom Material, the team decided to focus their efforts in the commercial sector on molded products to be used in shipping and packaging, a sustainable alternative to the plastic and foam that is widely used.
By 2010 they had gained momentum, and began replacing plastic foam parts for sustainability leaders like Steelcase. Since then the company has won countless awards, and helped to reduce the environmental harm to the earth by teaming up with Fortune 500's including Dell and Crate & Barrel.
To learn more about Ecovative, and get involved click HERE.
Related