According to a recent study, the American wedding industry is worth well over $55 billion. That is nearly one-fifth of the global wedding market that is valued at around $300 billion. Considering that an average wedding in the United States costs a whopping $30,000, this is an industry that is ripe for disruption.
Thankfully, a growing number of start-ups have mushroomed over the past few years in this industry. TechCrunch reports that venture investments in wedding-related businesses is at an all-time high and close to $189 million worth of investments were committed just in the first four months of 2015. In comparison, the whole of 2013 saw only $85 million worth of investments while this figure picked up to $128 million in 2014.
So what are these new-age entrepreneurs up to? Let us look at five start-ups that are completely changing the way weddings happen in America.
The average ready-made tux costs between $600 and $800. A custom suit or tux can cost even more at around $2,000. Add to this the cost of neckwear, vest, shirt, cufflinks and shoes and you will find it adds up pretty fast. Menguin is an Arkansas-based online tuxedo rental startup that uses a proprietary fit algorithm to find the right fitting suit and accessories for the groom and the groomsmen that can be rented out for a significantly cheaper price.

According to Justin Delaney, the CEO of Menguin, the company's value proposition does not just lie in offering tux rentals online. Instead, it is about their "fitgorithm," customer service, and their ability to deliver a rental tux over a week before brick and mortar competition like Mens Wearhouse. This enables Menguin to provide tuxedos with plenty of time for fit adjustments. "We offer our customers a fit-guarantee that we stand by, and we remove the hassle of renting a tux, especially for a group of guys that might be scattered across the country like a wedding party. Customer service and getting the customer what they want painlessly is what we do."
In the event an item does not fit, Menguin express-ships a replacement at no cost from one of their five strategically located warehouses throughout the U.S. Menguin has been funded by a number of successful entrepreneurs such as Mark Cuban, Scott Dorsey, and John James.
Wedding registries have been around for nearly century. Popularized by big box retailers, wedding registries have made it easy for couples to prepare a list of gift items that they would like for their wedding. This not only avoids duplicate gifting, but also ensures that the wedding present is something that the couples would actually need.
While online registries are not a new phenomena by any stretch, Zola has made them more relevant to the modern couple by integrating the ease of booking a product or experience with technology tools and apps to track purchases, switch gift items as well as postpone shipment until the couple move into their new home. Since their launch in 2013, Zola has raised over $5.3 million in funding over two rounds.
Your wedding is captured not only by the photographer you hired, but also by the dozens of guests you invite. Wedding Mix is an interesting startup that creates beautiful feature videos using footage uploaded directly by the guests and the rented camera. According to Mike Fisher, the co-founder and CEO of Wedding Mix, a videographer cannot be there for everything.
The objective of this company is to capture the wedding story from everyone's perspective -- be it the bridal shower, rehearsal dinner or reception. Wedding Mix is a part of Chicago-based Storymix Media which has raised close to $155,000 in two rounds since they were founded in 2011.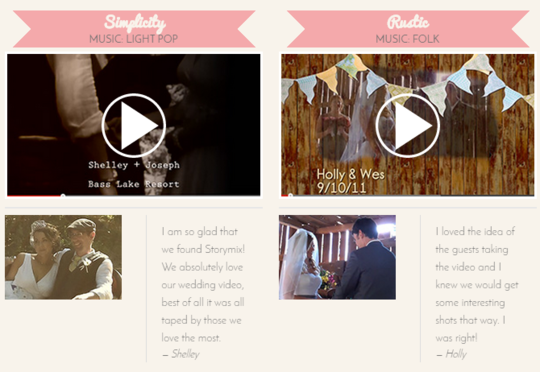 If Wedding Mix was all about creating edited feature videos with footages provided by guests, EverSnap is about consolidating these pictures and videos taken by hundreds of your guests into one meta-album. EverSnap solves a very pertinent problem faced by couples during weddings - that of getting a copy of the beautiful pictures taken by various guests during the event.
Voted as the number one Wedding/Event Photo App by Huffington Post, Eversnap helps you capture all your guests' photos AND videos in one online album. The company is headquartered in Sunnyvale, CA and has received two rounds of funding so far from Plug & Play Ventures.
Wedding Snap is #1 on The Huffington Post's Top 10 Photo-Gathering Apps! Thanks for the <3, Huffington Post! http://www.huffingtonpost.com/2013/06/28/wedding-photo-apps_n_3519413.html

Posted by Eversnap on Saturday, June 29, 2013
Online wedding invitations are not exactly new. However, Wedivite goes a step further and offers a one-stop wedding planning platform. The web application allows the marrying couples to send out RSVPs to guests, crowdsource song suggestions for the wedding, build a social wedding album that can be shared among guests, plan seating arrangements as well as let guests send wedding gifts to the couple through the service.
Wedivite was launched in late 2013 by Israeli entrepreneur Ben Novak and today supports multiple languages including English, Spanish, French, German, Chinese and Polish to name a few. The company has so far received an undisclosed amount in seed funding.
Popular in the Community