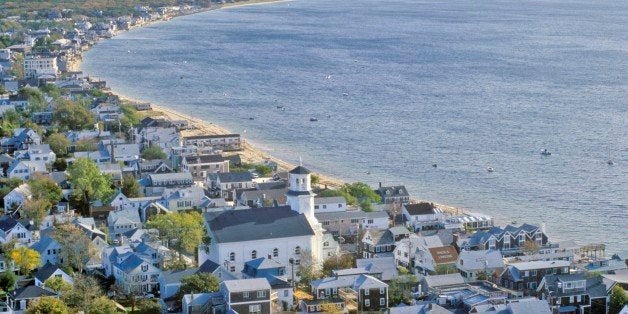 The ferry docks in Provincetown. It's Ptown's annual Bear Week. The busiest week of this gay tourist town's brief summer season. Hundreds of gay men disembark from the boat. Hurrying to enjoy the festive anything-goes ambiance with the thousands of men already there. Cape Cod is coming completely alive once again.
This magical moment -- repeated at gay venues across the country -- is liberating. Everyone is here for fun: Good food. Reconnecting with friends. Making new ones. Dancing and drinks. And cruising. If ever there's a time when basic human instinct overrides cool-headed, rational thought -- this is it. Even guys like me, who have lived in gay ghettos, can be overwhelmed by the sheer numbers of gay men, and the atmosphere we create.
From personal experience, I know how easy it is to let caution fall by the wayside. HIV is a throw of the dice -- you can have unprotected sex once, or a 1,000 times and not contract HIV or an STD. Don't assume that you are immune though, as I unfortunately did.
This year, the same way many of us use a checklist for travel packing, let's include a pre-vacation sexual health checklist.
Check off each item one-by-one and have an even better, more carefree time than you ever envisioned.
Vacationing in gay venues. How amazing to be validated for being gay! Rubbing up against other gay men on the dance floor -- perhaps with a few drinks in hand to reduce inhibitions. Culminating in an evening that may end with one or more men.
The next morning as you try to remember, a cloud of worry begins to envelop you.
But this year, unlike last year, you were prepared. And you smile.
1. Testing. Get tested for HIV and all STDs before leaving on vacation.
HIV. Remember that a negative result is not a green light to sero-sort (select others with the same HIV-status) for condom-free sex -- 80% of all new HIV infections among gay men in the UK are among guys whose last test was negative or those that didn't know their status at all (see page 25).
STDs. Early detection of common STDs: Chlamydia, Gonorrhea and Syphilis are easily treated. Get tested (and if necessary follow through with medication).
Hepatitis C. Hepatitis C is now known to be sexually transmitted. HIV+ guys are at the highest risk. However, new studies suggest HIV- guys are also at risk. Be sure to get tested once a year; the new treatments are close to 100% effective.
2. PrEP and/or Condoms. HIV is transmitted primarily through unprotected anal sex. Only 5% of men world-wide use condoms and less than 50% of gay men do. For those that use condoms -- bring your favorite condoms and lube -- for those that don't, there is a new option: PrEP.
PrEP (Pre-Exposure Prophylaxis) is one pill a day that works to essentially block the virus from replicating if you are exposed. Go to PrEP Facts (Facebook) and read the stories of the men who have been freed from fear of contracting HIV by getting educated and by being med-compliant on PrEP. Important: you can't just go to your doctor and start taking PrEP the same day. Navigating the PrEP process can be challenging, and once you qualify, you need to be on PrEP for 7 days before having condom-free sex. Despite what you may have heard about PrEP, clinical trials have shown PrEP to be over 90% effective when taken daily.
Hepatitis A and Hepatitis B. These vaccines have been available for over a decade. And if your Hep B vaccination is over 10 years old -- get tested to make sure you are still protected. These vaccines are inexpensive and generally covered by insurance.
Meningitis . Outbreaks of meningitis although infrequent do occur. The most recent occurrence was Chicago Gay Pride 2015. Talk with your doctor about which vaccine is appropriate for you. Since this vaccine is not recommended by the Center for Disease Control (CDC) for anyone over college age, your doctor may be reluctant to prescribe it. Waiting for an outbreak to occur may put you at an unnecessary risk. The vaccine is two shots, and they are age-specific.
4. Pap Smear. Anyone who has anal sex should get a yearly pap smear to screen for anal cancer. This applies particularly to HIV+ men. Anal cancer is dangerous, but the earlier it is caught, the less traumatic the treatment. I almost lost a friend who ignored symptoms for over a year. The Human Papillomavirus Virus (HPV) vaccine will protect against the most common form of anal cancer. The CDC currently does not recommend this vaccine for anyone over college age. If your insurance will not cover it, the cost is $1,000. Even at that expense though, the cost may be justified by greater peace of mind.
5. Lastly, medications and condoms. Plan for a few extra days of supplies. You never know what can come up with travel delays and perhaps an opportunity to stay longer.
....
Two weeks after you return home, get tested again -- just to be sure.
Calling all HuffPost superfans!
Sign up for membership to become a founding member and help shape HuffPost's next chapter