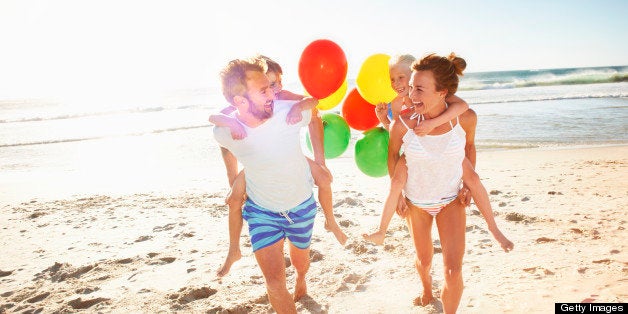 It's no secret vacations are important to families - or that they can be stressful. Our new HomeAway survey found that even though 46 percent of U.S. travelers admit to not being able to fully enjoy their vacation because of stress, 78 percent of travelers still wouldn't give up their family vacation for anything.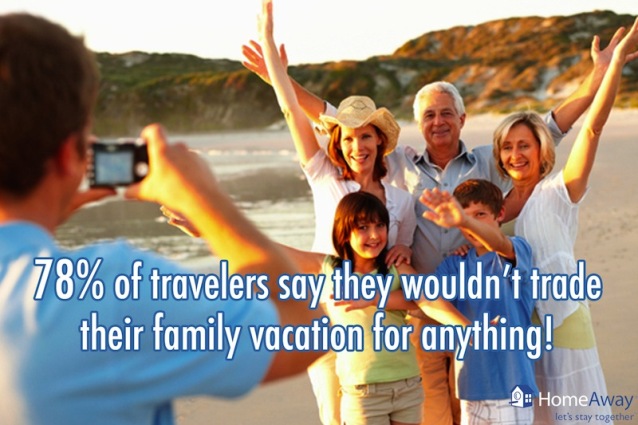 We agree - you need that vacation, but it should be your chance to get away from stress, not a source of more! What's a family to do?

Here are five ways to reduce the stress of your family vacation this summer. So go ahead, and relax!

1. Research your destination as a family.
According to our research, choosing where to go on vacation is the number one cause of family disagreements. In order to avoid the arguments, consider including your kids in the destination discussion early on. Look at places with things to do that appeal to everyone. Some favorite destinations include:
Ocean City, MD - With sandy beaches and a classic boardwalk, Ocean City is an annual family favorite that has amusement park rides, Ripley's Believe It or Not, 17 golf courses and a casino (if the grownups can swing a night out).
Gulf Shores, AL - A favorite family beach resort town on the Gulf of Mexico with inland attractions like mini golf and go-carts as well as miles of white-sand beaches. In Gulf Shores, rent Jet-skis, go on a dolphin cruise or throw a line in the water.
Orlando, FL - Duh, Orlando's popular, but there are lots of reasons families flock to Central Florida year after year. Disney for one, yes, but also Universal Orlando theme parks, water parks, swamp tours, golf, dining, shopping and much, much more. Even if you've been, you can always find new stuff to do in the Kissimmee and Orlando area.
Start a Pinterest page for destination inspiration that the whole family can add photos to, or compile your ideas and plans in an online travel organizer like Evernote or Planapple.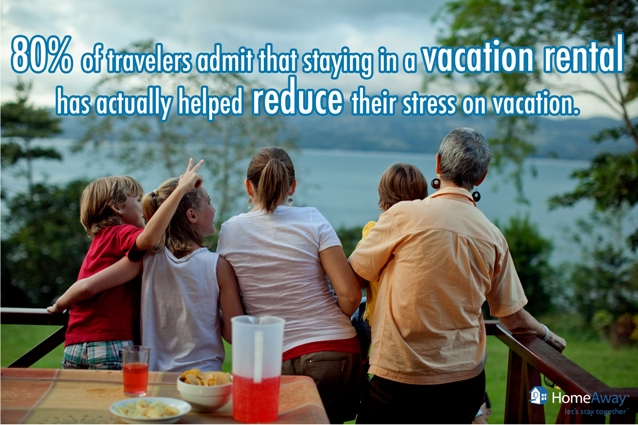 2. Plan for downtime.
Most families automatically default to a hotel when planning their vacation, and hotels make it easy to take off and sightsee all day, only stopping back in for sleeping later. However, 80 percent of travelers agree that staying in a vacation rental has helped reduce their stress on vacation. Consider that family vacations aren't the same as trips on your own or as a couple. Younger children may need naptime, older kids need some space, and admit it, you need some space away from them, too! After a busy day of sightseeing, amusement park rides, or playing at the beach, your crew would probably welcome a homebase to get out of the sun for a while - a place where the fridge is stocked with your favorite cold drinks, where kids can grab snacks and where teens can use the free wi-fi to check Twitter and upload photos to Instagram.

3. Set a realistic budget.
According to the HomeAway survey, the average summer family vacation costs $3,382, with $1,603 (almost half) spent on accommodations. Save money on yours by splitting the cost of a lake house or beach condo with family friends (instant fun!). Eating out is great, but it loses appeal after three-meals-a-day for several days in a row. Easy meals like breakfast cereal, sandwiches, and burgers for the grill make staying in a rental with a kitchen a great way to save money and time otherwise spent waiting in restaurants. (See Tip #5.) Expect food and souvenirs to cost significantly more in theme parks and resort areas, and decide ahead of time where you'll splurge. Often the same food and souvenirs are available just a few miles away in residential areas, and for a lot less money. Make a plan for spending before you go, and track it with a tool like Budget Your Trip or Mint to help eliminate financial stress from your family vacation.
4. Build in flexibility.
You can plan a perfectly optimized schedule for how to cram every important experience into your week, but please don't. Allow for spontaneity, different energy levels and different expectations. Sometimes the funniest, most memorable moments on vacation happen just from spending time together - playing board games in the living room, recounting the day's adventures around the kitchen table, or enjoying a glass of wine on the deck and watching the sun go down. If you and your spouse want to take a sunrise hike on Wednesday, offer it to your teens, but give them the option of sleeping in while you go yourselves (I guarantee you'll enjoy it more without sleepy teenagers). If two days at the theme park have worn everyone out, make Day Three a lounge-by-the-pool day. And if your toddler is just not that into waiting an hour to get into a restaurant you've been dying to try, maybe it's not worth forcing it. Save the restaurant for another time and grab take-out for a picnic in a park where your little one can run around. By all means, make plans for what you want to see and do on vacation, but set a tone of flexibility and willingness to change plans so you'll have fun, rain or shine (or whine).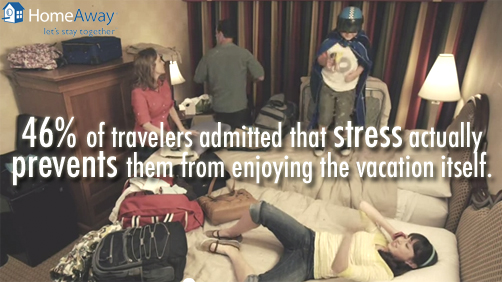 5. Reclaim your schedule.
Being out of your usual routine builds in a lot of wasted time. You may be sharing a single bathroom, waiting for tables in restaurants, and digging through suitcases to find things. Our family travel survey found that "wasting time" was one of the top causes of stress while on vacation. Eliminate many of those stressors by staying in a vacation rental with multiple bathrooms and enough space to unpack the things you need everyday, like vitamins, medications, sunscreen and toiletries. Stock up on bagels and coffee supplies so your family can eat a quick breakfast and get to the lake, the park or the beach ASAP in the morning. Research time savers at theme parks (like Disney World's FASTPASS and Universal Express Pass), and download apps that help you manage flights, get restaurant reservations and quickly find recommended things to do. Take charge of that precious vacation time because there's a world of difference between tapping your toes in a long line and sinking your toes in the sand!

Read more about reclaiming your family vacation on our Community site.
Support HuffPost
A No-B.S. Guide To Life
Related
Popular in the Community