Erin McKelle
Naina Khanna, Executive Director, Positive Women's Network - USA
Olivia Ford, Communications Director, Positive Women's Network - USA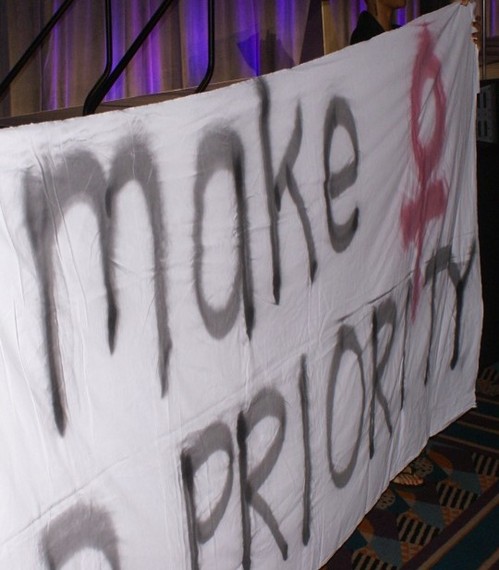 Remember the old saying, "If you fail to plan, you're planning to fail"? Well, women advocates living with HIV are trying to help the US out of exactly this predicament.
Recently, Positive Women's Network - USA, the premier national voice of women with HIV, released a five-point set of recommendations to help the White House Office of National AIDS Policy (ONAP) hone its plan to address the domestic HIV epidemic. That plan is called the National HIV/AIDS Strategy (NHAS) and it's currently up for a five-year revision. The first version of the Strategy, released in 2010, did not state a single concrete goal addressing HIV prevention or care for women, despite the facts that women comprise a quarter of the US HIV epidemic and less than half of women with HIV in the US are in consistent medical care. With these kinds of numbers, you would think women would be a priority, instead of an afterthought.
The first NHAS further failed women by not highlighting the impact of violence and trauma for women with HIV, who experience intimate partner violence at more than twice the rate of the general population of US women, and post-traumatic stress disorder (PTSD) at more than 5 times the national rate, according to data released in 2012. Further, women with HIV who reported recent trauma were 4 times more likely to face challenges with taking HIV medications. The failure to address the effects of lifetime trauma may be the missing ingredient in effectively keeping women with HIV in care, as a << recent article in the journal Women's Health Issues http://www.whijournal.com/article/S1049-3867(15)00033-X/fulltext >> points out.
The bottom line is that women with HIV occupy spaces where the impacts of racism, patriarchy, poverty, transphobia, trauma, and HIV intersect, and profoundly impact the quality of their lives. Services for women must proactively address these conditions, and the barriers they present.
A piece of good news is that with today's treatments, access to quality care can make HIV a chronic, manageable condition. Because of this, and as the population of women with HIV has aged, the primary focus in addressing the HIV epidemic is no longer developing effective treatments - rather, it is getting care and treatment to those who need it. This requires addressing quality-of-life issues that may present barriers to care, including mental health and employment-related services, and addressing policies that stigmatize and criminalize people with HIV. And care and treatment don't work unless women can get to them and afford them.
For women, addressing HIV in 2015 demands a multifaceted response, one that accounts for the various interconnected factors shaping their lives and looks towards securing health, dignity, and long-term well-being.
To that end, here are five key recommendations developed by women with HIV for making women's needs a priority in the next National HIV/AIDS Strategy:
1. Expand Gender-Responsive HIV Services to Holistically Address Women's Needs and Improve Health Outcomes of Women with HIV
Wherever people with HIV go for care - and whichever payer is covering costs, whether it is private insurance or Medicaid or the Ryan White Program - a minimum standard of care should be in place and upheld. Such a standard must ensure culturally relevant and affirming sexual and reproductive healthcare for people with HIV at all life stages and of all gender identities, including transgender women, as well as provision of trauma-informed care, including but not limited to screening and intervention for PTSD, depression, and intimate partner violence.
This standard must also include the "glue" that is essential to keeping thousands of women with HIV connected to care and treatment: facilitative services, including childcare, transportation, substance use and mental health services, and housing, for those who need them.
2. Expand Access to Care and Improve Quality of Care for Black Women Living with HIV
Why do Black women living with HIV have worse health outcomes and die faster than their white counterparts? ONAP should develop a national initiative focused on improving quality of care and access to care for Black women living with HIV - particularly in the South and the Northeast, where Black women are most impacted. This initiative must detail specifically how it will reduce these and other health disparities for Black women with HIV in the next five years.
3. Increase Access to Culturally Relevant Prevention and Care for Transgender Women
In light of the devastatingly high rates of HIV among transgender women, ONAP should similarly develop a national initiative focused on culturally relevant prevention, HIV testing, and high-quality care for transgender women. This must include a mandate for HIV testing and care facilities funded with federal dollars to start asking clients the two-step question to accurately assess gender identity: "What gender do you identify as now?" and "What was your assigned sex at birth?" Further, ONAP must keep vigilant watch over ACA implementation to ensure that the needs of transgender women living with HIV, especially transgender women of color, are fully and adequately addressed in healthcare delivery.
4. The HIV Prevention Research Agenda Must Prioritize Women-Controlled Methods
Women make up over half of HIV infections globally, and it's long past time that we develop affordable, acceptable, and low-toxicity HIV prevention options that are fully in women's control. Like birth control pills, women need HIV prevention options that do not require consent from their male partners. One promising intervention - pre-exposure prophylaxis, or PrEP, exists - but has not been promoted or made widely available to women.

5. Meaningfully Involve Networks of People Living with HIV
Underpinning all of these recommendations is the need for any major policy decisions impacting people with HIV to be made in meaningful consultation with people living with HIV and the networks that represent them. Networks are accountable to the constituencies they represent, are in regular contact with people with HIV throughout the country, and can bring significant expertise to bear on planning and decision-making processes that impact the lives of people with HIV.

It's National Women's Health Week! Want to show your support for health policy recommendations made by and for women who are most impacted by health disparities? Take to Twitter between May 10 and May 16 using the hashtag #NWHW to share your perspectives, and check out #pwnspeaks for the points of view of women advocates living with HIV and their allies.
Related
Popular in the Community