Want to see dinosaurs, Cadillacs half-buried in the desert or a blue whale in Oklahoma? Who doesn't? It can all be found along America's highways and byways. Roadside attractions have long been a part of the American travel experience, designed to pull drivers out of their 60 mph hum down the road and into the parking lot of a curious stop.
So hit the road and check out five of the more quirky sights found along our nation's highways and byways:
CABAZON DINOSAURS: "The World's Biggest Dinosaurs attration in Cabazon ..." makes you wonder how many dinosaur attractions there are in Cabazon, California. "Jurassic World" it is not, but it does feature a T-Rex museum, a dinosaur garden and a robotic dinosaur.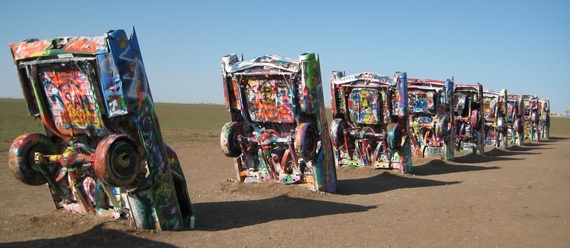 (As beautiful as they are strange, pose with one of these iconic Cadillacs during your next trip to Amarillo, Texas.)
CADILLAC RANCH: Cadillac Ranch is a public-art installation and sculpture in Amarillo, Texas. It consists of what were older running, used or junk Cadillacs, half-buried nose-first in the ground, at an angle corresponding to that of the Great Pyramid of Giza in Egypt.
FOAMHENGE: In Natural Bridge, Virginia, is a replica of Stonehenge, made entirely out of foam. The structure was created by Mark Cline of Enchanted Castle Studio. Foamhenge "appeared" on April Fool's Day 2004, and this is as close as you get to the real thing without heading to the English countryside. The artist matched the foam replica to the exact size of the real rocks, right down to the shape and undulations of the stones themselves.
LUCY THE ELEPHANT: This six-story elephant in New Jersey offers views of the Atlantic City skyline, the Atlantic Ocean and the town of Margate. Hannibal never would have been defeated had his elephants been Lucy's size.
THE BIG BLUE WHALE: This big, smiling whale that once served as a waterpark in Catoosa, Oklahoma, is a famous icon on historic Route 66. Built in 1972, the attraction was closed in 1988, but restoration efforts have been ongoing. Travelers can stop on the way through to take a selfie with Ol' Blue. Hashtag your photos appropriately.
More Road-trippin' Travel Ideas from WhereTraveler.com:
(Photo credits, from top to bottom: ©JIIm06/Wikimedia Commons, ©Richie Diesterheft/Wikimedia Commons, ©Schumin Web/Wikimedia Commons, ©Library of Congress/Wikimedia Commons, ©Carol M. Highsmith/Wikimedia Commons)