Shopping for intimates is, well, intimate. You can sheepishly poke at some chantilly lace and give a tentative nod to the cheek-revealing undies, but maybe you just want someone to answer a million questions about what those numbers on the tag mean -- and sometimes, it's not so easy to seek out help. Bra fitters recognize this hesitation, these bottled-up apprehensions, and they hold all the answers (even to those queries you're too shy to ask). It's all in a day's work.
Every time we interview a bra expert (and it happens quite frequently), they open with the same tip: Book a proper fitting. 'It makes all the difference,' they said. 'It'll change your life,' they said. I was apprehensive -- then again, I had never gone for proper fitting before. But, with every interview, a passing comment or afterthought would spark a million follow-up questions. Wait, what did you say about where I should hook the bra? Could you speak a little bit more to breast asymmetry? You're telling me I can't put my underwire with the rest of my laundry?
So, I called upon four trusted experts to share some of these tips and tricks you learn, once you're deep in the biz. Ahead, Ra'el Cohen, vice president of design and product development, ThirdLove; Heidi Zak, cofounder of ThirdLove; Bernadette, fitter at New York's Town Shop; and Jenny Altman, intimates expert and brand consultant at I Love A Good share the most surprising things you might not know about bras that will probably change your life. Note: Some of the GIFs ahead are NSFW.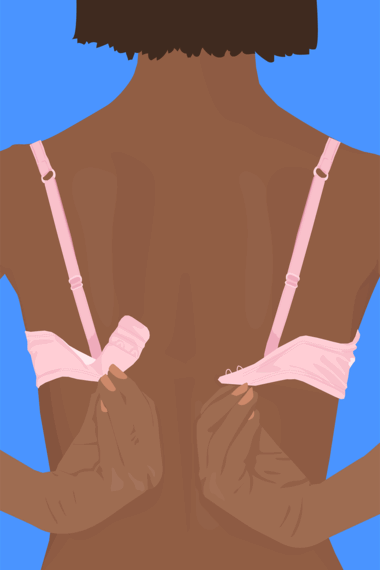 You should wear your bra on the outermost hook in the back, not in the middle. (That stretches out the band faster.)
Personally, I always wondered about the three hooks on the back of my bras. If I'm already picking the band measurement according to the size of my torso, why would I need to tighten or loosen? I assumed this was a silly misstep, and fastened my bra on the middle hook. Well, I should've put more faith on lingerie architects: Once you find the correct band size, you start wearing it on the outermost hook and work your way inward as the band stretches. Whaaat?
"The way you extend the life of the bra is as the band stretches -- the elastic breaks down, and if you wear it every day for six months to a year -- you move it in and tighten," reveals Zak. She goes on: "The one thing women should know is, if you're trying a bra on that you've ordered at home or in a fitting room, you should only be trying it on the last hook, and it should be quite snug."
A lot of crucial bra mistakes start with the band. "Most women will pick the bigger band size and they will put it on the tightest hook thinking it will fit better," Bernadette says, "but it's actually how people end up wearing the wrong size, because they don't realize that over time, the bra is going to stretch." From the get-go, you're putting more and more pressure on the band than necessary, and it loosens much faster.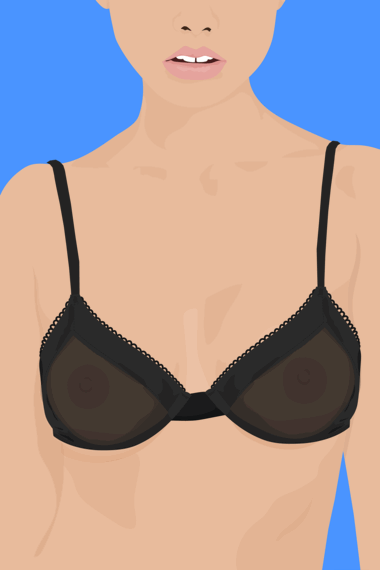 There are certain moves you can do to make your bra fit more comfortably once you put it on.
At this point of our lives, the process of putting on our bra isn't something we give much thought. So, when this crucial-but-mindless part of our routine is put into question, we naturally freak out. These kinds of claims of a right or wrong way to put on a bra aren't news to fitters, though. Everyone deeply involved in the industry has developed their own moves for putting the ladies in their proper place.
Altman dubs her method "The Scoop": "Basically, in a nice way, it brings all the breast tissue that spills around under your arm and in your back, back to where it belongs in the cup," she explains. Once you fasten the back, you dip your hand in the cup to literally scoop the breast properly into it. This ensures that the underwire is properly in the crevice between your torso and breast (and not pinching any tissue), so there's little discomfort.
Similarly, Cohen always reminds customers to "scoop and swoop" into a bra during fittings, according to ThirdLove cofounder, Zak. "You don't throw it on and expect that everything is in the right place," Zak argues. "You need to adjust your breasts properly in the bra to get the right look and fit. So, 'scoop and swoop' really means lifting the breast, pulling down on the wire, lifting up and setting it into place, and taking a look in the mirror to make sure that everything looks good."
Bernadette, a fitter at New York's legendary Town Shop, recommends shimmying into your bra. "What you really want to do is lean forward, [to get] the underwire under the breasts," she describes. "You want to shimmy forward into the bra and clasp it from the back." If you fasten the bra in the front and then flip it around, she warns, "you are stretching the bra faster." The goal here is to "put the whole breast in the underwire of the cup."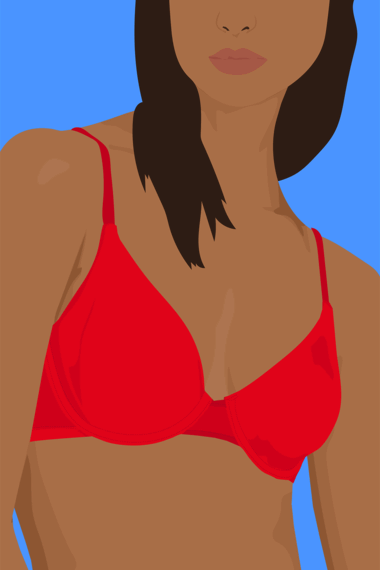 Your breast size changes and fluctuates throughout the year, and most women have one breast that's bigger than the other -- so you shouldn't obsess over a number. Instead, focus on fit.
"We like to say that they're sisters, not twins," Cohen says. "Very few women have perfect and symmetrical breasts," she explains. Altman's own experience in bra fitting confirms this: "I would say at least 75% of the women I see have one boob that's bigger than the other, and they get really self-conscious." Across the board, at least 25% of adult women have asymmetrical breasts. The difference can be very, very subtle, or up to a full cup size in some women, says Cohen. You also have to keep in mind that the size of your breasts fluctuates throughout the month -- depending on your period, weight gain or loss, and other lifestyle changes, reminds Bernadette, which makes a difference in how the bra fits. "I like to do it around life events," like pregnancies, breastfeeding, and new routines, says Cohen, "because you know your body more than anybody else."
What this means is that, while identifying that magic number and letter is helpful, the quest for the perfect bra doesn't (and shouldn't) end there. It's important to find the right fit -- which means trying on different styles, and maybe going up or down a size, depending on how it feels. Altman likens it to shopping for denim: You may be one number for one specific style at one brand, but that may change when you switch from skinny to boyfriend jeans, or vice versa. "It's almost like the sizes are comparable, but not exact," she says.
Bernadette recommends going in "for a fitting once a year," as a sort of temperature check to make sure your bra fits comfortably (and correctly). Town Shop doesn't put bras on display for that reason: You have to see a fitter to get your hands on the style you want, which ensures you find the right size. "I think the biggest mistake that women make is saying, 'I'm a 34C, and I've always been a 34C,'" shares Cohen. When she hears that, she thinks: "Your body changes on average six times in your life, so chances are, unless you've recently been fitted, you're going to be a different size -- and that's okay." She stresses that size is what's key, regardless of number.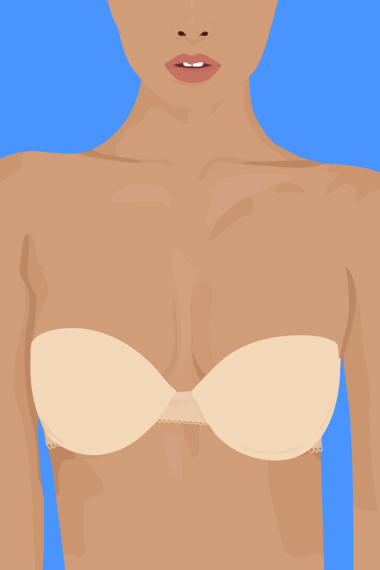 The best bras are the ones that are convertible (like ones that come with removable, adjustable straps).
This may come as no surprise to anyone with a closet filled with diverse and varied silhouettes, but the best style of bra is one that plays double or triple duty -- a one-bra-fits-all-outfits deal. When shopping for a new bra, Altman recommends going for adjustability. "I think having a bra that has good adjustability is almost like getting a custom bra." She calls out the "little tiny j-hook that a lot of bras have on the back" as the hardest-working cog on the gear. It turns your regular straps into a racerback; if the straps are adjustable and removable, you have two additional styles at your disposition -- halter-neck and strapless. The world is your oyster.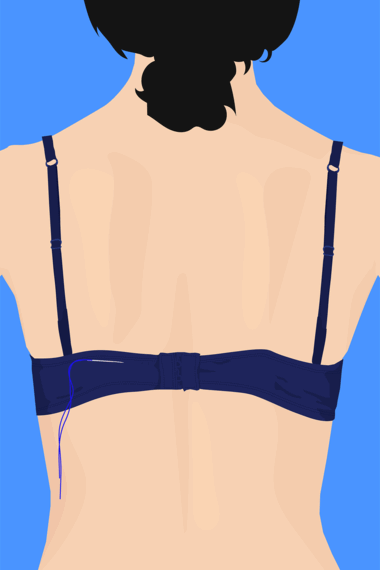 You can get your bra tailored.
The life expectancy of your bra is about a year, depending on the wear and care. (Avoid the dryer, people.) But there are certain strategic nips and tucks that can reinvigorate one of the most important parts of the item: the band. Altman notes that some specialized lingerie stores offer band alterations at low cost. Others "can fully alter your bra."
You can also bring your everyday bra to the tailor to take in a slightly stretched-out band or too-loose straps. "For five or 10 dollars, you can totally get a little update on it," she advises. Although, she cautions that these kinds of services are best on simple styles -- not overly ornate lace ones.