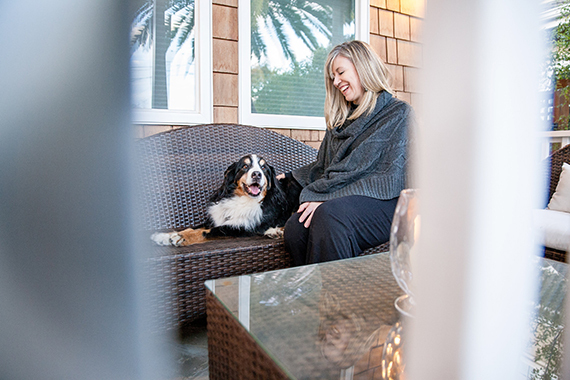 by Monica C. Worline and Jane E. Dutton
Recently, as Monica's beloved Bernese Mountain Dog was living her final days, Monica had planned a hotel stay near a specialty veterinary treatment center. On the eve of her arrival, she received news that the tumor was not treatable. She called the hotel's booking service to cancel the reservation.
"I see that you are subject to a 100% cancellation charge at this time," the agent said.

"That's ok, I understand," Monica answered. "I just wanted you to know that I won't be checking in."

"Would you be willing to share why you are cancelling this reservation?" the agent asked.

"I was going to take my dog for treatment at a specialty hospital near the hotel, but...
Inadvertently, tears welled up. The agent, instead of ignoring this, responded quickly with words of comfort. She offered to contact the hotel on Monica's behalf. Shortly after the call, Monica received an email from the reservation agent, who had negotiated with the hotel to waive the penalty fees and cancel the reservation with no charge. She also acknowledged the sadness of losing a pet. She finished her note with a personal touch: "I am glad to have helped. I am so sorry for what you are going through."
This reservation agent could have treated this cancellation as just another transaction. After all, Monica hadn't asked for a refund. But her empathy in picking up on Monica's emotion fueled her quick compassionate action. How would you have responded in this situation? Our research shows that acts of compassion like this, while they may be easy for leaders to ignore, aren't just nice-to-haves in today's work environment; they are crucial for any kind of strategic success that is grounded in human capabilities.
Here are five reasons to take a hard look at whether compassion is a missing ingredient in realizing your strategic competitive advantage:
Compassion provides the lynchpin in high-quality service and brand loyalty
The link between compassion and perceptions of service quality is obvious in Monica's story. Evidence backs this link. Research by the Gallup organization shows that genuine expressions of compassion in service interactions create brand loyalty, drive customer engagement with a service or experience provider, and forge lasting bonds with customers.

Compassion heightens employee engagement and commitment
Customer engagement goes hand-in-hand with employee engagement. Imagine that reservation agent and how psychologically engaged she was in her work in order to respond with the kind of compassion that hooked Monica as a customer. In the past twenty years, employee engagement has become a significant predictor of an organization's profitability and productivity. But the persistent bad news is that only 30% of the workforce feels truly engaged. Compassion heightens engagement of both employees and customers. Our research indicates that commitment also increases when people have significant opportunities to express compassion at work.
Compassion helps recruit talented people
Nina Simosko, a Silicon Valley executive who analyzes technology companies on the forefront of their fields, says: "I've come to learn that people come to work searching for purpose and meaning, much as they do in their everyday lives," she says. "Frankly, if they come to believe that the company's sole mission is to make money for shareholders, people don't find that terribly attractive." Our research suggests that compassion attracts talented people when it's incorporated into the hiring process. In one organization that designed a group hiring process that asked candidates to respond to scenarios related to the suffering of colleagues and customers, a culture of compassion grew and ultimately the group had waiting lists of hundreds of applicants for each job opening. One member of the group told us that the interview itself was so interesting and powerful that she was willing to turn down a position with slightly higher pay and benefits to take a job with the group because "it was the most interesting interview I had ever been to."

Compassion fuels learning and innovation
Creating new products, services, and experiences drives competitive advantage, but many leaders ignore how compassion fuels this strategic goal. The growing field of design thinking to spur innovation identifies compassion as fundamental to innovative product development. Compassion is also a key ingredient in learning from failure, because it increases what researchers call 'psychological safety' in sharing information. It's no mistake that the most compassionate medical units also have the most 'near misses,' where instead of covering their tracks, employees have the courage to report and discuss accidents that could have happened but didn't. Because innovation rests on learning from failure, compassion is an easily overlooked but surprisingly important aspect of harvesting new ideas.

Compassion fosters adaptability and change
Compassion often provides a spark for the intrapreneurial actions that create organizational change. One leader facing staff cutbacks and large-scale reorganization stopped a meeting and asked, "What would it mean to do this with compassion?" Following that discussion, the change process shifted. Staff cutbacks were done with respect and care. And the people who felt more connected to the compassion behind the change found it easier to implement the new structure.
It's not always obvious to business people that compassion is relevant to their world. As compassion researchers who have focused on this topic for over 15 years, we have found that compassion is a surprise ingredient in the recipe for sustainable strategic success.
Join us at the University of Michigan's Ross School of Business May 12-13 for the annual Positive Business Conference, where we will lead a workshop on awakening compassion as part of your organization's strategic focus.
Monica Worline is a teacher, writer, and scholar dedicated to the mission of enlivening work through courageous thinking, compassionate leadership, and cultures that bring our best work to life.
Jane Dutton is the Robert L. Kahn Distinguished University Professor of Business Administration and Psychology at the Ross School of Business, University of Michigan, and co-founder of the Center for Positive Organizations. Her research is dedicated to understanding how to build workplaces that foster employee flourishing.
Related