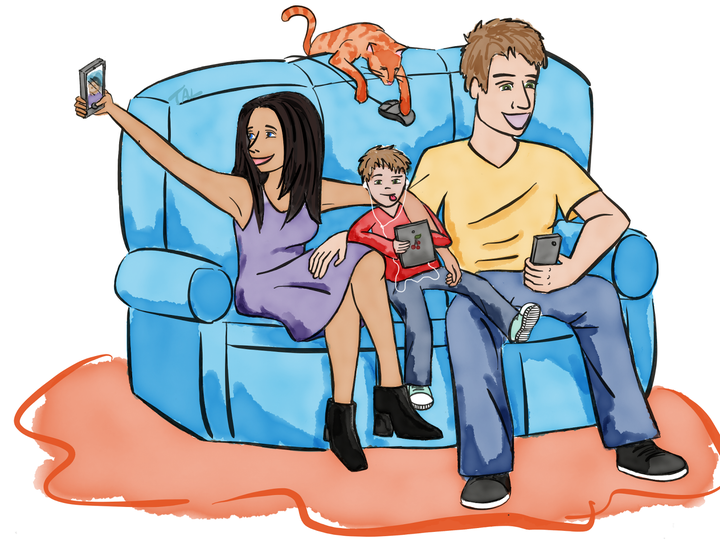 You've heard them before. All the negative stereotypes associated with Millennials (those born between 1980-2000). We have been typecast as the lazy, self-centered, shallow, hand-me-a-trophy for taking a piss generation. We are the worst. And these characteristics have been following us as we graduated high school, found ourselves in college, and entered the workforce.
But as the older half of the generation begins the lifelong journey that is parenthood, will we finally be able to shed these stigmas?
Abso-fucking-lutely. And here's why:
1. Millennial parents are ambitious
Millennial parents don't just parent. We also pursue personal interests outside of our 9 to 5 work or home responsibilities. From starting an Etsy shop, releasing a studio album, or creating a youth program for the community, Millennial parents are working hard to balance their personal passions while also raising little humans to not grow up to be like their Millennial asshole parents everyone thinks we are.
2. Millennial parents understand the clash of technology and raising kids
Millennials have grown up on social media and are early adopters. And as parents we are incredibly mindful of the pitfalls that come with these ever changing tech advancements. Just as our parents had to decide how much time we spent in front of the television or in chat rooms, Millennial parents also have to determine what screen time looks like for our kids. But we also aren't afraid of introducing technology to our children. The ability to tailor specific programming on a child's device is an incredible tool if used properly. It's all about getting valuable content in front of children in a way that is engaging. And because we live the tech every day, we are best positioned to make those hard decisions.
3. Millennial parents give a shit
Millennial parents care. We care about the purchases we make for our family. This is reflected in the rising success of brands like TOMS shoes, who operates with a philanthropic focus on consumerism, and Honest Company, who is 100% transparent about the all-natural ingredients they use in their household and baby products. We give back to our communities through volunteering our time and lending our expertise and we utilize online platforms like Kickstarter to support causes and projects we believe in.
4. Millennial parents are the ultimate multi-taskers
A parent must learn to multitask in order to survive. And it just so happens Millennials have been practicing this skill for most of their lives. Between switching from phone to tablet to laptop or second-screening their way through Netflix, Millennials have been unknowingly preparing themselves for parenthood. Multitasking Millennial parents make the most of their time. Waiting in line to pick up their kid from school? That's 15 minutes of Pinterest scrolling, checking emails, catching up on the news, and crowdsourcing an answer to why kids are such picky eaters.
5. Millennial parents don't work for the man
Millennial parents are making major life decisions differently than previous generations in terms of their priorities. The oldest of this generation graduated from college in the middle of the recession and could not find jobs that aligned with the pricey education that put them in debt. We learned first-hand how overemphasizing the value of money can lead to negative impacts. Work-life balance is a greater consideration for this generation and many Millennial parents will decide to take lower paying jobs if that allows them to spend more time with their family. We aren't as interested in climbing the corporate ladder and we don't give a shit about fancy cars or huge homes (thank you housing crash of '08). We are much more interested in work that is meaningful as opposed to unreliable pensions.
The wildly critical characteristics that have so unconsciously been bestowed upon us may stick around for another few years. But there's no doubt that Millennial parents are well on their way to undermining their efforts. Now, when do we get the chance to talk shit about Generation Z? I hear they are awful.
Andrea Rhoades is the creator of Selfies to Selfless, a parenting blog for Millennials. She is passionate about exploring the unique challenges the newest generation of parents face. Follow her as she reveals the hopes and dreams, fears and failures of Millennial parents.