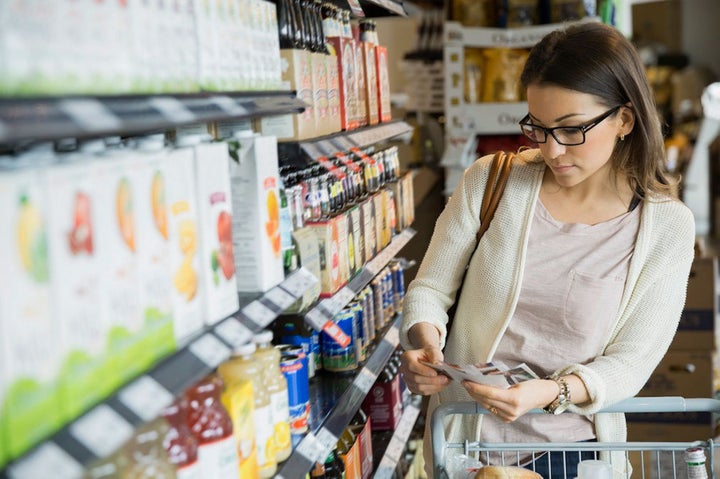 The only thing I dread more than shopping for groceries is that feeling of shock-turned-outrage when I look at my total charge. I feel bamboozled every time, searching for answers as to how my grocery costs, once again, ended up so high. I'd done my due diligence and resisted those $6 ice cream bars…I'd leggo-ed my Eggos and opted for the generic waffles…heck, I'd even bought 2 extra containers of spicy mustard I don't need just to get the "Buy 2, Get 1 Free" deal. What more could I do?
Well, the cold hard grocery truth is that many of us can be doing more to save on our groceries. Because…and now for the good news…there are several not-so-obvious savings opportunities out there to be had – ones you probably didn't even know about. Here are five that I found to be surprisingly effective and easy.
1. Scan Your Receipts to Score Rebates.
I consider myself "in the know" when it comes to all things savings, so I hate to admit that I was missing the boat on this one. There are several free apps available that allow you to scan your grocery receipts and get money back. They're easy to use and you really can save a bundle.
I read about this in a Frugal For Less article featuring the top 10 free apps that'll pay you just for scanning your receipts. The article points out that most of the apps offer a free sign-up bonus, and many can be used at any store no matter what you buy. Also, you can deal-stack by using the same receipt on multiple apps, doubling, tripling or even quadrupling your savings. Chaaa-ching!
2. Stop Shopping on the Weekends.
Typically, I already avoid grocery shopping on the weekend…it keeps my exposure to crowded aisles, cranky kids and wonky-wheeled carts to a minimum. But, what surprised me it that it's also best to shop during the week if you want to save.
Ibotta (one of those free apps I mentioned above) did a cool study on when and where to buy grocery items to get the best deals. For example, if you buy ice cream on a Monday, you can save an average of nine percent more than getting your freezer fix on a Sunday. Who knew, right? Oh, and that bottle of vino? Tuesdays at Walgreens, Walmart and Sam's Club are the best for scoring a deal…yep, turns out it pays to start drinking early in the week!
Click here to see the full article about these findings, and a nifty little infographic to boot!
I'll be honest, I had a hard time with this one. Although the idea of having my groceries delivered to my doorstep sounds like a shopper's dream, I had some reservations. You want me to trust some random person to pick out my produce? And what about delivery charges? Well if you, too, are a doubter, read on, because there are some savings pluses to this one that'll make it worth a shot - especially for non-produce items that you don't have the neurotic need (like me) to hand-pick.
To start, you can take advantage of special pricing without traipsing all over town, saving you on gas, not to mention time and hassle. Then there's the impulse control factor. You'll avoid that familiar trap of adding a bunch of tempting, but totally unnecessary items to your cart. Plus, if you have kids, you can escape those exhausting pleas for pricey snack foods and sugar-laden breakfast cereals ("But mom…that leprechaun on TV says they're magically delicious!").
Another big perk to buying online is that you can take advantage of sites that offer staple items in bulk, or that sell those costly organic and gluten-free items for less than your regular grocery store. Still worried about delivery costs? You can easily find online coupons to get free delivery and extra savings. Sites like RetailMeNot and Goodshop.com are usually good bets when it comes to showin' you the (coupon) money!
4. Hit Your Local Produce Stand.
Although I really try to support smaller, local businesses whenever possible, I'd always assumed that buying my fruits and vegetables from produce stands would be too pricey for my pocketbook. That's why this one was a real shocker…at least until I actually started comparing prices for myself.
Much to my delight, I soon discovered that the fresher, much tastier items at many local stands are also often less expensive than your standard grocery store produce. Even those weekly farmer's markets that seem a costly way to keep it organic will feature some great deals on locally grown, in-season produce. Now I'm hitting the local stands on a regular basis, feeling good about both supporting my community and staying within budget.
5. Don't Buy Your Non-Grocery Items at the Grocery Store.
While I wasn't totally surprised by this, I was definitely frustrated at the idea of giving up this one-stop-shop convenience. But, once I started buying things like health and beauty products, hardware items (think light bulbs, batteries), paper products and cleaning supplies elsewhere, I found that I really did save a lot. Discount retailers and dollar stores are great places to score big savings on these kinds of things. I also found better prices for non-grocery items at Target and Walmart as compared to those on your typical grocery store shelf.
And, it turns out I didn't have to sacrifice convenience. Most of these non-grocery items can be bought online with free delivery for a small minimum. Walgreens.com and Walmart.com, for example, both offer free 2-day shipping on orders of $35 or more, an easy minimum to reach if you buy several items at once.
As you can see, it really is possible to save more on your groceries. In fact, what I had initially feared might be a lot of extra effort for a little bit of savings ended up being just the opposite. So, my newly inspired, extra savvy shoppers, grab your grocery lists and seize the shopping day…it's time to get this savings party started!
Popular in the Community