Enjoy a taste -- or a few dozen, actually -- of some of Hollywood's best gastronomic experiences during Sunset & Dine on September 1. This food festival, now in its fifth year, is a one-night event focusing on the eateries located near the fabled intersection of Sunset Boulevard and Vine Street.
Attendees will be able to sample from a wide array of unlimited tastes from two dozen Hollywood restaurants, along with wine and beer, while helping to support the Center at Blessed Sacrament, a charitable organization dedicated to eradicating homelessness. I was able to sample a few dishes from several of the participating eateries during a preview for media, so here's a few reasons you'll want to attend.
A Great Price
The ticket costs just $35 -- very reasonable, as that includes food samples from two dozen restaurants, along with beer and wine. There'a also live entertainment curated by Amoeba Records in the form of one Gabriel Garzón-Montano. A musician to watch, Garzón-Montano recently had one of his songs sampled by Drake and toured Europe with Lenny Kravitz.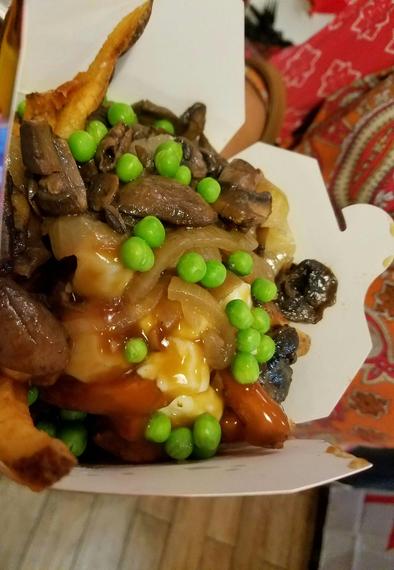 Poutine, Smoke's Poutinerie. Photo credit: Karin E. Baker
Poutine
Undoubtedly the favorite drunk food of the people of Quebec, poutine is a medley of French fries, cheese curds, and gravy and is perfect for any of those calories-be-damned moments, particularly when you order it loaded up with additions like pulled pork, corned beef, or Philly cheesesteak. At Sunset & Dine, you can get poutine from Smoke's Poutinerie, a Canada-based chain that's new to LA and is (so far) the only eatery in the city of angels to specialize in poutine. Vegetarians will be glad to know they also offer four meatless versions of the dish.
Chicken & Waffles
Wood & Vine offers offers farm-to-table cuisine in a beautiful space across from the Frolic Room and the Pantages. I tasted, and heartily enjoyed, their house-made truffle chips; a salad of pickled watermelon rind, tomato, watercress, and blue cheese; braised short rib au jus atop corn pudding, and the succulent, sage-inflected chicken and waffles.
French Pastries
Strongly influenced by the coffeehouses and patisseries of Vienna and Paris, the Chocolate Bar Pastry Cafe boasts a Cordon Bleu-trained chef with a gift for creating delectable pastries like napoleons, French horns, and almond financier cake. After tasting a few of their desserts, I can wholeheartedly recommend the pear tart, the lemon tart, and the chocolatey opera cake.
OMG Pie
One of the Downtown Arts District's most-loved eateries, Pie Hole's newest location, on Hollywood Boulevard near Vine, offers delectable pies, both savory and sweet, including a creamy mac 'n' cheese pie, chicken and cornbread pie, an amazing Mexican chocolate pie with a graham cracker crust, salted caramel pecan, Earl Grey pie and much more.
You'll also be able to check out sustainability-focused Seattle-based sushi purveyors Blue C, Mediterranean-influenced eats from Cleo at The Redbury, organic fare from Ciabatta Bar, Italian cuisine from Fabiolus Cafe, Arabian food from Ikabsa, Calfornia cuisine from Paley (named for legendary TV executive William S. Paley), healthy fare from sweetgreen, fast-casual Indian from Urban Masala, pan-Asian dishes from Noodle World Jr. (the local version of Alhambra's beloved Noodle World), and more.
This event sold out in 2015, so buy your tickets ASAP. Click here for more info.
Calling all HuffPost superfans!
Sign up for membership to become a founding member and help shape HuffPost's next chapter