Economic sanctions against one's enemies have been around since the days of Ancient Athens, but they rose to unprecedented new heights in the post-World War II era. The U.S. Office of Foreign Assets Control lists 11 countries currently under some form of sanctions by the United States. War may be the continuation of politics by other means, but sanctions have become the principal continuation of war by other means.
While the aim of the restrictive measures is to cripple target regimes by directly affecting commerce, they indirectly affect citizens inside the stricken countries. They also impact people inside the countries imposing sanctions -- albeit on a different level.
When's the last time you had a Cuban cigar? Or tasted Iran's delicious pistachios? Here are five of the most renowned foreign commodities unavailable in the United States as a result of America's foreign policy.
CUBAN CIGARS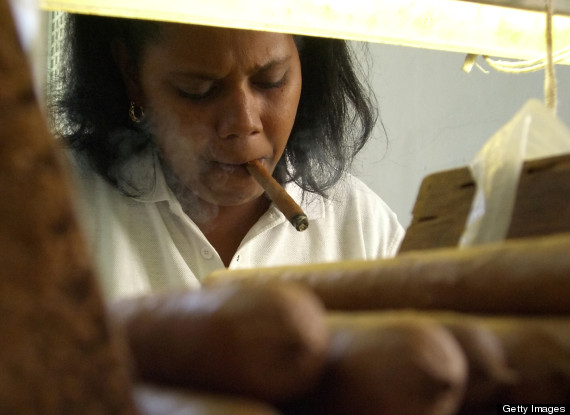 Cigar roller Josefina Arguelles smoke a cigars in Cohiba manufacture, 01 March 2006 in Havana. (ADALBERTO ROQUE/AFP/Getty Images)
Banned in the U.S. since 1962, Cuban cigars are the most recognizable forbidden fruit of sanctions. The cigars are said to derive their world-renowned quality from the temperate climate and alkaline soil of Cuba, which imbue the tobacco with a full body and "earthy aroma," according to cigar magnate Benjamin Menendez. Cigar Magazine hypothesized that the calming effects of smoking a Cuban stem from an abundance of the mood-stabilizing element lithium in the Cuban soil.
In any case, the allure of Cuban cigars in the U.S. likely has as much to do with their taboo status as it does with the delicate terroir of Cuba's tobacco-growing Pinar del Rio region. While the stogies and other goods remain off-limits, U.S. President Barack Obama did loosen some aspects of the Cuban embargo in 2009, allowing Cuban-Americans to travel freely to the island.
IRANIAN PISTACHIOS In this Sunday, March 31, 2013 photo, an Iranian shopkeeper sells pistachios, at his shop in western Tehran, Iran. (AP Photo/Ebrahim Noroozi)
Americans have not been able to eat Iranian pistachios since 2010, and as of 2013, neither has anyone else in the world. The U.S. banned the import of the Iranian nuts as part of an aggressive round of sanctions which, according to the New York Times, helped to accelerate Iranian inflation so much that Tehran banned all exports of pistachios for six months starting in February 2013 in a bid to keep domestic prices low. Fortunately for Americans, The Times also notes that the U.S. surpassed Iran as the world's largest producer of pistachios in 2012.
IRANIAN CAVIAR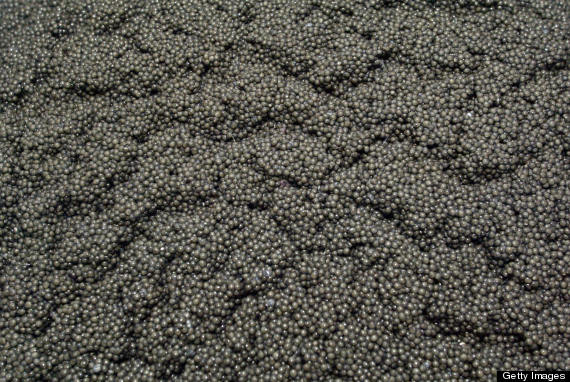 This file picture dated 02 November 2004 shows fresh Iranian caviar removed from a Beluga Sturgeon before packaging at a fishing facility in the Caspian Sea port of Bandar Turkman, Iran. (HENGHAMEH FAHIMI/AFP/Getty Images)
Much to the chagrin of American caviar lovers, Iranian caviar was another victim of the Comprehensive Iran Sanctions, Accountability & Divestment Act of 2010, which banned the import of Iranian goods to the U.S.
Many contend there's no better (nor more expensive) caviar in the world than that of Iran. Overfishing, pollution and dams have so damaged the Caspian sturgeon population that a moratorium was levied on all caviar exports from the region in 2006, according to The Nibble. Iran was exempted from this ban due to its effective conservation practices. Nobody said the good life had to be easy.
CYPRIOT RAKI Raki served with water (Alamy)
While the Turkish Republic of Northern Cyprus is technically not embargoed, it is only recognized by Turkey as a sovereign entity. As such, only Turkey is willing to import Northern Cyprus' citrus, halloumi cheese and "raki of notable quality," according to Romanian newspaper Adevărul.
Raki is a strong, anise-flavored spirit known for turning milky white when combined with water, leading to its nickname, "Lion's Milk." Though Cypriot rakı is hard to come by, more common Turkish varieties, such as the one pictured, remain available worldwide.
NORTH KOREAN SOJU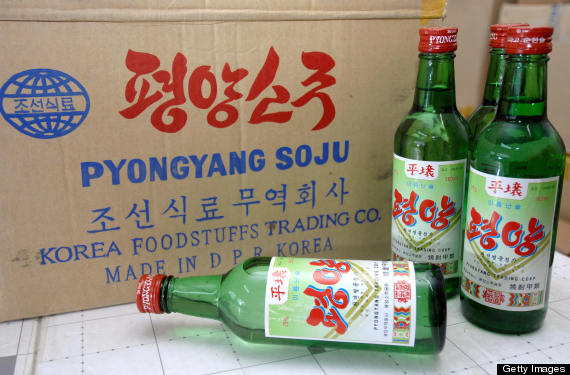 North Korean-made liquor 'Pyongyang Soju' are displayed at a store in Seoul, 03 May 2007. (JUNG YEON-JE/AFP/Getty Images)
But the main reason why few have cared to get their hands on the embargoed liquor: It tastes kind of horrible, according to Chosunilbo. So horrible, in fact, that North Korean soju is no longer available in the United States due to overwhelming lack of interest.
Popular in the Community