I never had much interest in going on a cruise, and I've noticed that that's a fairly common sentiment. If you fancy yourself the adventurous sort, or love delving into culture when you travel, it's easy to turn up your nose at the idea of spending your vacation time on a cruise.
I've heard many people scoff at the mere idea. "Who wants to be stuck in one place for days on end?" "It's impossible not to gain weight." "Who wants to be surrounded by thousands of people?" "The food's not that great." But when the recent opportunity to go on a cruise came my way, I thought why not? For one thing, I live in Los Angeles, traffic capital of the United States, and a week of not having to drive sounded fantastic.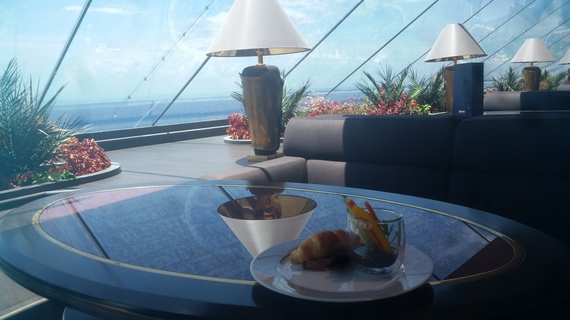 View from the Topsail Lounge. Photo: Karin E. Baker
My cruise, a week in the Caribbean, was spent on the MSC Divina. Not having had any previous interest in cruising, I hadn't heard of this European-based company before, but apparently MSC began in Italy during the '50s as a shipping container operator, and later moved into cruising. Well-known in Europe for their nautical meanderings through the Mediterranean and Scandinavia, they're not as famous here in the States, though they've been making their way through the Caribbean for the last few years.
You Can Get Really Good Food When You Go Venture Beyond the Buffet
Despite MSC's beginning in Europe, I didn't realize that the Italian influence would be so strong. Assuming that most of my fellow cruisers would be other Americans, I didn't know that a large percentage of the passengers would be from Italy or other European countries. Evidently Italians will not stand for average gelato, pizza or pasta, even a thousand miles from home, which benefited us all.
There's a great artisinal gelato spot near the main swimming pool from a company in Rome who've been making chocolate since 1878. Venchi offered around 20 flavors every day that are made fresh on the ship. My favorites were pistachio mixed with orange/dark chocolate paired with a glass of prosecco to recover from a day of poolside lounging.
There'a also an elegant little Italian coffee bar, Segafredo, which, bafflingly, never seemed to be very busy. Maybe that's because it's quite a ways from the swimming pool. They make a mean Americano, and it doesn't come in a Starbucks-style paper cup.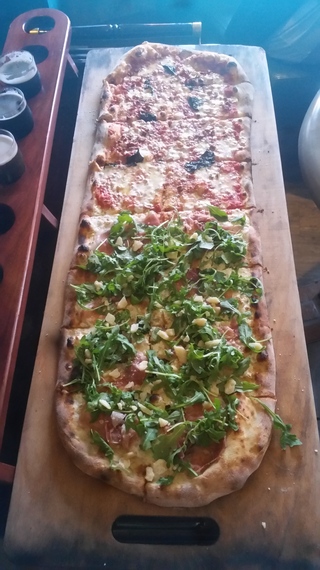 Meter of pizza and a meter of beer at La Cantina di Baccio. Photo: Karin E. Baker
Mario Batali's famous Eataly restaurant has an outpost here, serving great steaks, handmade pasta, and fantastic pizza. It's a specialty restaurant so it does cost extra, unlike the food in the dining rooms and buffet, but it's worth it.
One of my favorite experiences was the wine blending class at La Cantina di Bacco, the ship's wine bar. A wine blender gave us four red varietals to work with -- Cabernet Sauvignon, Zinfandel, Shiraz, and Malbec -- and suggested proportions based on our preferences. I ended up with a satisfying customized blend of 50% Cab, 10% Old Vine Zinfandel, and 40% Shiraz that I had bottled and brought home with me. That bottle is included in the $45 fee for the class.
I went to the buffet a couple of times and it was fine, but not really special, other than the superior pizza. Considering they're making a huge variety of food for thousands of people, that's understandable. I had some very good meals at Villa Rossa, one of the main dining rooms, where I especially enjoyed the al dente pasta, risotto, lobster, soups and salads.
You Don't Have to Gain Weight (If You're Careful)
It would be easy to gain weight on a cruise if you ate yourself silly but I did a few things to make sure I didn't, despite indulging in gelato, mango coladas and daily wine. I usually took the stairs rather than the elevators. I went to the gym several times. I took an aqua spinning class. I somehow managed to resist the temptation of Nutella-filled crepes from the poolside crepe station. I mostly stayed away from the buffet, instead eating moderate portions in the dining room most of the time. And because the cruise line began in in Italy, the pasta portions are small and are not the main course.
A Bit of Pampering Doesn't Have to Be Super Expensive
I enjoyed the Balinese massage I had in the spa but couldn't afford that more than once, so I was happy to find that there was an area near the pool offering ten-minute chair massages for $10. I indulged a couple of times - hey, I was on vacation! I also received a complimentary shampooing and head massage when I purchased a bottle of fancy French shampoo.
The Yacht Club is a posh area of the ship with 69 premium suites and its own lounge, pool, restaurant and jacuzzis. I didn't stay there, but I was able to get a day pass and enjoy the white-gloved butler service and private sun deck for a few hours. The Topsail Lounge has a small but excellent buffet, with offerings that change throughout the day, such as little croissant sandwiches, crudités with balsamic, fine pastries, and incredible made-in-Italy truffle potato chips that I keep trying to buy online (but to no avail). The lounge also offers high tea every afternoon. While the main pool was definitely more lively, this private pool area is a great escape for anyone seeking a more tranquil experience.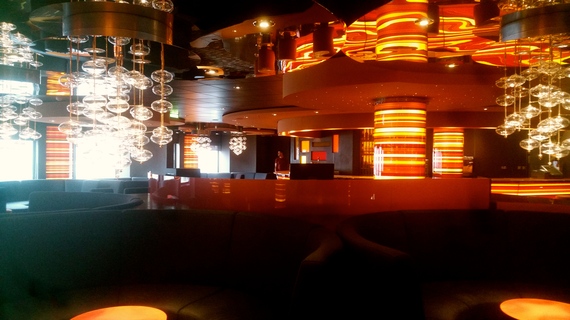 Golden Jazz Lounge. Photo: Karin E. Baker
Cruising Isn't Just for Retirees and Young Families
I was happy to see that there were people of all ages on my cruise. I also really enjoyed the international influence and chatted with people young, old and in between from all over the world. Though I'd been told that some cruises are less than lively after 9pm, I experienced otherwise, particularly during the ship's white party, when hundreds of people gyrated to Latin music into the wee hours. Another night, when I left the ship's Galaxy Disco around 1am, there were still scores of dancers remaining who were unable to feel their faces... but they loved it.
It's Pretty Much Impossible To Get Bored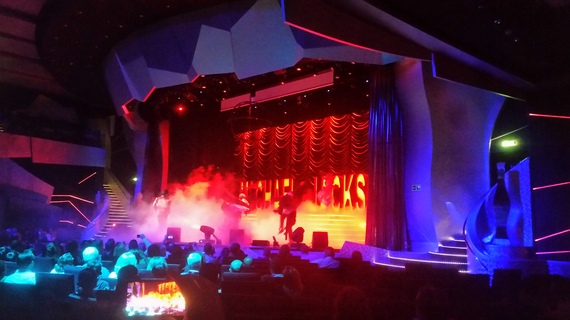 Michael Jackson Homage. Photo: Karin E. Baker
I've heard people say it sounds boring to be "stuck" on a ship for days on end, and while I loved visiting the ports of call (we stopped in San Juan, St. Maarten, and Nassau), the days at sea were a lot of fun too. There are dozens of things to do besides eat and hang out by the pool. Activities will vary from ship to ship, but the Divina offered yoga and Pilates classes, wine tastings, dance lessons (among them the merengue, the tarantella, the cha cha cha, and line), movie-watching, Italian-language lessons, afternoon opera, scavenger hunts, pingpong, tennis, and dodgeball tournaments, trivia contests and Name That Tune and much more.