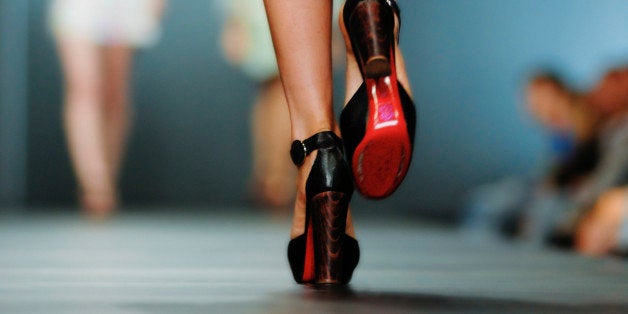 Here's a sentence I never thought I'd write: I walked down a catwalk in a fashion show during New York Fashion Week.
Truth be told, I had never even been to a New York fashion show before, let alone walked in one. More truth: It was one of the most terrifying things I have ever done.
I agreed to take part because Carrie Hammer, the extremely talented and passionate designer of custom dresses for professional women, asked me. Carrie started her business to provide the same level of quality tailoring and custom clothing that male executives have long enjoyed.
Due to her deep understanding of women in the workplace, her message at the show is to highlight "Role Models, not Runway Models." She asks women from across the business world to walk the runway to help illustrate that you don't have to have model-like features to, in fact, be a model.
So, what did I learn in my stroll down the catwalk?
1.Venture Out of Your Comfort Zone. "In an increasingly competitive, cautious and accelerated world, those who are willing to take risks, step out of their comfort zone and into the discomfort of uncertainty will be those who will reap the biggest rewards," Margie Warrell writes in Forbes. It's the advice I most often give young women. We should always measure success by the risks we take or the vulnerability we feel in daring to better ourselves or the world around us.
2.Never Venture Too Far Out of Your Comfort Zone./ Following more than an hour of a hairstylist working on my hair, it looked, well, less than perfect... or maybe too perfect? So much so that my hero, Carrie Hammer, declared to the rather surprised stylist: "She has to look like she's running a meeting, not going to the prom." Thankfully, the stylist followed direction and toned it down so that I looked (and felt) more like me. Note to self: Never give up feeling comfortable in your own skin; you must always be your own advocate in case the heroes aren't around.
3.It's Harder Than it Looks. I'll admit it; I have long been one of those women who raise an (imperfect) eyebrow when professional models claim that modeling is hard work. I would think to myself: "Really? Talk to the proverbial (non-manicured) hand." Sitting through early morning hours of hair, makeup and staging may not be the toughest job, but it is certainly less glamorous than it appears.
4.When the Fashion Gods Give you Lemons, Improvise. I was perspiring so much prior to my debut that my shoes kept slipping off... literally. During the final practice walk right before the show, my shoes actually slipped off my feet mid-stride. Not wanting to become "fashion road kill" on YouTube, I ripped up toilet paper and some spare makeup powder and shoved it in my shoes. A girl's gotta do what a girls gotta do.
5.No Matter Where You Are, You Can Always Find Your 'Peeps.' The community of fellow "models" helped each other in unique and magnificent ways. In my case, a few minutes prior to the beginning of the show, my eldest son called with some wonderful news to which I hung up and cried a few proud tears. The (role) model in front of me turned to give me a comforting and congratulatory hug. She doesn't have kids yet, but said that when she did one day, she would remember this moment. We then knowingly realized that this was not the time for tears, as it would only ruin our makeup just seconds before show time. We squeezed hands and went for our stride, each feeling just a bit more empowered by nature's strong maternal instinct.
I'm happy to say I made it down the runway -- with shoes and dignity in place. As terrifying as it was, I was determined to embrace my fear with chin lifted, shoulders straight and one foot directly in front of the other.
Facing fears, pushing personal boundaries and learning from new experiences... now, that is what I call the real definition of beauty.
Popular in the Community